Yeti's SP2 Rescue Project
---
Hi all. I haven't posted much here, mostly been scouring the classifieds on a daily basis for parts. I did post an intro back around October I believe, so technically we're not strangers. Anyway, a little background, I picked up an 04 at the end of the summer that was in desperate need of some attention. The guy a bought if from was a nice enough guy, but had wrecked the bike at least once and maybe more. He was asking too much for the condition of the bike, but since the RC is a pretty rare commodity in AK I had to scoop it up. I knew it was going to end up pretty much being a complete restoration. I figured I might as well document it.

I wish I had taken more pictures of the terrible shape she was in when she came home with us, but hopefully you'll get the idea from the few pics I do have. Apparently I have to have 10 posts or more to add pictures, so it looks like I'll be adding pics in the next post.
Lifetime Premium
Join Date: Sep 2011
Location: ATL
Posts: 2,301
Mentioned: 9 Post(s)
Quoted: 119 Post(s)
more!!!! more!!!
---
2003 SP2: Everything I could find.
1991 Honda HawkGT
2008 XR650L
Dec. 2011&2013, Sep. 2015, May 2019 BOTM
It's pretty obvious the bike spent most of its life sitting outside. Everything was dirty. I'm not sure if the chain was lubed once in its entire life. So we started cleaning things up and prepping parts to take to powder coat.
The swing arm was in need of some repairs that I really didn't want to deal with. SBKdrew hooked me up with one that was ready to be powder coated so I opted to do that instead. More pics of that finished product later, but I wanted to take a second to say the he is a top notch seller.
Here is the frame in all of its unfortunate polished/weather worn majesty: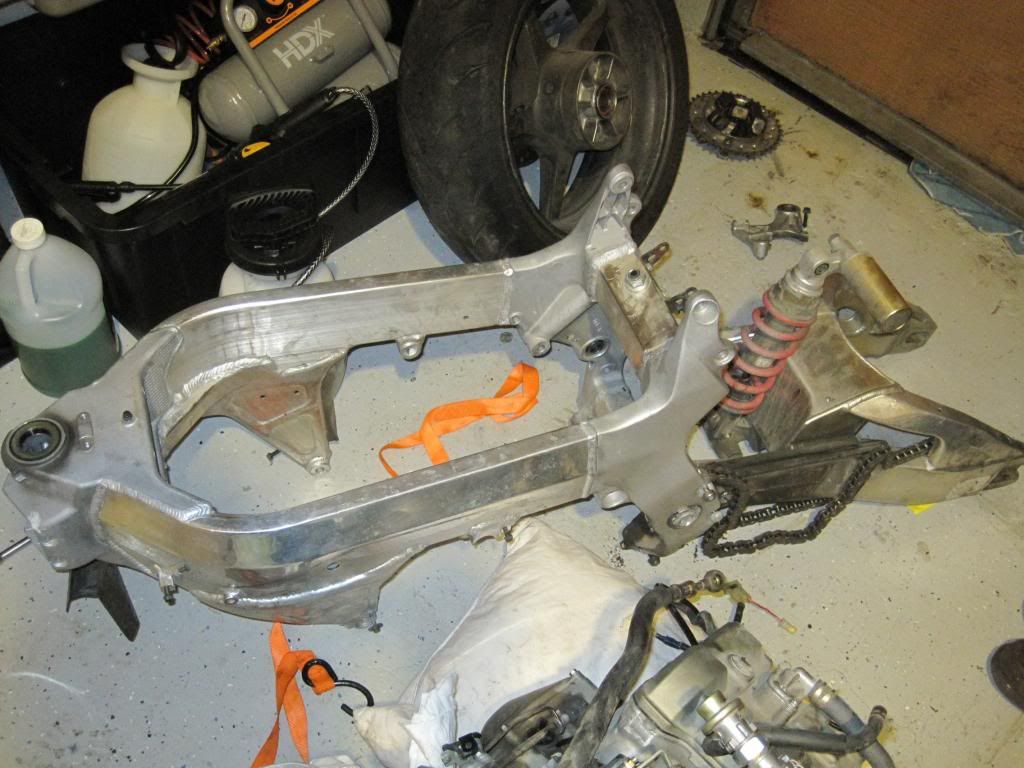 I forgot to take pictures, but the right fork seal was totally shot. Pretty much no fluid left. Guy had one side set full hard and the other full soft and adjusted down a couple rings in the top triple just to make it ride straight. Fortunately for me the forks were still in great shape otherwise, so having the seals redone was the first little chunk of money I spent. I opted to leave that one to the professionals at my local stealership haha.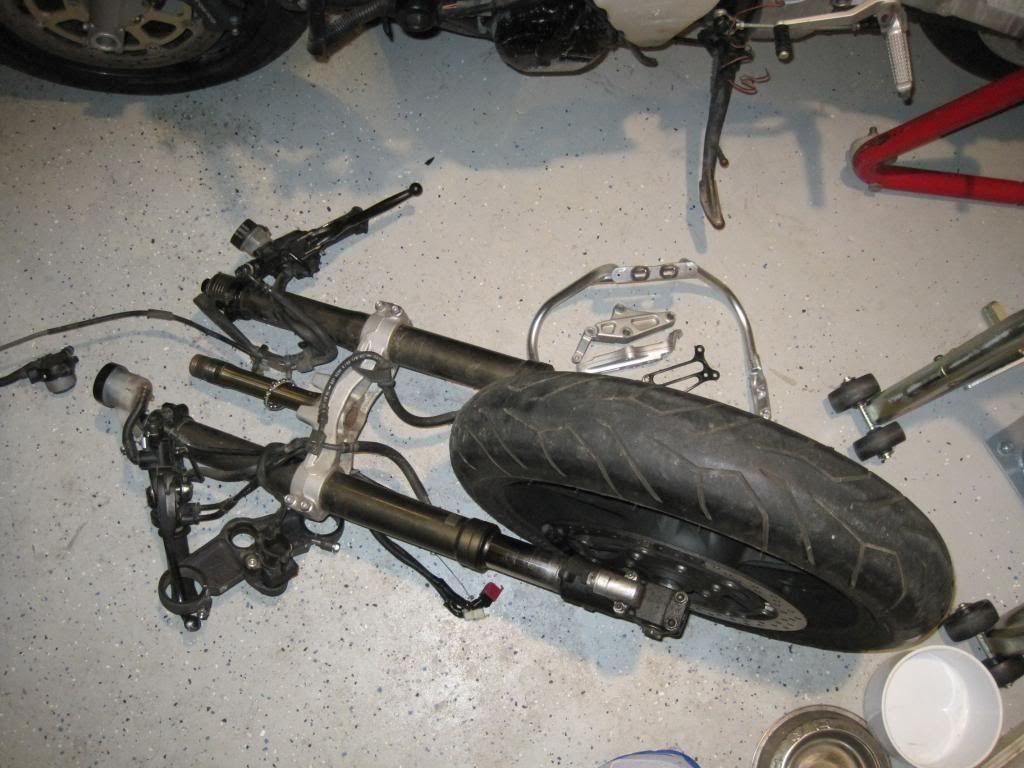 My shock is on the left and my boyfriend's is on the right for a cleanliness comparison: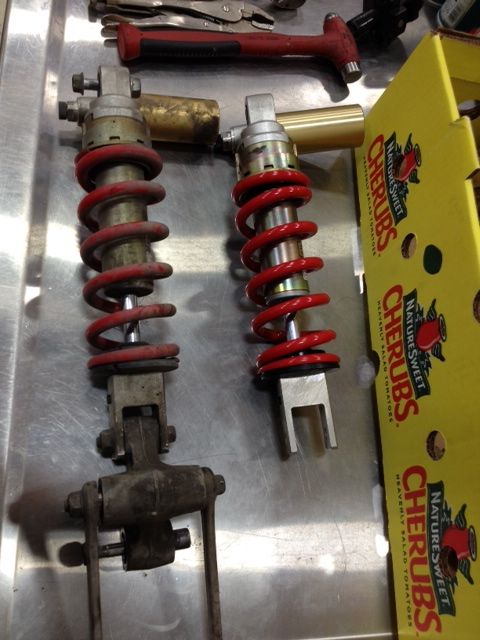 After clean up: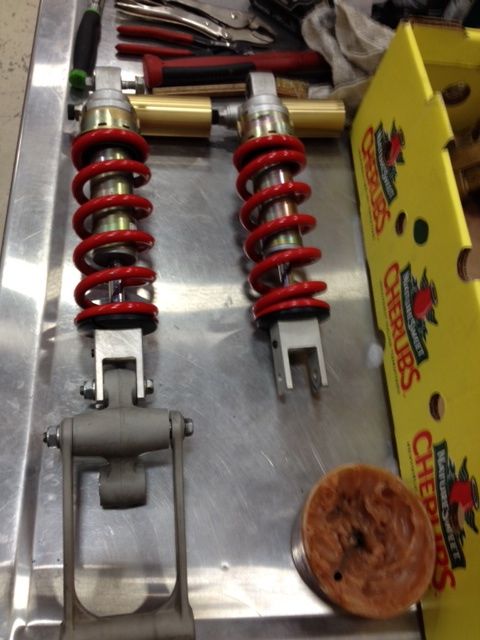 Caliper side by side after one was cleaned: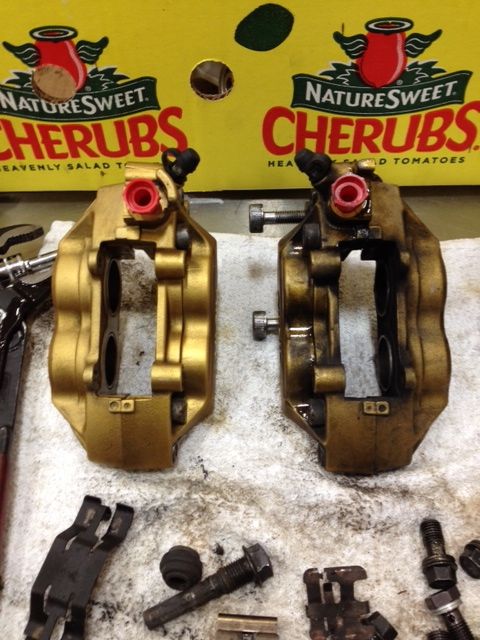 I still have a lot more wire harness to clean, but a couple things got cleaned up: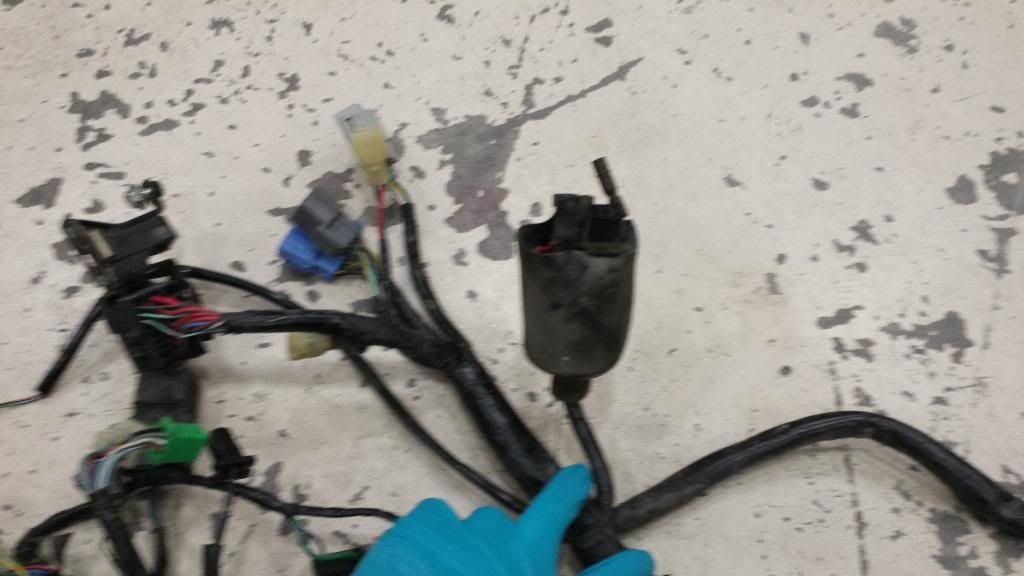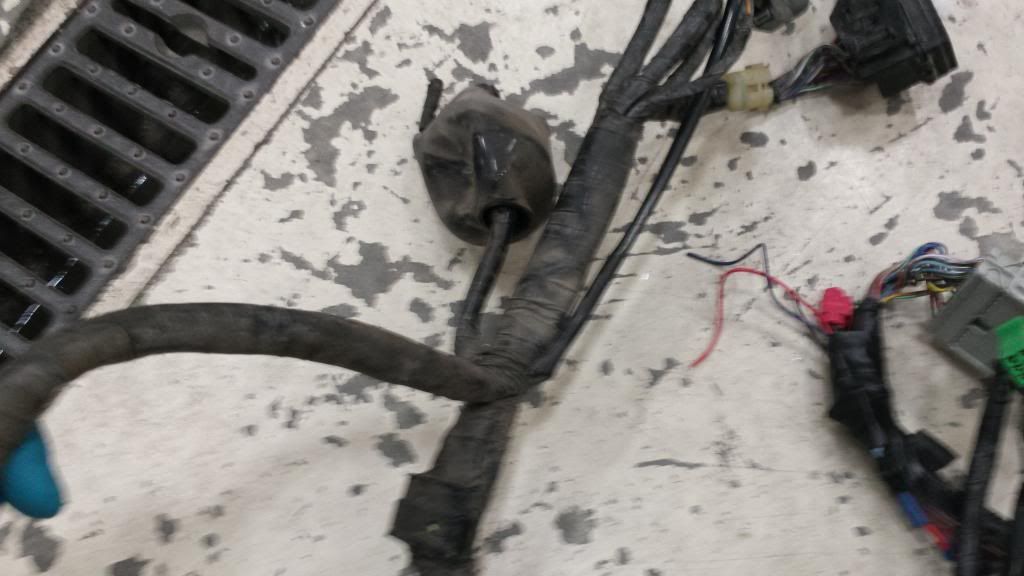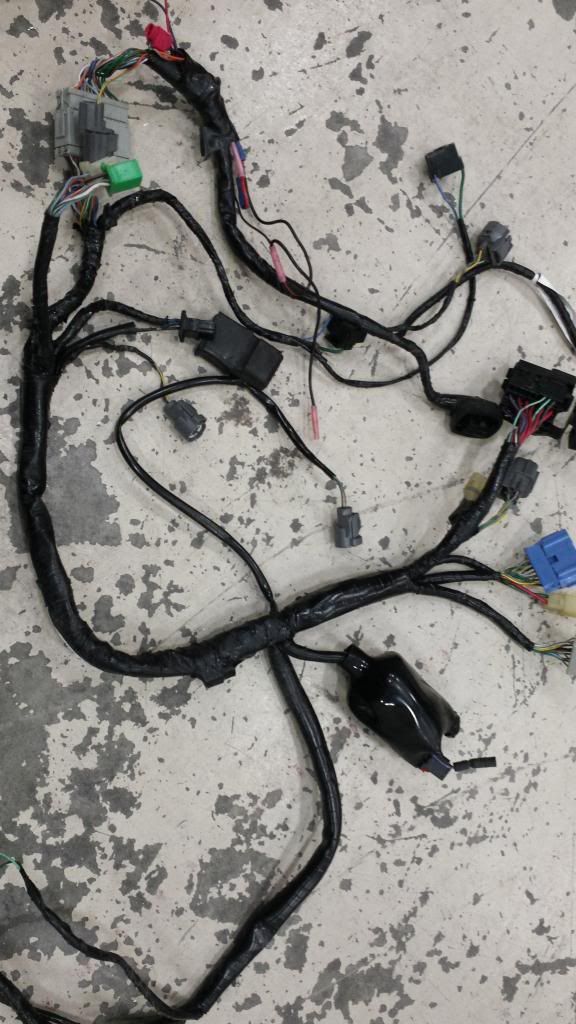 Finally got parts back from powder coat after nearly a month of being there. It was worth the wait though because they did great work. Another shout out to SBKdrew for sending me the sample/color code for the frame and swing arm. It's perfect. I also want to preface these pics by saying that I know some of you hard line RC guys will probably be grossed out by my color and eventual design choices. I'm ok with that. My initial plan was to go back to a stock paint scheme. However, it occurred to me that if I was going to be dumping all this money into the bike and starting from scratch, it might as well be what I wanted it to be.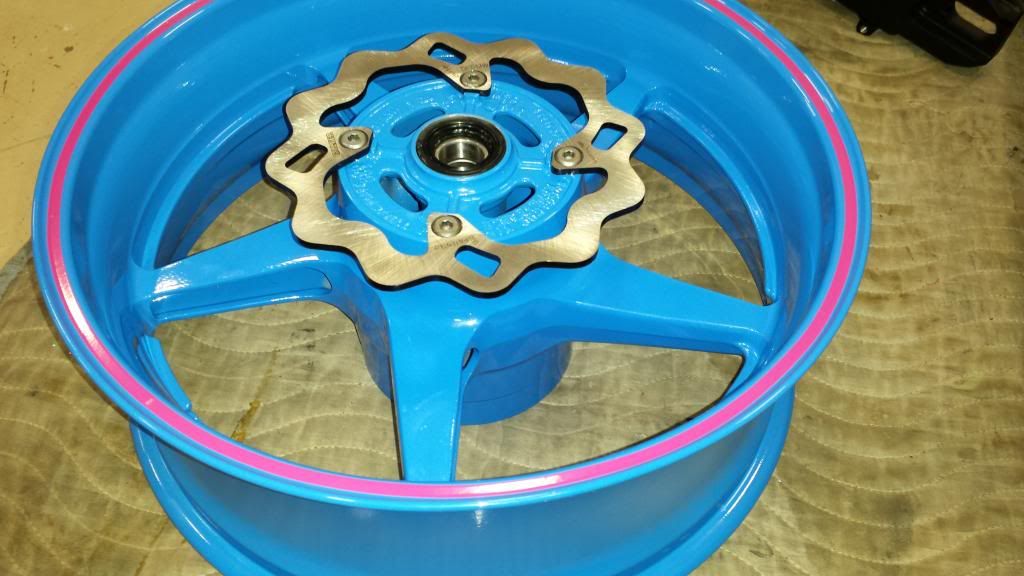 The rim stripes look kind of purple in the picture, but they're actually pink. They're also an exact match to my swing arm spools, decals, and brake lines. I know some of you might be gagging over that haha. Don't worry though, it's not going to be pinked out. It will be tasteful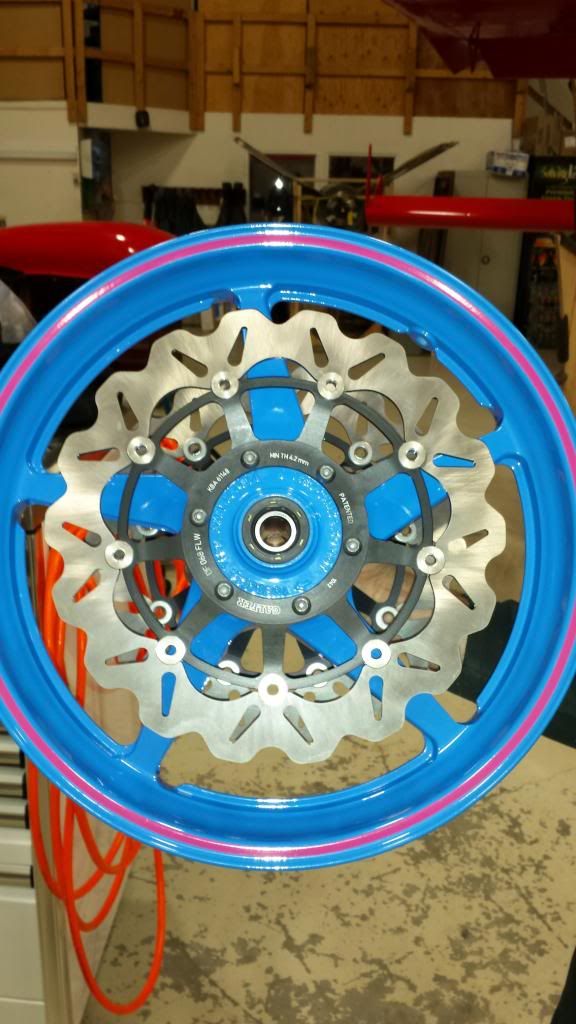 I couldn't handle the polished look. I had to go with as close to the factory black as I could get: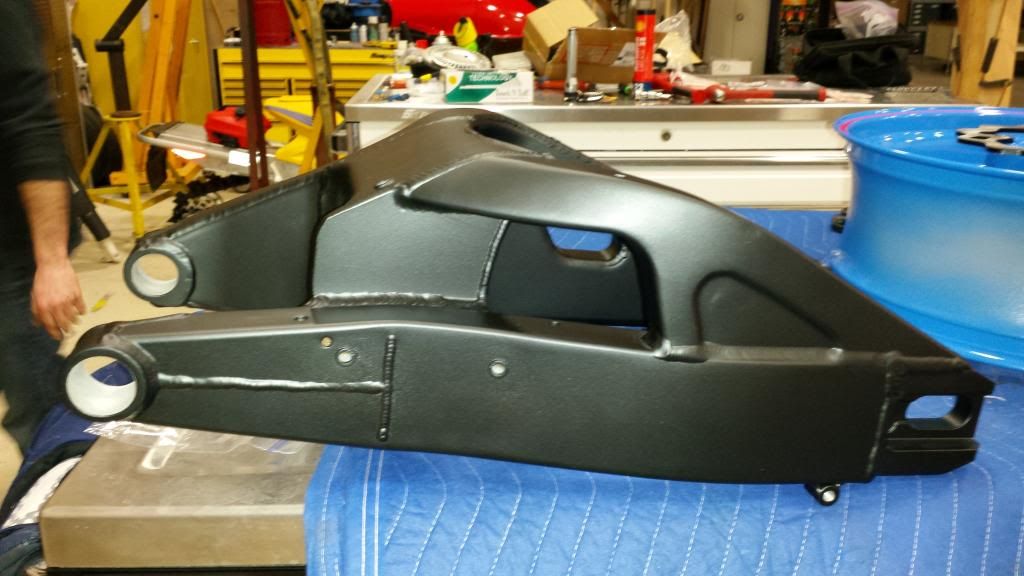 Turned out better than I could have hoped for: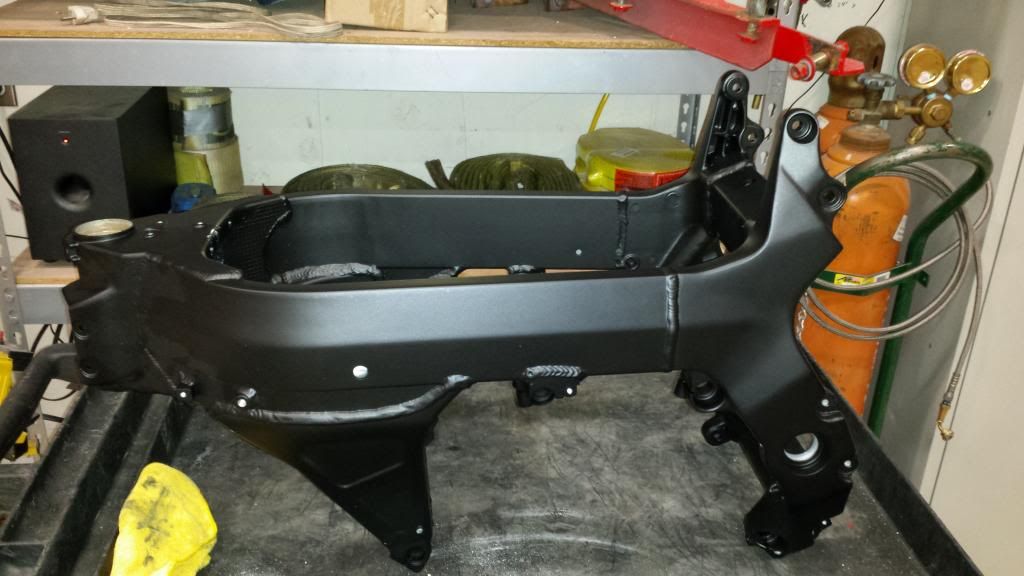 ---
Last edited by yeti; 02-09-2014 at

05:53 AM

.
Last night we finally got to start doing some assembly. I am still waiting some big boxes of parts from Honda East Toledo and Hard Racing. I'm pretty pleased with the progress so far though.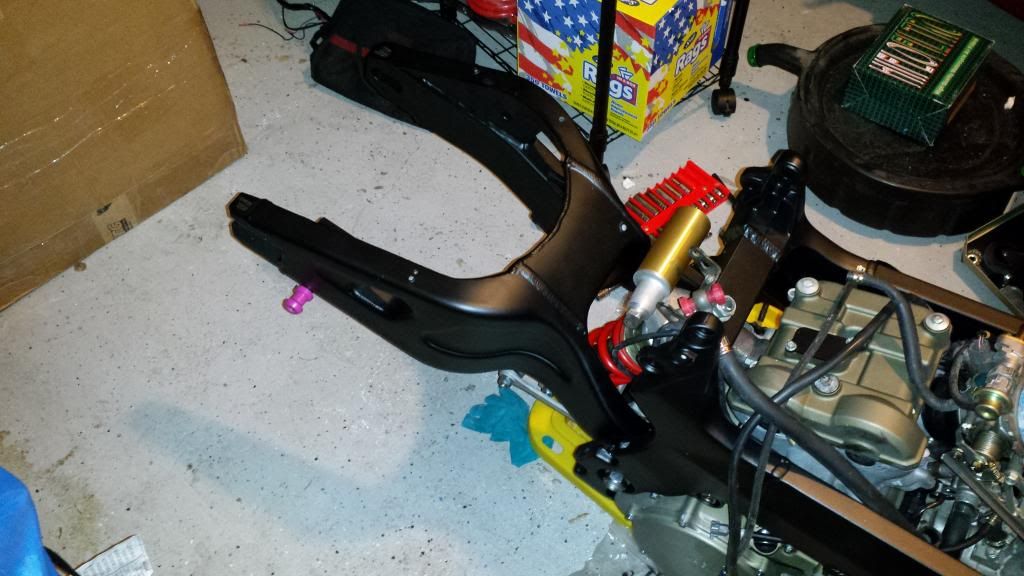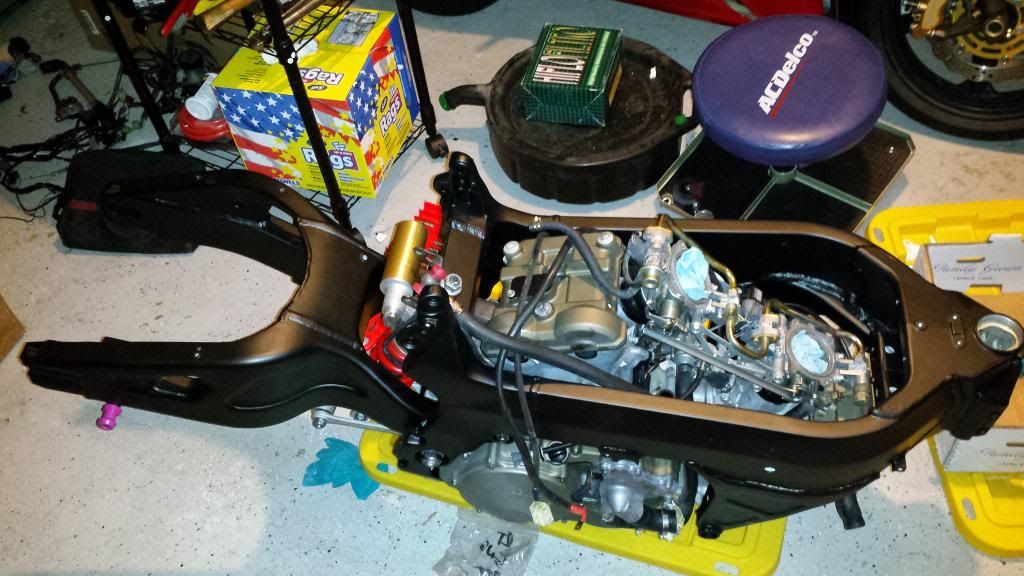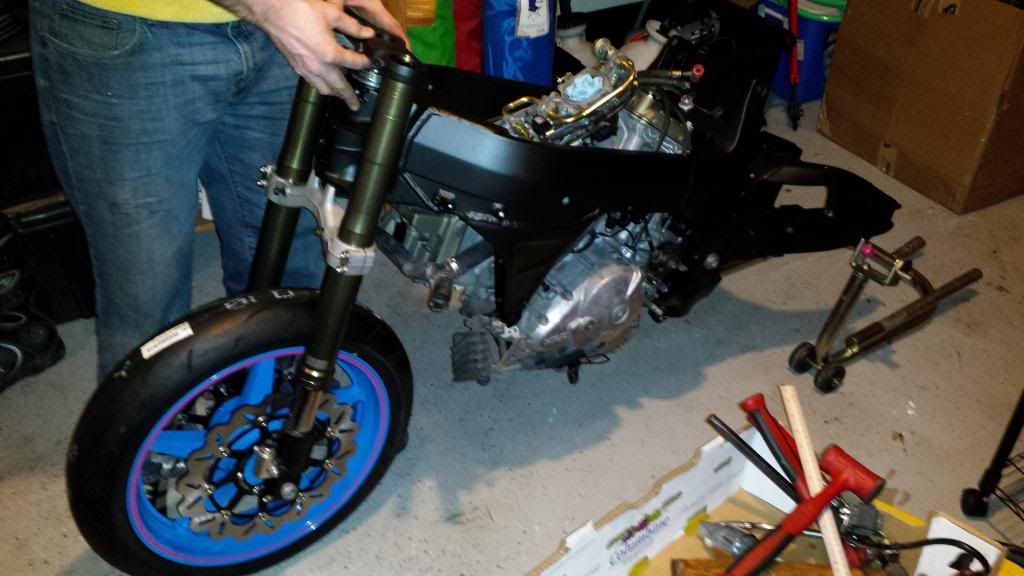 Finally starting to look like a bike again!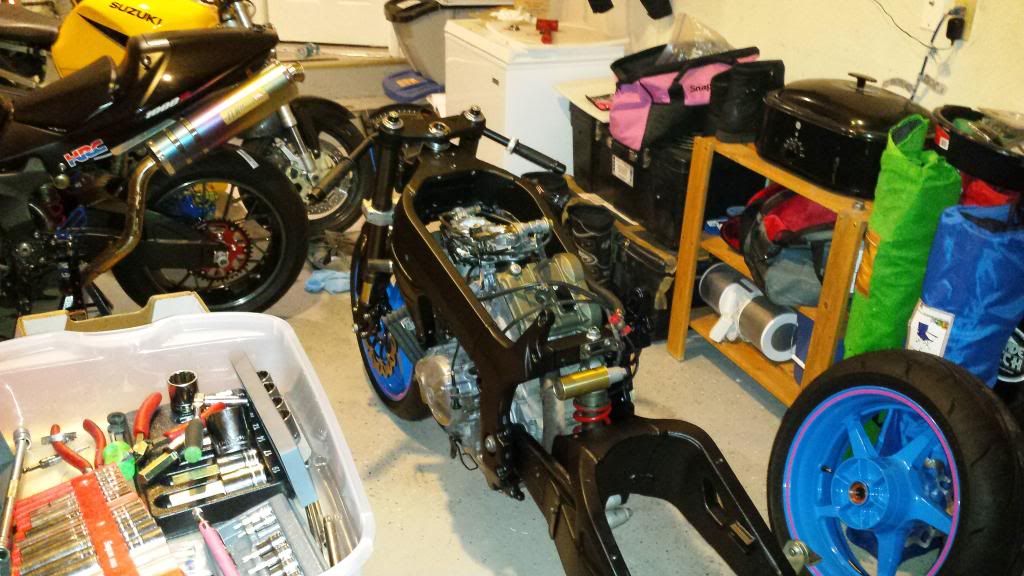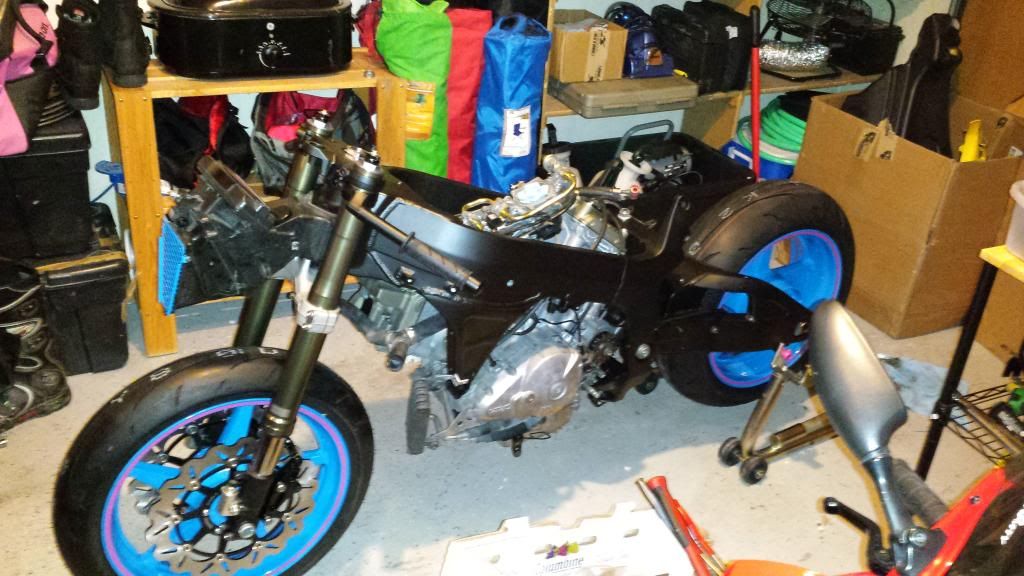 Rear wheel is temp installed for now to see what it looks like. Still waiting on chain and sprocket kit to get here.
These came in the mail today: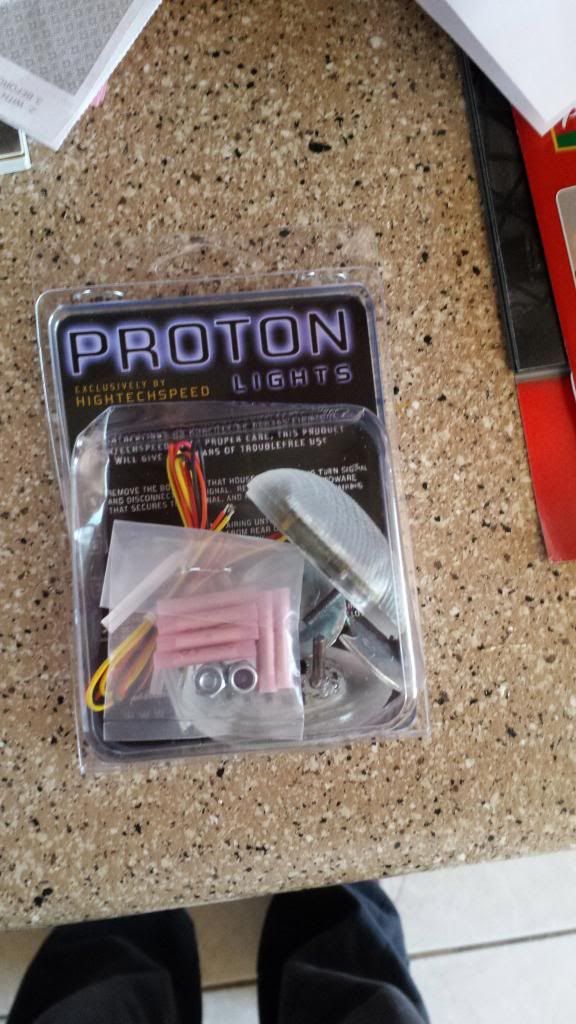 There are so many other random parts I've ordered sitting in the garage I've almost forgotten what I have! I think the majority of it is done as far as purchases go. The last two big expenditures will be exhaust and paint.
I got these beasts in the mail from simonkobe last week. They still need to head to the powder coater. They'll be gloss black. I'm still deciding whether or not to do the heel guards in blue: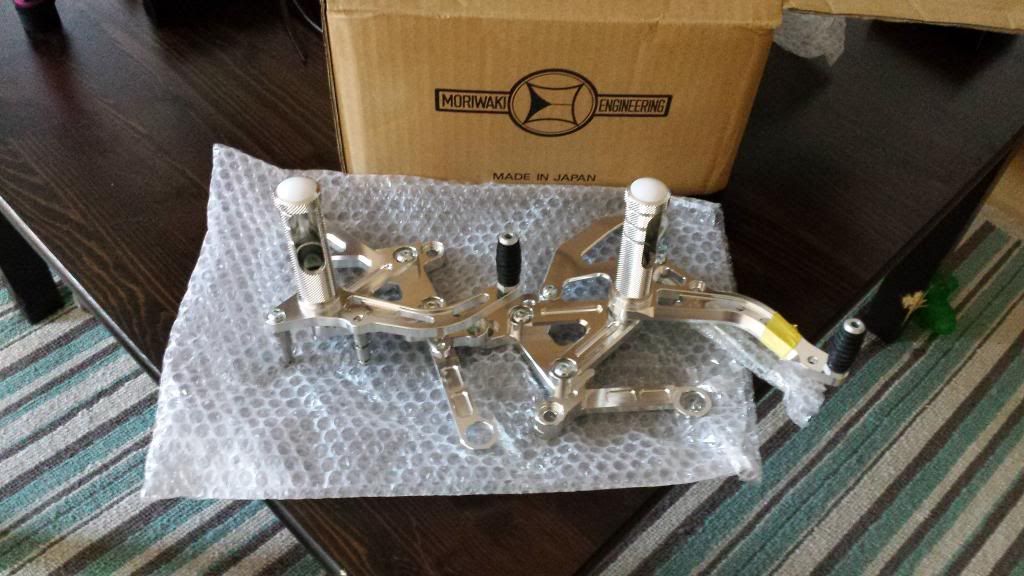 I had the caliper mounts (at the suggestion of my other half) done in gloss black. I think it's a vast improvement over the standard aluminum.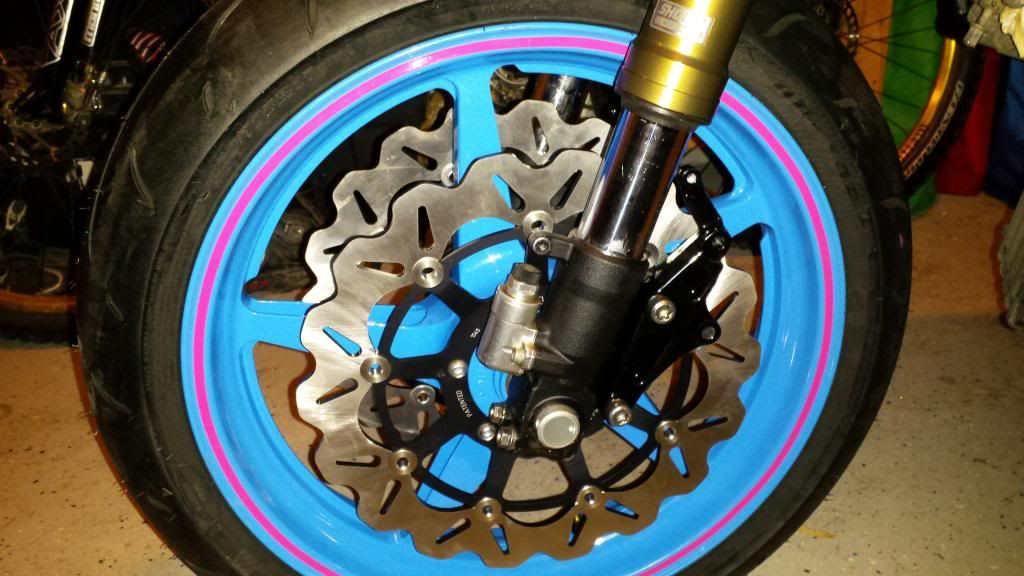 The top triple was sun faded to a medium gray. It got some powder coat as well. Looks much better:
We didn't realize till last night that the brake and clutch reservoirs were totally smoked from years of sitting in the sun. Had to order new ones today: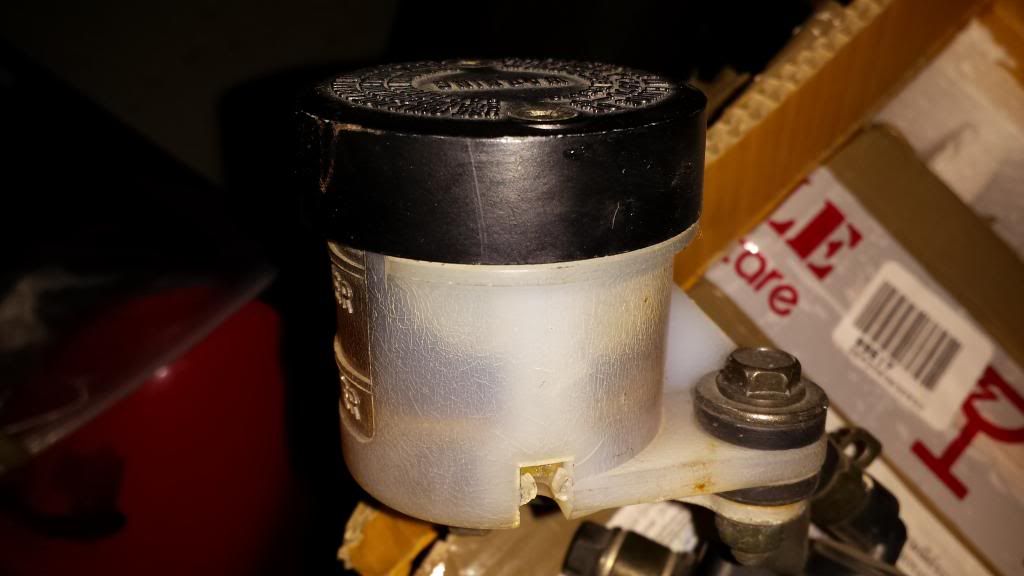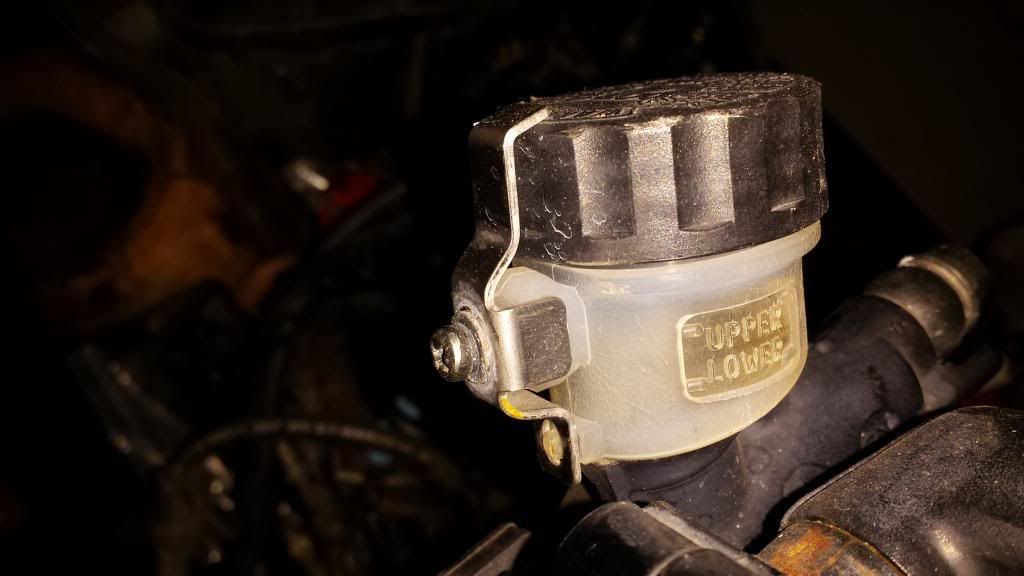 Also ended up ordering a new turn signal and kill switch because of sun fade. I wanted new lever perches, but it doesn't seem I can order just the perch, have to order the whole assembly which I don't need. Any one know where I can score these?
That's pretty much it for now. Progress will be slowed due to my partner in crime being out of town for a couple weeks. You guys have been a great source of info and parts!
Lifetime Premium
Join Date: Sep 2011
Location: ATL
Posts: 2,301
Mentioned: 9 Post(s)
Quoted: 119 Post(s)
his and hers rc51s? awesome work!!
---
2003 SP2: Everything I could find.
1991 Honda HawkGT
2008 XR650L
Dec. 2011&2013, Sep. 2015, May 2019 BOTM