Member
Join Date: Feb 2011
Location: Burbank California
Posts: 34
Mentioned: 0 Post(s)
Quoted: 0 Post(s)
Gotta "no rear red reflector" ticket yesterday
---
I wanted to tell the cop what an asshole he was for stopping me but instead I had to thank him for not writting me up for an illegal exhaust system.
Now I have to go to court and show them a red reflector.
Any ideas for a legal red refucktor on the back of my bike?
[IMG]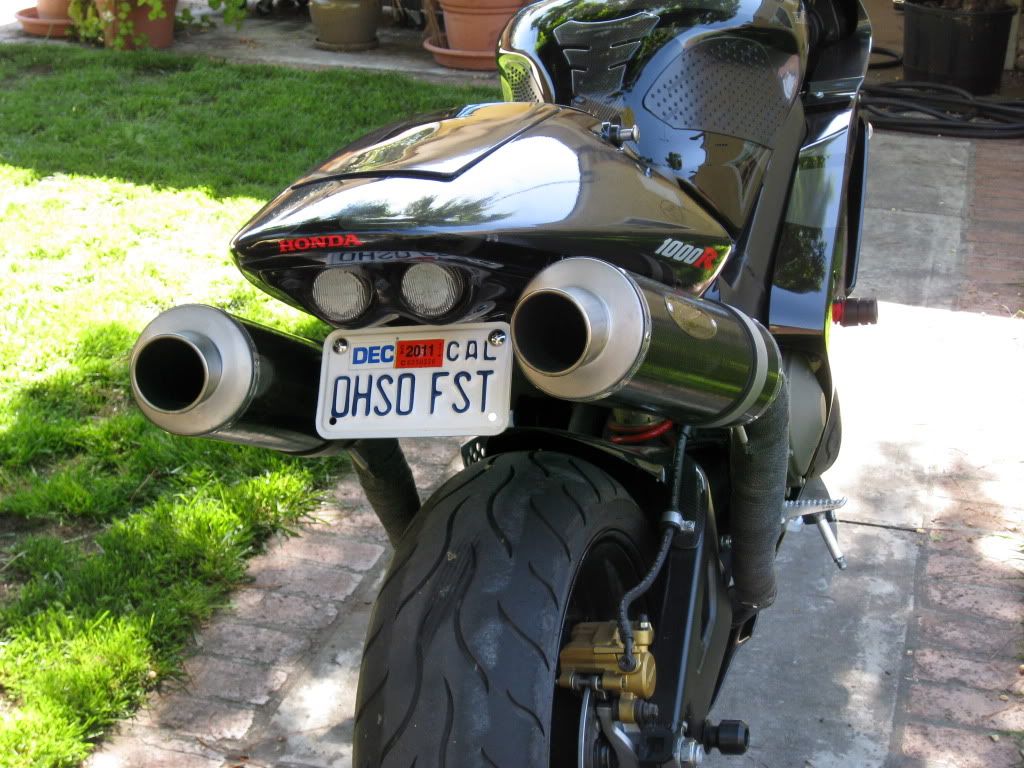 [/IMG]
---
Last edited by V2only4me; 04-18-2011 at

02:02 PM

.
Senior Member
Join Date: Mar 2011
Location: Keller,Texas
Posts: 606
Mentioned: 0 Post(s)
Quoted: 3 Post(s)
Yo V2 ...I use red reflector bolts to hold my plate on. Works here in Texas....think I paid $.50 cents each for them....I have a few extra if you need some !
Senior Member
Join Date: Aug 2010
Location: Northern CA
Posts: 8,653
Mentioned: 15 Post(s)
Quoted: 317 Post(s)
Hey V2, in the last year I've been pulled over, in every vehicle I own, (3) more than in the last decade. These CA police and CHP are on a revenue collecting rampage. Even a free fix-it ticket cost's $25 administrative fee. Friggin boils my blood! I believe they are profiling nice looking vehicles, thinking we can afford these chickenshit tickets and admin fee's. I'm talking about technical things like no front licence plate, middle brake light not working, and we have a couple trick intersections that seem to invite the unknowing into a violation.
Watch out in CA, cause the authorities are out there looking for any oppurtunity to squeeze $$$ right out of your wallet...
---
John, 2000 RC51 #000100
[SIGPIC][/SIGPIC]
Senior Member
Join Date: Mar 2011
Location: Keller,Texas
Posts: 606
Mentioned: 0 Post(s)
Quoted: 3 Post(s)
You V2 - did a quick search and found these on ebay
http://cgi.ebay.com/ebaymotors/Motor...#ht_1314wt_939
$8 shipped to your door ...or I am sure your local Moto Shop probably has a bucket full of these things
Gotta love a state that will not allow you to smoke a Cigar in your own home...but weed is ok !! Long live the Socialist Republic of California
---
Last edited by raleighp; 04-18-2011 at

12:07 PM

.
Moderator
Join Date: Oct 2008
Location: Sarasota, FL
Posts: 6,479
Mentioned: 24 Post(s)
Quoted: 92 Post(s)
Pretty much every state is trying to prosper, one citation at a time.
The cops here get to be a pain in the butt every month (quota time).
That's why I try to ride in the country.

Plus we have may too many old people here that should not be driving.
Especially from November to May when they winter down here.
Next month, most will gone except for the permanent geezers.
Then the cops will start microwaving everything in sight to make up for the loss of tourist revenue.
Senior Member
Join Date: Jan 2010
Location: Alabama
Posts: 406
Mentioned: 0 Post(s)
Quoted: 1 Post(s)
How was your exhaust illegal
Member
Join Date: Feb 2011
Location: Burbank California
Posts: 34
Mentioned: 0 Post(s)
Quoted: 0 Post(s)
Quote:
How was your exhaust illegal
This is California. All after market exhausts are becoming illegal. I told the cop that the cans had baffles in them. He said "I doubt if they are legal. They look like after market exhausts to me".
Lifetime Premium
Join Date: Oct 2009
Location: Deutschland/Colorado Springs
Posts: 3,186
Mentioned: 7 Post(s)
Quoted: 41 Post(s)
wow.....unbelievable. sorry you have to deal with this headache, but i guess he could have hit you with a worse ticket. The states are really stretching and trying to pull in revenue....its getting ridiculous.
---
2001 Honda RC51 SP1
1996 Honda CBR 900RR
2003 Aprilia RSV Mille R
1999 Aprilia RS50
2012 Triumph Daytona 675R (Sold)
2010 BMW S1000RR (Sold)
2005 Yamaha R6 (Sold)
Wow, that's absolutely amazing that someone actually cares enough to 1) read the minutia of motor vehicle laws re: reflectors and 2) pull you over for something that silly. What a PITA. Were all the loiterers at every 7-11 hiding inside? What about going 36 in a 35 zone? Or legitimate crimes/infractions. Amazing.

And yes, very surprising nothing was said about the exhaust... nothing sounds quite like the chest-hitting thud-thud-thud of those cans!
Senior Member
Join Date: Aug 2010
Location: San Diego
Posts: 728
Mentioned: 0 Post(s)
Quoted: 0 Post(s)
I get the ones that are reflector bolts, they go in the license plate holes. Most shops around here have them for like 50 cents each. they come in amber, green blue, red and clear