Senior Member
Join Date: Mar 2011
Location: Modesto, CA
Posts: 188
Mentioned: 0 Post(s)
Quoted: 1 Post(s)
Dynabeads, anyone?
---
It is about time to change out the rear tire and I am thinking of trying
Dynabeads
to balance the tire. Has anyone heard of or used these?
I've never tried them on a motorcycle. I work as a diesel tech and have seen my share of tires balanced with them. I've never seen an improvement over just using the standard wheel weight. The principal makes sense, but in all honesty... I've had more tires come in with a balance issue that have had those beads installed, and the solution was to remove them and do a standard dynamic balance. Computerised wheel balancers these days are pretty bad a$$, I'd stick with lead weights.
Lifetime Premium
Join Date: Apr 2008
Location: Everett, WA
Posts: 2,010
Mentioned: 3 Post(s)
Quoted: 3 Post(s)
I was going to give them a shot with my new wheels when I swapped over the tires, but just bought a balancing stand instead. From what I have heard they are a pain to get through the valve stem, and I have 90 degree ones on the new wheels. I didn't want to mess with that.




Moderator
Join Date: Oct 2008
Location: Sarasota, FL
Posts: 6,479
Mentioned: 24 Post(s)
Quoted: 92 Post(s)
I've had two sets of tires where no balance weights were needed.
Amazing the manufacturing consistency these days.
Senior Member
Join Date: Oct 2009
Location: Northern California
Posts: 161
Mentioned: 0 Post(s)
Quoted: 0 Post(s)
Motorcycle Consumer News tested it. No benefit. Waste of money.
Member
Join Date: Sep 2010
Location: Texas N27.8, W97.3
Posts: 40
Mentioned: 0 Post(s)
Quoted: 0 Post(s)
I gave them a shot the other day with my '72 CB350 cafe project. Always been skeptical of them and I really didn't want to use spoke weights. Really didn't have any trouble getting them in because I had an air line with a trigger on hand. Go slow and if they back up in the valve give it a blast of air with the trigger.
So far seat of the pants feel tells me that it's an improvement, but I'll really know once I get some modern suspension on the 40 year old bike. To be completely honest I wouldn't try them in any of my sportbikes. It's not such a big deal for this "in-town" fart around bike.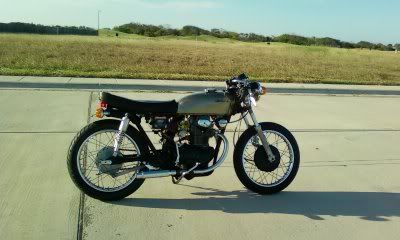 ---
'01 RC51, track '02 gixxer6, wife's '02 F4i, '72 Honda CB350 cafe, track miata, Formula Vee w/1915cc
Senior Member
Join Date: Mar 2011
Location: Modesto, CA
Posts: 188
Mentioned: 0 Post(s)
Quoted: 1 Post(s)
Thanks, fellas. I am a bit skeptical about balancing the wheel myself and thought that would be easier. Watched several videos on how to do it and it doesn't look bad. Just going to stick with the weights.