Junior Member
Join Date: May 2010
Posts: 6
Mentioned: 0 Post(s)
Quoted: 0 Post(s)
Newer member- with an interesting RC
---
Just thought I'd finally say hey. Been a lurker, ect for a while, buying some parts and stuff. But I figured I might start participating on this forum for once! Long story short- I've wanted an RC since the first video clips of one I'd seen. The day came a year or so ago that I finally rode mine home. It was repainted a beautiful gunmetal grey, had spikey stuff all over it, but was clean, well maintained, and...honestly the only one around for sale heh. She already had yoshi pipes, corbin seat, and not factory paint(not a huge fan.) Only bad thing was it was lowered...like ALOT. Made it handle terrible, ride like a brick (my insides hurt), and just too small feeling for me (6')
Unfortunately, going from my 83 interceptor to this thing was quite a jump. a few weeks into owning it I accidentally locked the rear tire in a corner (was late, and I wasn't really thinking about riding..also think the bump I hit and lack of suspention added to it) I high sided and thats all she wrote. I flew in the air and landed in a grassy yard. Thankfully all I had was a sprained thumb and some bruises...physical and mental. Bike wasn't too bad- had alot of minor and cosmetic damage. After I recovered, the teardown began. I replaced all controls (clip on, pegs, rear brake bracket assembly, muffler hanger/rearset) on the right side of the bike with good used parts. Right muffler pipe was bent in half so I drilled the rivets out, seperated the CF can from the pipe, and used a torch and MANFORCE to bend it back into shape. I didn't want to chance a fiberglass ebay body kit and didn't have the money for honda panels/paint at the time...so she got some...creative color.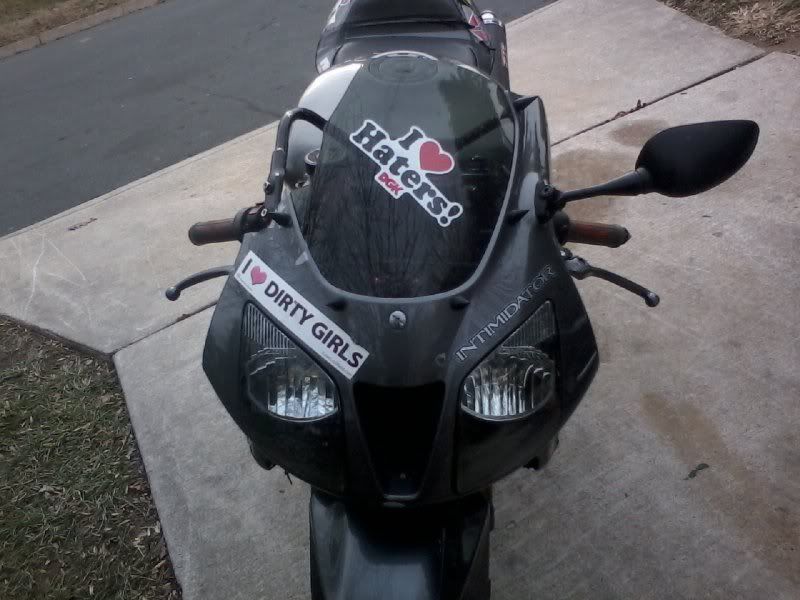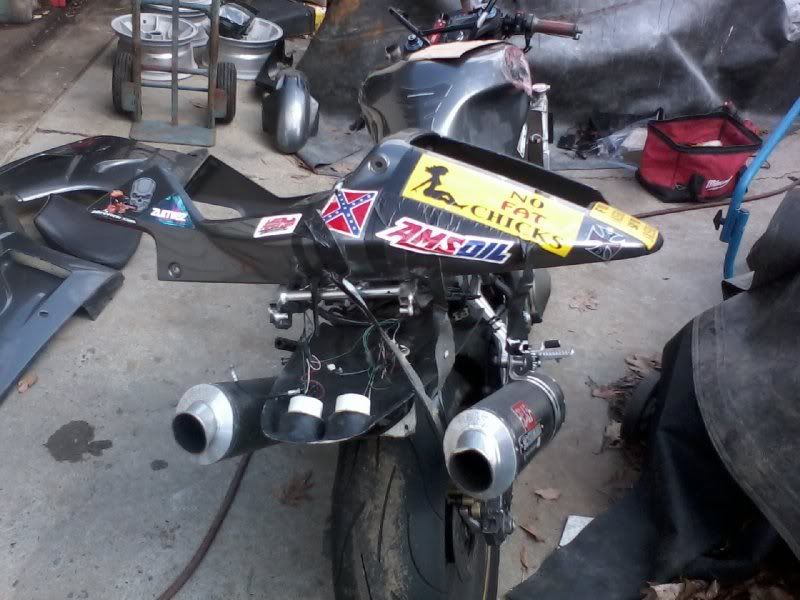 Rode it like this for the remainder of the season..and it was kinda nice not having to worry about any little scratches ect. During this time I got tired of a few backfire issues. and the crappy ride. so apart it came again! Set the bike back to stock ride height on the forks, and re installed the stock shock arm thing/ and kickstand. Also installed a powercommander, changed the plugs, cleaned the K&N filters, changed the oil/coolant, New chain/sprockets +4 rear, fresh set of 2CT's (changed to a 180 rear) and new brake pads(EBC HH's) with a brake flush all around. She was mechanically sound and riding much much better than ever.
I soon lusted after a pretty RC again, and during this spring the tear down began. I sort of stole the paintjob from other internet pics I'd seen, but made it my own. I always liked the B17 flying fortress, and flying tigers p40's, so figured...what the hell...why not base it off of them! With the addition that my other cars are flat colors I went with olive drab.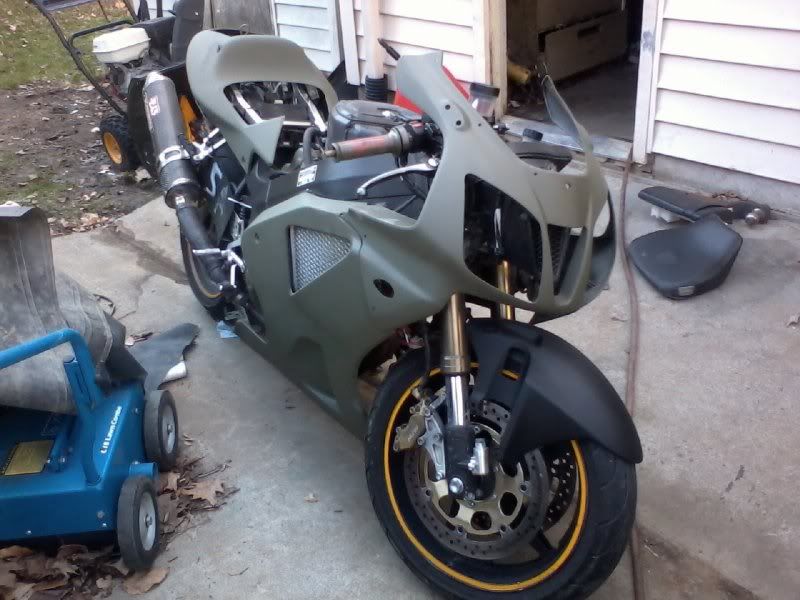 My headlight and tail fairings were destroyed so I bought two "new to me" ones on Craigslist and had them shipped in...the tail fairing had a few scratches that sanded out, but the front fairing was fubar. The "small" hole turned out to be a 2" section of the LF corner burned off via the pavement. I was going to buy another...but my pop stepped in. He noticed that the left side of this fairing was destroyed, and the right side of my fairing was cracked off....so He went to work. He cut the two fairing directly down the middle and put plastic welded them together using sticks of the old fairing pieces as welding rod. I couldn't believe my eyes...it actually worked...and looked perfect once sanded out. headlights, ect even bolted in correctly. The side panel and tail scratches were sanded out and painted via rattlecan using Krylon fusion millitary paint aquired at the local wally world.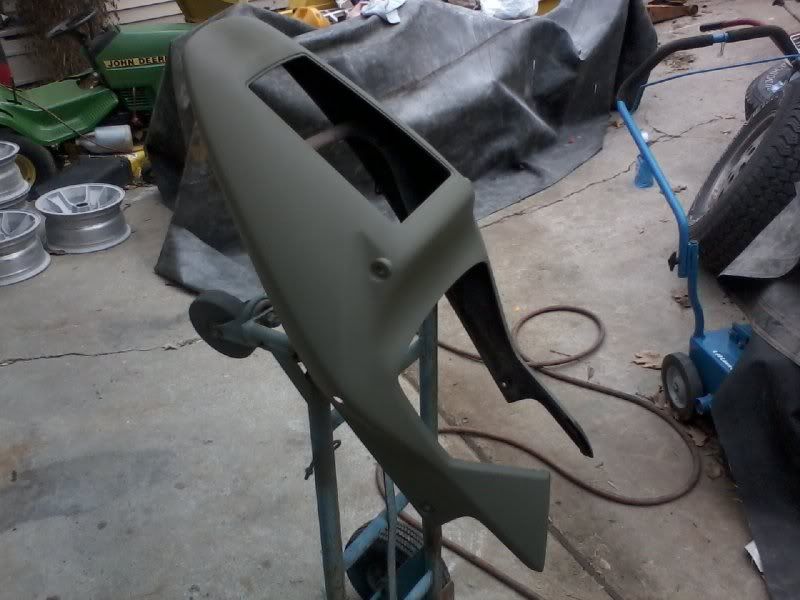 At this point I thought it looked good...but was missing somthing...it needed big snarly teeth to match the big snarly v-twin that growled to life when started and sounded like a nosediving plane when winding out. I had talked to a local artist/personality a few times as he liked to hang out at the local WAWA for coffee and we bumped into each other a bunch. Kobbie's been hand pinstriping and airbrushing hotrods locally for 20+ years plus after looking at the work on his daily driven hearse I was sold.
I explained what I wanted...gave him a basic idea, and got this back a few weeks later.!!
Junior Member
Join Date: May 2010
Posts: 6
Mentioned: 0 Post(s)
Quoted: 0 Post(s)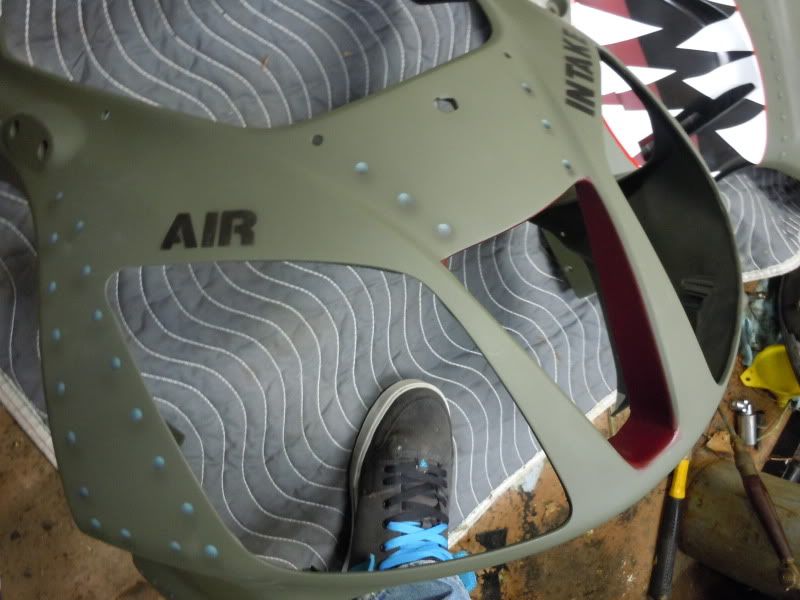 Needless to say I was ecstatic and couldn't have asked for anything else. During those short weeks it gave me a chance to disassemble and clear the tank of any fuel. We borrowed a friends bodyshop stud gun and puller and went to work. After alot of banging and pulling we got the tank very close to its original shape, and filled the rest in with body filler. That also got a coat of OD, and sent to kobbie for his magic touch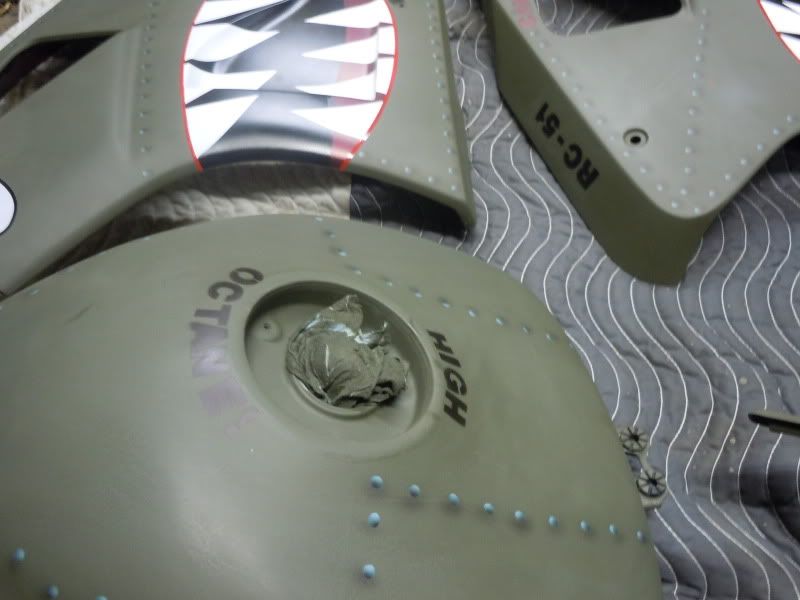 Concerned about the durability of the spray paint we did a test on the old plastics...with a slight spill of gasoline it wiped clean off....that wouldn't work...so I Bought some automotive grade satin clear with flex agent and put several coats on in my garage. The plastics were not painted and protected...and not to mention looking mean!
I cleaned up the frame, rerouted alot of wiring in the tail, secured the PC, and other modules that were flailing around and started re-assembly!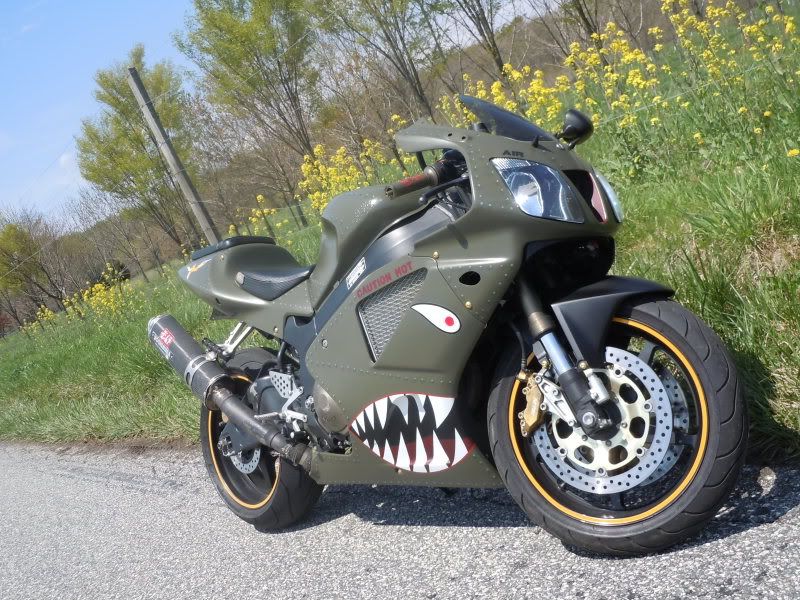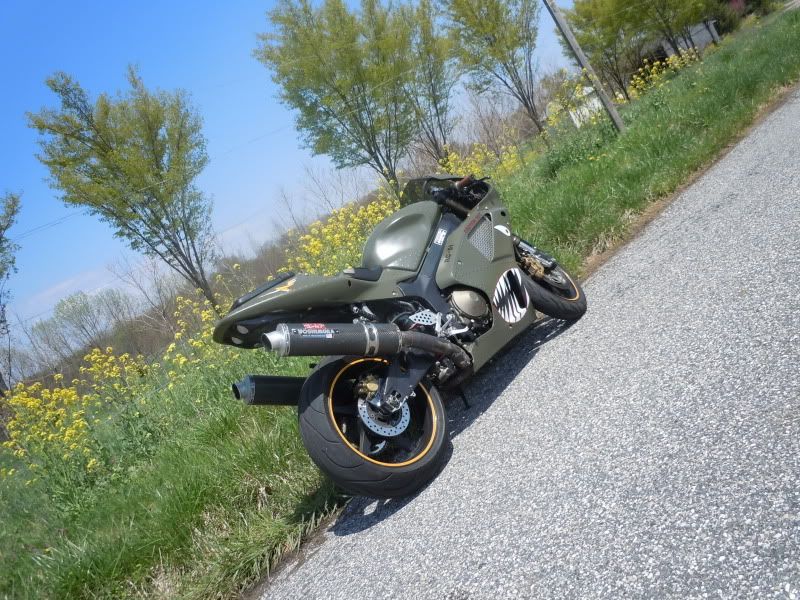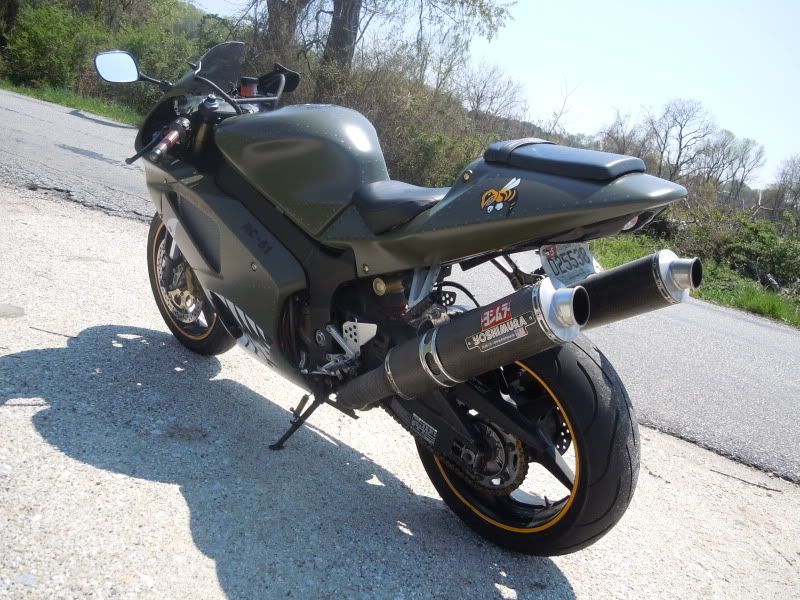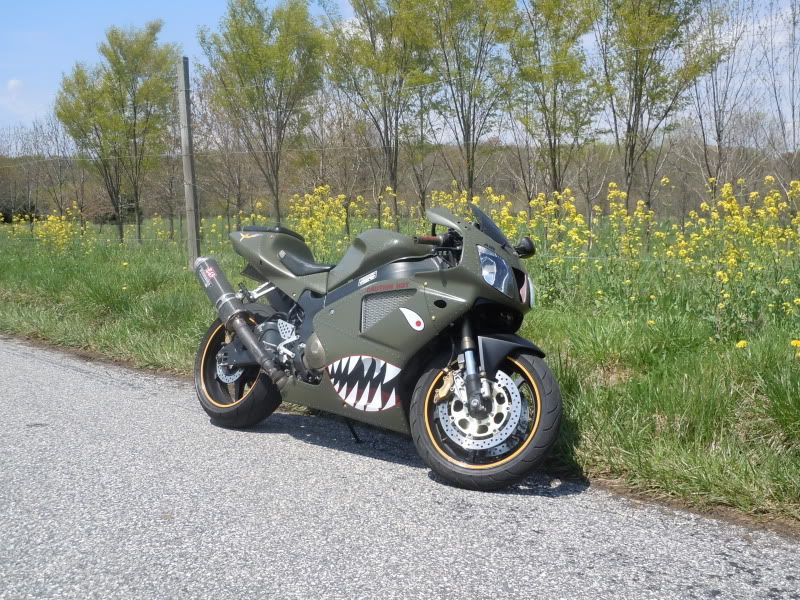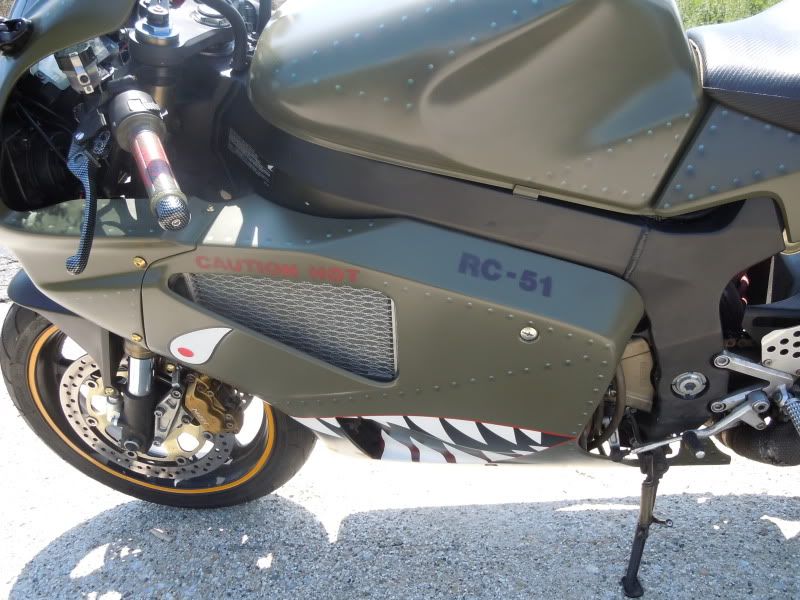 Junior Member
Join Date: May 2010
Posts: 6
Mentioned: 0 Post(s)
Quoted: 0 Post(s)
Thats how she sits now. I'm gathering parts to complete it back to normal. Have a new smoked windscreen in the mail along with non-lethal windshield bolts, haven't got a used mirror yet, and not sure what I'm gonna do for front turn signals. Got some more header wrap and redid the pass side pipe which looks a ton better. Also aquired another solo cowl I'm painting to match as well. I've just been enjoying riding her again and breakin necks. I can't go anywhere on this thing without getting a compliment! Hope you guys enjoy it
Heres my other rides if your interested!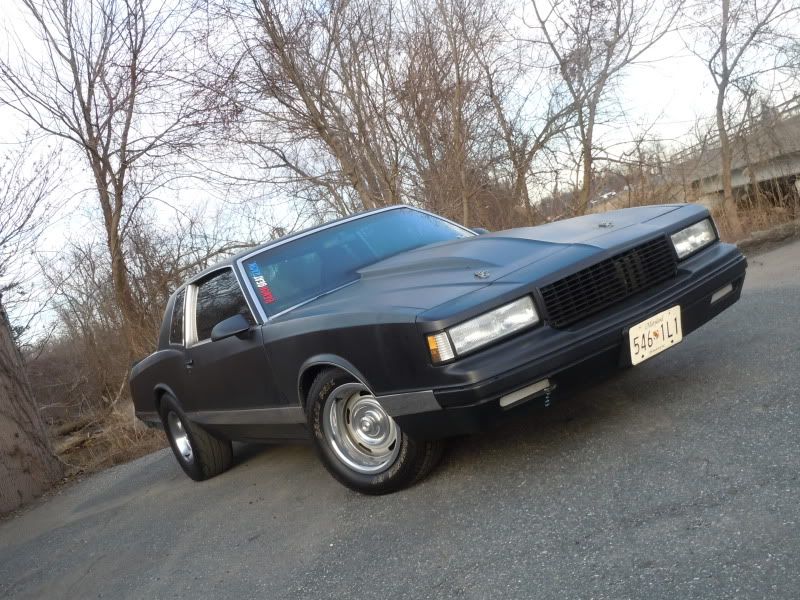 My pride and joy- flat black 86 monte with a blown ls1 and almost frame off resto. Complete interior and exterior modification. Runs 11.32 and can trash a set of tires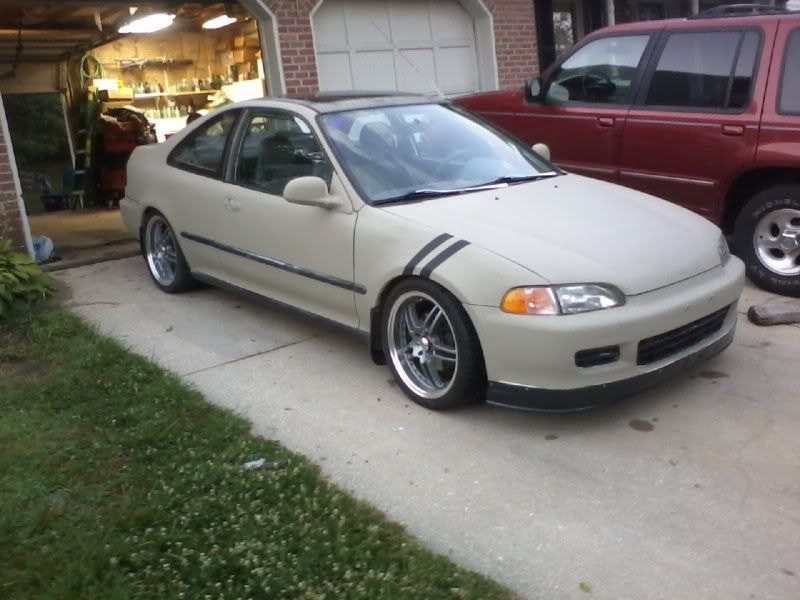 Flat tan 94 civic. Fun daily craigslist build. Edelbrock turbo kit on factory 1.6l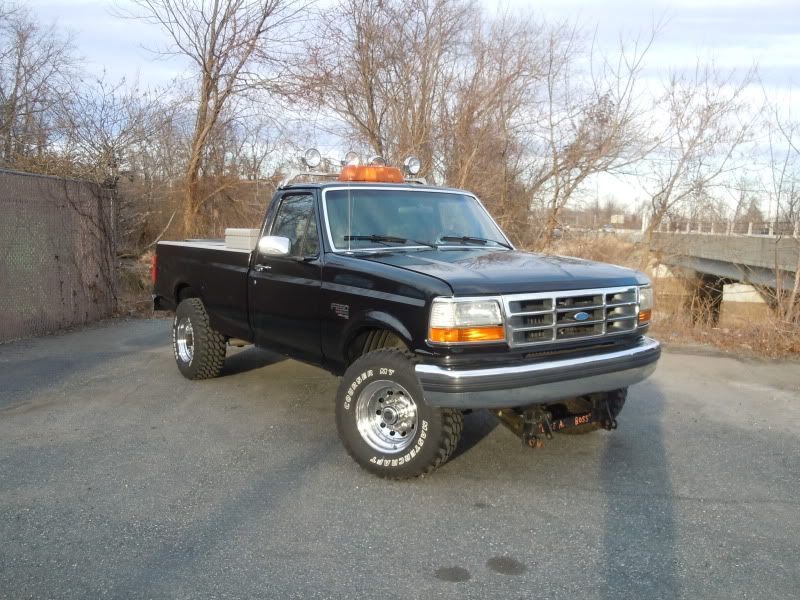 96 powerstroke work/plow truck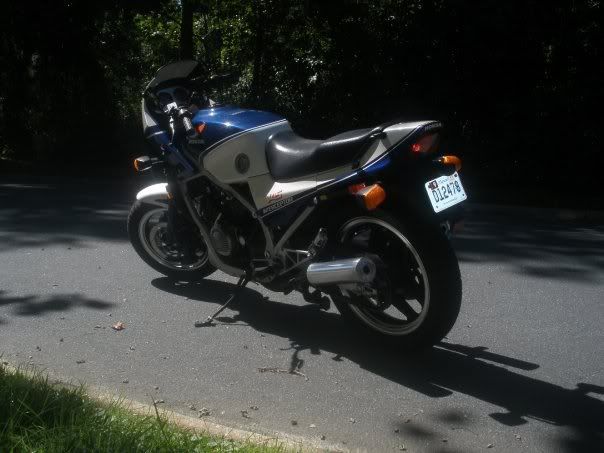 83 interceptor 750. All original 25k miles- very nice shape- bought it from my dad as a first bike!
Hope you enjoyed my fleet- I might be putting together a cb550 cafe project sooner or later, so I might post it!
---
Last edited by sixtoes1313; 09-07-2011 at

09:11 PM

.
Moderator
Join Date: Oct 2008
Location: Sarasota, FL
Posts: 6,479
Mentioned: 24 Post(s)
Quoted: 92 Post(s)
Quite a transformation.
And a whole lot better looking without all the decals plastered all over from the previous owner.
Lifetime Premium
Join Date: May 2010
Location: qld australia
Posts: 266
Mentioned: 0 Post(s)
Quoted: 0 Post(s)
hi mate that looks cool !! i love it !!! cheers buddha
Member
Join Date: Mar 2011
Location: Scottish Highlands
Posts: 42
Mentioned: 0 Post(s)
Quoted: 0 Post(s)
Excellent transformation. Some rocket shaped indicators and gattling gun styles exhausts would finish it off just right. Park it next to an Apache helicopter for a photo shoot.

Well done. Love it!
Senior Member
Join Date: Mar 2011
Location: Missouri
Posts: 118
Mentioned: 0 Post(s)
Quoted: 0 Post(s)
I love it! Great job on the re-build, welcome to the forum.
---
2003 RC51
2006 FJR1300
2002 CBR600 f4i
2002 R1
Lifetime Premium
Join Date: Dec 2010
Location: Island Lake Alberta Canada
Posts: 1,904
Mentioned: 11 Post(s)
Quoted: 56 Post(s)
Nicely done sixtoes! Em, I hope ye let yer Da take her for a spin!
---
Duct tape can't fix stupid...but it sure helps muffle the sound
'03 SP2, '09 GL1800
Senior Member
Join Date: Aug 2010
Location: Northern CA
Posts: 8,653
Mentioned: 15 Post(s)
Quoted: 317 Post(s)
Very nicely done. I applaud your raw determination to do this on the cheap and have it look respectable. Looks like you succeeded on both!
edit: ditto on the stickers plastered all over. That was not a pretty sight!!
---
John, 2000 RC51 #000100
[SIGPIC][/SIGPIC]
Senior Member
Join Date: Mar 2011
Location: Modesto, CA
Posts: 188
Mentioned: 0 Post(s)
Quoted: 1 Post(s)
That is a great looking bike. A hell of an upgrade from the post-crash sticker job.