nice ride i had
---
motorcycle riders are so funny we always take pics of the bike so here is mine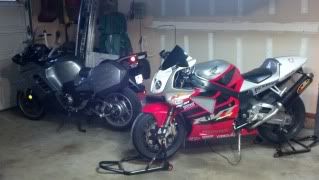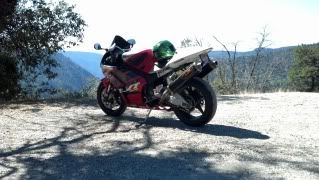 ---
Penske triple adjustable shock Moriwaki linkage
forks , valves , springs ,top-out mod
Moriwaki rearsets
Carbon Airbox heatshielding custom K&N panel filter
Power Commander USB
Galfer superbike full foating rotors - SS braided lines
Brembo 19 RCS Adjustable Ratio Radial Brake Master Cylinder
DID 520 gold chain
CRG folding clutch lever
Relocated battery Shortened wiring harness
Flapper PAIR EVAP removed
Soft Rev limiter removed
15/41 gears 520
Vortex clip-ons
Senior Member
Join Date: Sep 2010
Posts: 311
Mentioned: 0 Post(s)
Quoted: 0 Post(s)
What's wrong with taking pictures of bikes? They are beautiful.

Nice pics, btw.
---
Nothing is wrong. Why is everything taken in the negative . I have pics all the way back from my first bike. I love to see bikes . Post them up
---
Penske triple adjustable shock Moriwaki linkage
forks , valves , springs ,top-out mod
Moriwaki rearsets
Carbon Airbox heatshielding custom K&N panel filter
Power Commander USB
Galfer superbike full foating rotors - SS braided lines
Brembo 19 RCS Adjustable Ratio Radial Brake Master Cylinder
DID 520 gold chain
CRG folding clutch lever
Relocated battery Shortened wiring harness
Flapper PAIR EVAP removed
Soft Rev limiter removed
15/41 gears 520
Vortex clip-ons
Senior Member
Join Date: Sep 2010
Posts: 311
Mentioned: 0 Post(s)
Quoted: 0 Post(s)
Has everyone on the forums all of a sudden gone full retard?
---
Retarded for bikes
love it
---
Penske triple adjustable shock Moriwaki linkage
forks , valves , springs ,top-out mod
Moriwaki rearsets
Carbon Airbox heatshielding custom K&N panel filter
Power Commander USB
Galfer superbike full foating rotors - SS braided lines
Brembo 19 RCS Adjustable Ratio Radial Brake Master Cylinder
DID 520 gold chain
CRG folding clutch lever
Relocated battery Shortened wiring harness
Flapper PAIR EVAP removed
Soft Rev limiter removed
15/41 gears 520
Vortex clip-ons