Senior Member
Join Date: May 2011
Location: Griffin, GA
Posts: 317
Mentioned: 0 Post(s)
Quoted: 0 Post(s)
Finally got me a Nicky Hayden edition
---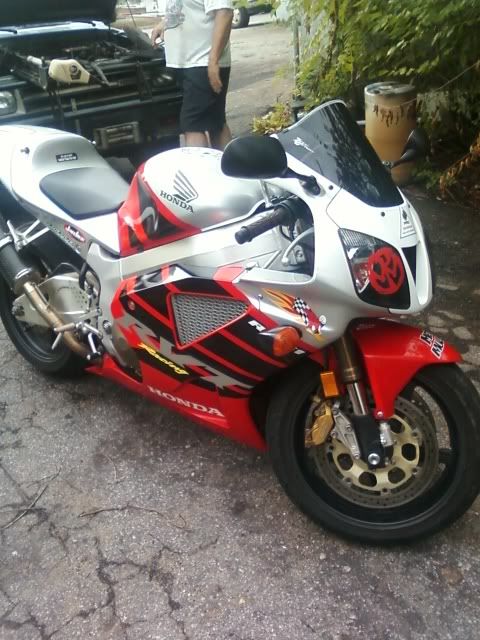 finally after 6 months of looking i found one in north carolina, paid 6500 with 12k miles, not to bad of a deal, can anyone tell me where the reserve is located? lol or if it even has one since it has a low fuel light, thanks
Junior Member
Join Date: Jan 2011
Location: Boston
Posts: 14
Mentioned: 0 Post(s)
Quoted: 0 Post(s)
Hey,
There is no reserve. Light comes on with about 1 gallon left. Fill her up and ride!
Banned
Join Date: Mar 2011
Posts: 45
Mentioned: 0 Post(s)
Quoted: 0 Post(s)
could of had one a lot sooner and a much better deal on this forum lol

#1
DRFEELGOOD
Junior Member


Join Date: Dec 2009
Posts: 16 2004 RC-51 Hayden Edition

--------------------------------------------------------------------------------

2004 Honda RC-51 Hayden Edition with 4412 miles on it. Sato low mounts with orig. pipes included, new battery, all fluids recently flushed (coolent, brake, clutch), oil changed every 1k miles, mich. pilot pwr's, hotbodies undertail, power commander, NEVER been down or in rain (fair weather rider ). Orig sticker kit not installed but comes with. Hayden autographed pass seat cover...not a sticker like the tank, the real thing. Pitbull center stand...basically perfect condition. Asking $11,900.00...please, if you can't afford it or don't approve of the price, keep it to yourself. That is the "asking" price. I will entertain any and all proper offers. Pics soon to follow...Thanks. The bike will be at Americade in Lake George, NY next week if anyone is interested in seeing it.