Member
Join Date: May 2010
Posts: 47
Mentioned: 0 Post(s)
Quoted: 0 Post(s)
Full throttle upshifts with kill switch?...
---
I was thinking of wiring my unused horn button into the kill switch in an attempt to be able to cut the ignition for a split second for full throttle upshifts. Kind of a poor man's quickshifter. I heard that some racers used to do this back in the day in order to gain precious tenths, but I am wondering what the long term effects of such a mod might be. I have no doubts it will work, but my concerns are these:

If the kill switch cuts off the fuel pump as well, is it okay to momentarily cut power to the fuel pump on a consistent basis?

What effect will this have on my electrical system?

Is there a better way of accomplishing this idea?
Lifetime Premium
Join Date: Apr 2008
Location: Everett, WA
Posts: 2,010
Mentioned: 3 Post(s)
Quoted: 3 Post(s)
Your timing would have to be pretty damn good to make it work. I don't see it being that much more effective than how most do it without the clutch anyways.
Do you have a powercommander USB? If so, you can just do this:
http://www.speedzilla.com/forums/rc5...ifter-mod.html
If you don't have a PC USB, you should get one anyways.
Quote:
Got this mod from the fireblade forum, and didn't know if it was posted here allready. Just to be sure, here it is(again maybe). The quickshifter works perfect !
What you need;
*Power Commander 3 USB and the 9v battery connector.
*Spare (rear)brakelight switch with spring,
*5 feet of elec.wire.
First of all you'll need to fabricate a support angle for your brake light switch wich in my case is positioned at the aft bolt of the side stand.
see pic. The angle is made of T7075 2mm. wich can be obtained in any aircraft maintenance station for free. the holes are 10mm(sidestandbolt) and 13,5 for brakelight switch.for adjustment reasons MAKE SURE IT DOESN'T BEND!.
Now install the angle and press the brakelightswitch in the hole, connect the spring to the gearlever. see pic.
The cable can be routed through the frame opening or use some creativity and make your own "do it yourself" routing.
I used some waterproof splices with heatshrink tubing wich can be obtained from the same supplier.
The switching point of the brakelight switch is adjusted around 20mm gear lever movement, but this a personal matter.Check this with a multimeter.
Now connect the switch wires to the 9v battery PCIII connector.
Cut the 9v battery terminal and throw it away.
Move the red wire of the PCIII connector 1 position lower, so the black and red wires are in one line, and attach the brake light switch wires to the PCIII connector see pic.
All hardware is done, now to the software part.
Get the PCIII quickshifter software here Service get the "PCShiftKillEnable" file unpack it and run it while your computer is connected to the PCIII set the quickshifter to enable.
Under "power commander tools" the option set killtime is now activated and you can set the killtime and the desired rpm from where it should operate(mine is 65ms killtime and operational from 6000rpm.)
Good luck !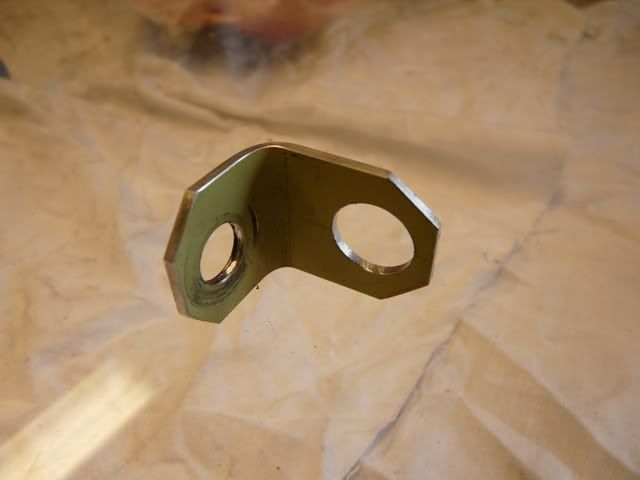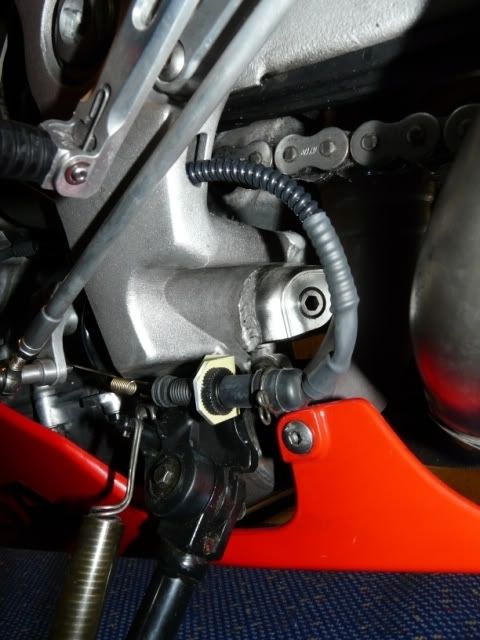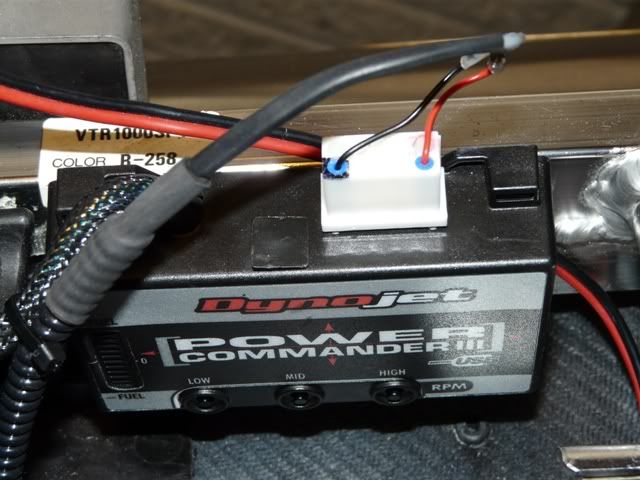 Member
Join Date: May 2010
Posts: 47
Mentioned: 0 Post(s)
Quoted: 0 Post(s)
Hmmm, that looks like an awesome idea. Are you running this setup on your bike? If so, have you missed any shifts with it? It seems like a brake light switch would not have the precision tolerances necessary to actuate the ignition cutout at a consistent measure of shifter travel. I do have a powercommander 3, but it's not USB. Does that matter? Also, what if you want to shift using the clutch above 6000rpm? Would it end up just feeling like a regular shift?

My method should replicate the same action that rolling off the throttle accomplishes. The way I shift now is hold full throttle, apply pressure to shifter, roll off throttle for a split second while shifter engages next gear, roll back on full throttle. With a push button ignition cutoff, it would be the exact same steps except you're pushing a button instead of rolling off throttle. As long as the button is depressed for more than about 40ms, I figure everything should be fine. You could of course hold the button for longer, and it wouldn't cause any damage, just waste time. And I think you're pretty much physically limited to how short of a duration your thumb can tap the button meaning you wouldn't be able to do damage with too short of a duration.

I like your method, but it seems like more potential points of failure. I'd like to hear more about your or anyone else's experience with it. If it is consistent, (and it will work with the non-USB PC3), I'd love to try it.
Lifetime Premium
Join Date: Apr 2008
Location: Everett, WA
Posts: 2,010
Mentioned: 3 Post(s)
Quoted: 3 Post(s)
It won't work with the non usb unit, as far as I know the pcIIIr and pcII never had the ability to run a quick shifter. I don't think that the precision on the brake switch would be of concern. They are very adjustable.
I really wouldn't trust myself to push a button for the proper amount of time while simultaneously shifting a gear. I know that we do similar actions while shifting traditionally with the clutch, but that is ingrained and we should all be able to do it in our sleep. With the setup that I posted, it is doing the same thing, but your foot is shifting and actuating the cutoff at the same time, just like the dynojet system. If you want, it would be easy to wire in a switch on the bars, or use the highbeams or horn button to actuate the pc, but again, you'll need a pcIII USB.
Oh, and no, I am not running this on my bike, but I plan to soon. If you click the link to the thread, you'll see that there are plenty of people doing this, like here:
http://www.zx-10r.net/forum/showthread.php?t=88277
all with no issues that I have heard of.
---
Last edited by b.miller123; 09-23-2011 at

07:14 PM

.
Lifetime Premium
Join Date: Apr 2008
Location: Everett, WA
Posts: 2,010
Mentioned: 3 Post(s)
Quoted: 3 Post(s)
Just did it today, works like a charm.
Pics:
---
Last edited by b.miller123; 09-25-2011 at

04:11 PM

.
Member
Join Date: May 2010
Posts: 47
Mentioned: 0 Post(s)
Quoted: 0 Post(s)
Great find b.miller, really wish there was some way of making it work with the PC IIIr instead of the PC USB. I'll have to save this mod for later.