Senior Member
Join Date: Sep 2011
Location: HOCKEYTOWN ® MI
Posts: 1,291
Mentioned: 2 Post(s)
Quoted: 47 Post(s)
Crazy murderer dude
---
So I caught part of "The Hunt" on CNN the other day and saw this piece of shit (Shane Miller) had murdered his entire family (wife and two young daughters). After killing them he went into hiding, like a coward.
Besides beating on women, he was apparently into RCs as well? Did anyone out west ever come across this monster? Absolutely bonkers; I snapped a pic from the TV: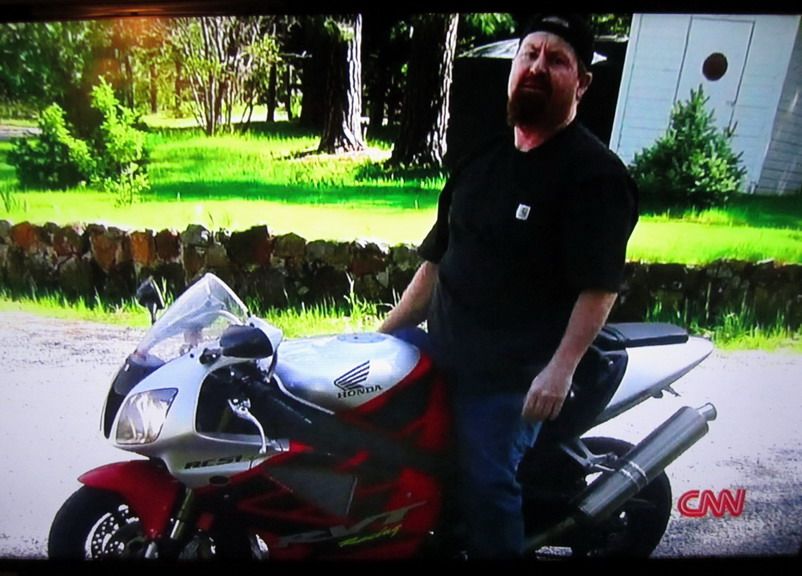 I suppose the good news is that he was found dead earlier this week; too bad it wasn't death by firing squad or the equivalent:
http://www.cnn.com/2014/08/03/us/the...ead/index.html
Original story:
http://www.cnn.com/interactive/2014/06/us/the-hunt/
---
'06 Black/Metallic Gray RC51
-Competition Werkes FE w/
Clear Alternatives IT
'02 Silver/Black CBR 954RR
'11 Graphite Black CBR 1000RR (sold '15)
'08 Pearl Orange CBR 600RR (sold '11)
Lifetime Premium
Join Date: Jul 2013
Location: Cornwall UK
Posts: 344
Mentioned: 1 Post(s)
Quoted: 14 Post(s)
Looks like there is an RC going spare then.
Lifetime Premium
Join Date: Oct 2009
Location: Deutschland/Colorado Springs
Posts: 3,169
Mentioned: 4 Post(s)
Quoted: 37 Post(s)
What a low life scumbag. Not sure i'd want his RC....bad karma attached to that thing.
---
2001 Honda RC51 SP1
1996 Honda CBR 900RR
2003 Aprilia RSV Mille R
1999 Aprilia RS50
2012 Triumph Daytona 675R (Sold)
2010 BMW S1000RR (Sold)
2005 Yamaha R6 (Sold)
Lifetime Premium
Join Date: May 2011
Location: Chiba, Japan
Posts: 4,617
Mentioned: 27 Post(s)
Quoted: 159 Post(s)
Yet more anti gun propaganda perhaps...? Seems to be on the US news all the time.
Mad murderers at large everywhere wanting to shoot children and commit terrible atrocities. - give the government reason to want to ban guns. Might be quite a battle to change laws though...
---
Euro RC51 SP2: HRC WSB Ti Hi-Level, T1 Airbox & Snorkel, PCIII, Dymag CA5 Carbon Wheels, Ti64 Spindles (F, R & Swing Arm), Mori Link, Maxton GP7 Shock & Ohlins 832 Forks, Brembo GP Calipers & SBK narrow track (F), Braketech Disc (R), Brembo billet Underslung x 2 Brembo RCS, Tyga Triple, 7075 Stem, Probolt Titanium all over, Babyface rearsets, MR Complete Carbon Lineup, Custom Undertail & CBR 1000 LED, Watsen LED Indicators, Harris Brace, Giles clip-ons, Corbin seat, etc. 2013 BOTY.
Lifetime Premium
Join Date: May 2011
Posts: 530
Mentioned: 5 Post(s)
Quoted: 21 Post(s)
Lifetime Premium
Join Date: Sep 2010
Location: Newport NC
Posts: 2,697
Mentioned: 5 Post(s)
Quoted: 80 Post(s)
Good, he got what he deserved, but what about the bike? That looks like a clean 03, I hope it finds a proper owner.
Lifetime Premium
Join Date: Jan 2013
Location: CA
Posts: 1,536
Mentioned: 0 Post(s)
Quoted: 10 Post(s)
Quote:
Originally Posted by
simonkobejapan
View Post
that's MRGN I believe
I thought MRGN was Mark Schoeler?
---
2001 SP1 (sold)
2004 SP2 (properly stored)
2012 Ruckus (stolen)
2015 Grom (under construction)

Weyrauch pronounced (Y Rock)...Rock for short.

Semper Fidelis