Lifetime Premium
Join Date: Sep 2010
Location: Newport NC
Posts: 2,697
Mentioned: 5 Post(s)
Quoted: 80 Post(s)
Motorcycle hitch racks
---
This was asked about in another thread, couldn't find a thread on it so here it is.
I have a Rage Powersport Products SMC-600R.
It works very well and does everything it is ment to. I've made a 600 plus mile round trip with the RC on it. It rocks, teeter totters a little bit but everything says put.
Loading will depend on the height of your hitch, but I'm able to push mine on to the rack fairly easily. Pulling the front wheel out of the wheel chock during unloading is the hardest part for me. I'm to damn short to just pull on the clip ons, I have to pull on the rear set and left clip on.
With that said I have made some changes to mine, if you've seen my RC this should not be a surprise.
It comes with a anti- teeter totter collar that slides over the bar that slides into the hitch and bolts it tight. It wasn't 100% so I added two support bars that bolt to the outsides of the rack and to the frame rails of my truck. Now it's where I want it. The other thing I've thought about changing is the front wheel loop. It does not hold the bike upright while I strap it down. It does hold it well enough to do the straps, but you must keep a hand on the bike. I want to be able to roll the bike up onto it and not have to worry about holding it up while strapping it.
I was happy with it before I added the other supports, I just seen a way I could make it work better for me so I changed it.
About the tow rig.
I have a Cadillac Escalade with the air ride auto leveling system. I would not recommend using any type of hitch rack on anything that is smaller or the same size that does not have a leveling system or over sized or tow springs. Before my bags air up the weight of the bike really squats the the truck.
My added support bars
---
Last edited by James_03_rc; 08-29-2014 at

12:10 PM

.
Lifetime Premium
Join Date: May 2011
Location: Chiba, Japan
Posts: 4,617
Mentioned: 27 Post(s)
Quoted: 159 Post(s)
I bought a Mototote rack for our camper but I haven't fitted it yet as I only intend to use it with a 130kg motard bike, which is a project in pieces which isn't finished yet.
I hear the Moto Tote is pretty good and got this one on sale from the US.
I might have to raise the leaf springs in the rear so there's enough ground clearance but that's not too difficult to do, I guess. It's a van made to carry weight, so it might be OK. It'll maybe make it more difficult to camp with at night (I don't like my bed to be tilted!
) - but it should be OK, I can carry plastic ramps to raise the front with if needed.
I'll see when I fit it, I guess...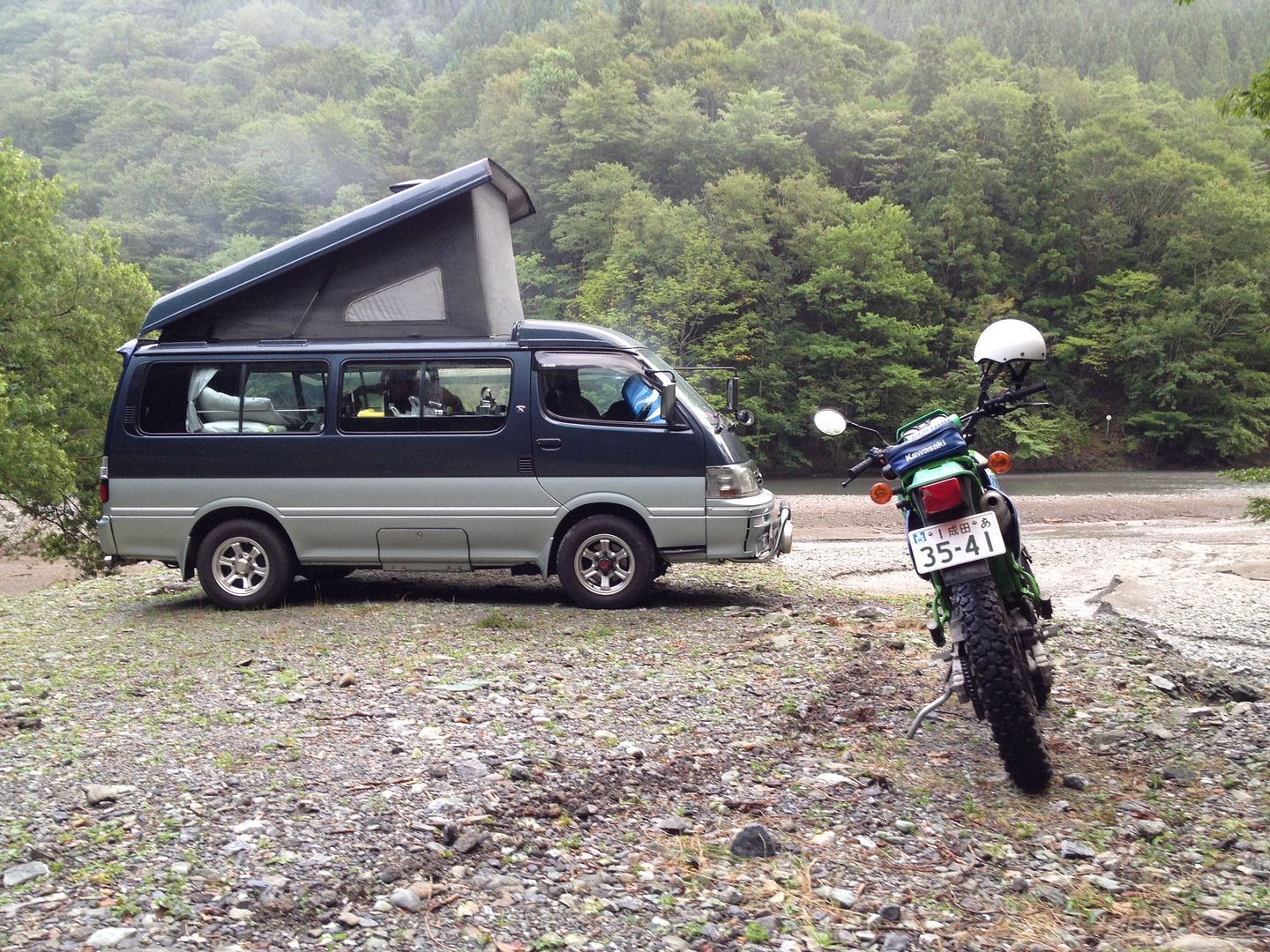 ---
Euro RC51 SP2: HRC WSB Ti Hi-Level, T1 Airbox & Snorkel, PCIII, Dymag CA5 Carbon Wheels, Ti64 Spindles (F, R & Swing Arm), Mori Link, Maxton GP7 Shock & Ohlins 832 Forks, Brembo GP Calipers & SBK narrow track (F), Braketech Disc (R), Brembo billet Underslung x 2 Brembo RCS, Tyga Triple, 7075 Stem, Probolt Titanium all over, Babyface rearsets, MR Complete Carbon Lineup, Custom Undertail & CBR 1000 LED, Watsen LED Indicators, Harris Brace, Giles clip-ons, Corbin seat, etc. 2013 BOTY.