CoreMoto has 20% off brake lines through Monday. I just bought myself a front and rear set
Now when those Apex-6 wheels go on sale... I'm on that too.
---
¯\_(ツ)_/¯
Fuel injection shmuel injection.
Just kidding.
Member
Join Date: Mar 2019
Location: Sherweed, OR
Posts: 92
Mentioned: 0 Post(s)
Quoted: 14 Post(s)
1. The PC3 that I bought from another member here has finally been installed with a Kyle map. A custom tune is going to have to wait for now.
2. Installed and configured the Healtech GIpro. No more guessing what gear I'm in.
3. Installed the G2 Ergonomics competition quick turn throttle. Holy shit this thing rocks and feels way more responsive now.
4. I ran heat reflective tape on the underside of the airbox. Probably one of the dumber mods around but so be it.

Here's what's next... Install the new CoreMoto brake lines, service the calipers, replace the front pads and scour the rotors. Hopefully the weather will improve and I can test ride piggy.
---
¯\_(ツ)_/¯
Junior Member
Join Date: Aug 2019
Location: Piedmont Triad, NC
Posts: 4
Mentioned: 0 Post(s)
Quoted: 0 Post(s)
Fuel Pump Fun!
---
The brown wire on the fuel pump connector got pinched under tank and via continuity tests, was the culprit. Luckily it was in the middle of the cable so just had to solder a new wire together, route the cable better and she was happy again. Although, that did not describe the fun I had pushing her about 500 ft down the road to parking lot when the pump went out. Other than that, enjoying the 60 degree weather in North Carolina!
---
"Even If You're On The Right Track, You'll Get Run Over If You Just Sit There" - Will Rogers
Senior Member
Join Date: Dec 2016
Location: The Netherlands
Posts: 507
Mentioned: 2 Post(s)
Quoted: 80 Post(s)
Did a "cold start 2.0"; there was ice on the cover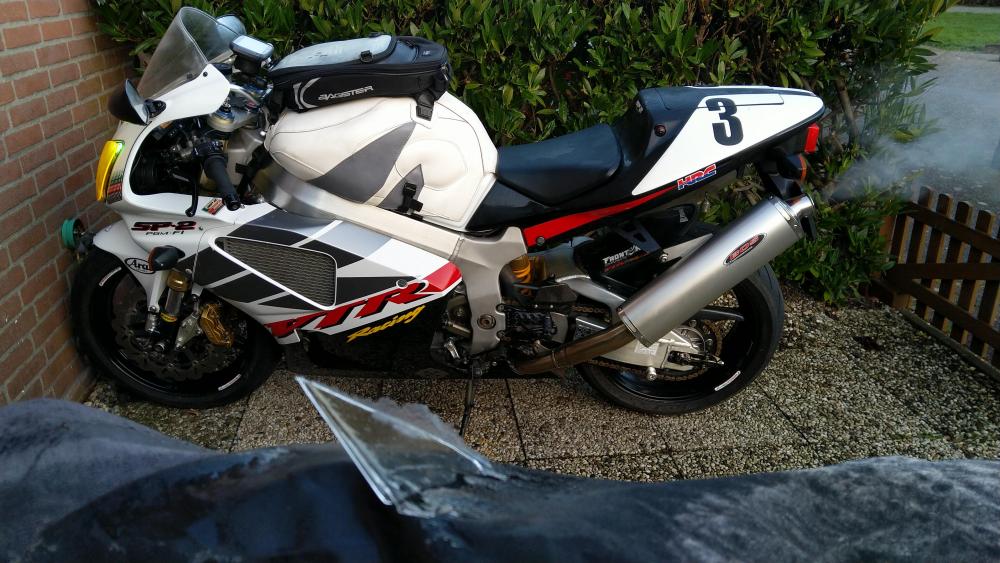 Rode to the new years reception of the Dutch Aermacchi/Gilera club. Member's average age 67 or so so there weren't many other bikes there....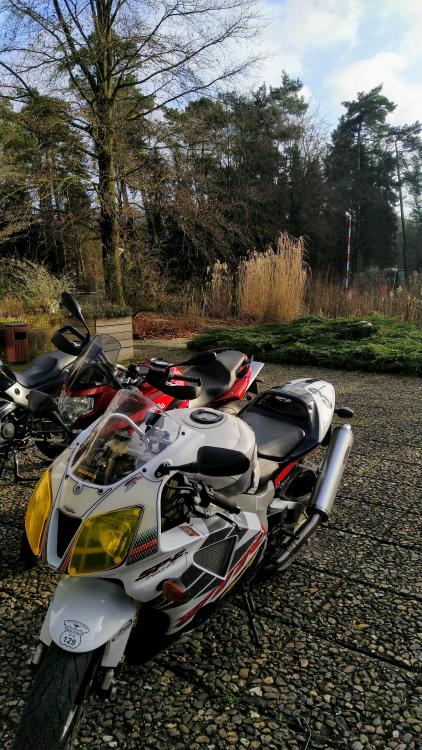 Sun doesnot rise very high this time of year...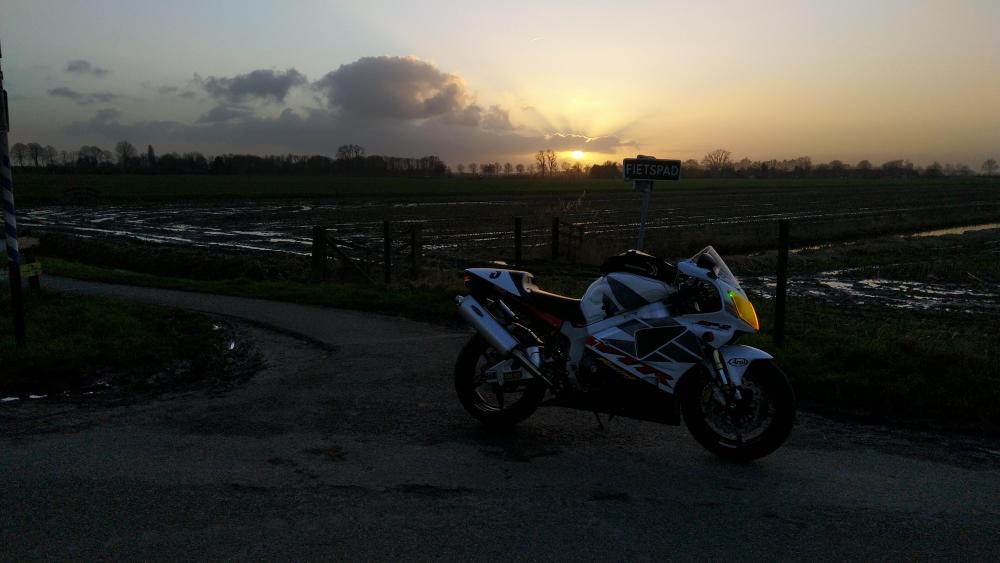 Sank away pretty fast...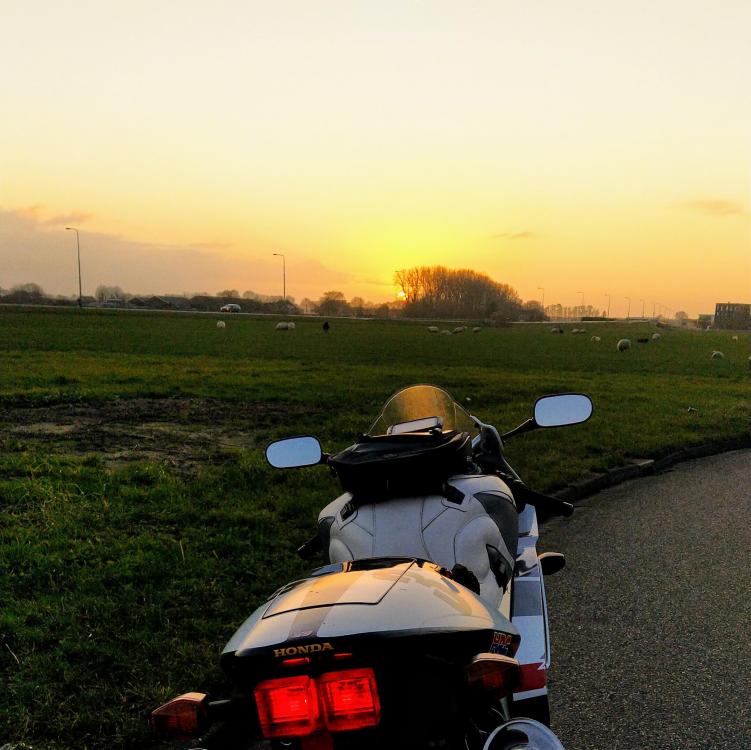 ---
Old enough to know better, young enough not to care.
Premium Member
Join Date: Oct 2014
Location: Plympton, Ma
Posts: 195
Mentioned: 0 Post(s)
Quoted: 35 Post(s)
Received the spacers sbkdrew made for my new OZ Gass RS-A forged aluminum wheels.
Junior Member
Join Date: Apr 2018
Location: PHX, USA
Posts: 19
Mentioned: 0 Post(s)
Quoted: 3 Post(s)
Oh breaking my tail off trying to install a pair of DHC pipe mounts and fix a wiring issue with my LED taillights. These are the OEM fairings just custom painted from previous owner. Posted on the FB page, I'm in AZ and bike is garaged. Looks un-repairable so looking for OEM, guess the new colors are happening soon.
---
2003 SP2
2008 Ducati 1098
1996 Kawi ZX-7RR
1996 Kawi ZX-7R(for sale)
2015 HD Street Glide Spc (wife hauler)
2003 Honda CRF-450R
I changed oil and did all the rest of the maintenece stuff. It was a hardworking day..
Junior Member
Join Date: Feb 2020
Posts: 10
Mentioned: 0 Post(s)
Quoted: 1 Post(s)
The other user suggested the correct method to use an online calculator. Then you need to insert zip codes of the location you are shipping from and destination point and you will get the rough cost. But there is also another method. Find a list of forwarders in your region
https://areaphonecodes.com/united-states/404
and send your request to them. Shortly you will receive their quotes and delivery terms.
---
Last edited by jooisk; Today at

03:28 AM

.