Member
Join Date: Mar 2014
Posts: 58
Mentioned: 1 Post(s)
Quoted: 9 Post(s)
latest mods to show off
---
finished up a bunch of mods latley. feeling pretty happy with the results in looks and performance.
finally got the radial brackets to mount up my brembo monoblocks. i purchased a set of the brackets that are currently on ebay. im VERY impressed with the quality. i was a little worried since they came from Taiwan but they are quality pieces. originally i bought a different bracket from anther member but when mounted up the pads hung over the edge of the rotor so that set up didnt work. i used the OEM calipers off of a 2013 GSXR 750 that i got off ebay for around $300. to my surprise the PO of the calipers had stuck some Vesrah pads in there which are almost brand new and are awesome. eventually ill probably put some M4 brembos on but for now im really happy with the set up. combined with my Magura radial MC and stainless lines, the bike stops on a dime. i also got an underslung rear brake bracket from sbkdrew which is awesome quality. got a brembo rear brake off of a totaled 749 from my work and it all fit up perfectly.
i recently also threw on some GPR high mount Furore's. i did a bit of research on them before i bought them since $590 delivered from italy for a brand new exhaust points to it probably being a bit cheap. overall im very impressed with the quality. i really liked how they are extremely high mount which is what drew me to them. they are a bit heavy but not to bad. the sound really good as well. much better than the jardines or delkevics i had had on before. very deep throaty and loud sound. everything mounted right up with no issues and the fit and finish is excellent. dont expect akrapovic or moriwaki quality but for the money its a really great option for brand new slip ons. gonna put an email out to GPR and see if there is a map for the PC3USB they recommend for now and then once i get a little free time at work ill stick it on our dyno and do a custom map.
one of the biggest benefits i got was from the set of OZ Piega forged alum wheels i put on. drastically improved handling and braking. wanted magnesium wheels but since i double duty street and track the bike i wanted the durability of aluminum rims. ive seen way to many bent mag wheels come through our shop. it has a 520 chain and i also upped the rear sprocket to a 41t.
when i bought the bike it had racetek fork internals which are a bit oversprung for me. i want to do the 30mm kit from dan kyle when he gets the parts back in stock so thats why ive held off on that for now. i did get an ohlins shock which i had sprung for me which made a big difference.
i added a standalone quickshifter from dynojet that plugs right into the PC3usb. works really good but the downfall is that through a PC3usb, you can only set one kill time for all gears and RPMs. i made it so that it only starts working past 6000 rpm. when you can set different kill times at different RPMs and also each gear individually you can get much smoother shifting everywhere. right now its at a blanket setting which works ok most places in the upper RPMs.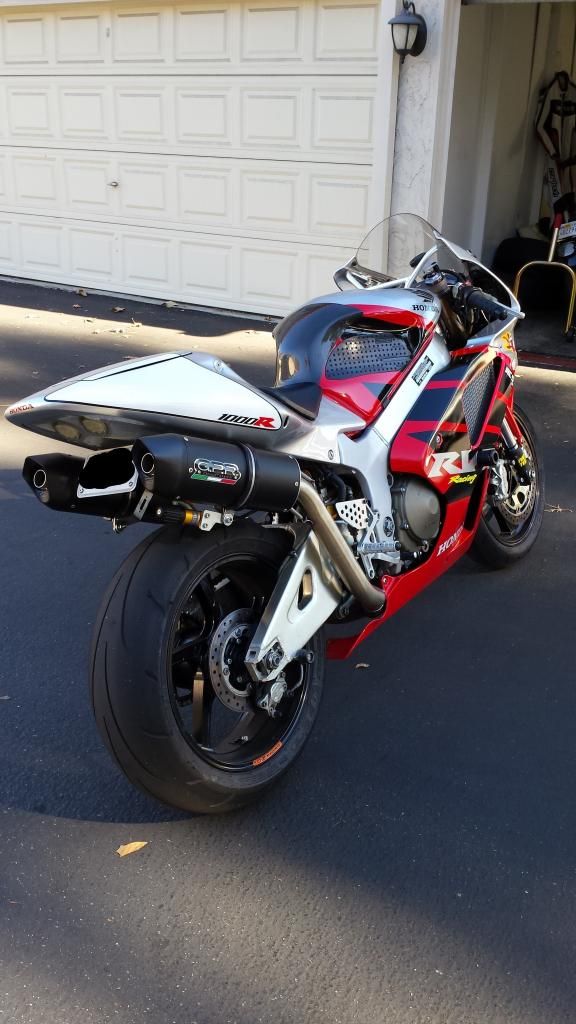 ---
2004 Hayden SP2: Ohlins Shock, Racetek Fork Internals, OZ Piega Rims, Brembo RCS19 Brake MC, Brembo Radial Clutch MC, Radial Brake Brackets, Brembo Monoblocks, Galfer 330mm SBK Rotors, Brembo Underslung Rear Brake, GPR High Mounts, Woodcraft Rearsets, PC3 USB, Dynojet Quikshifter, RobbyMoto Quick Action Throttle, Hotbodies Undertail, 520 Chain 15/41, Scotts Steering Damper, SS Lines, Pinch Bolt Res Mount, Keyless Gas Cap & Ignition, Flapper Valve & Soft Rev Eliminated, Rizoma Bar End Mirror.
I like the mids....seamless..Purdy.
---
Last edited by ogiehooker; 12-28-2014 at

04:33 PM

. Reason: sp
Lifetime Premium
Join Date: Jul 2014
Location: WA state
Posts: 736
Mentioned: 5 Post(s)
Quoted: 31 Post(s)
---
1986 Honda Interceptor...learned on it
1988 Yamaha Radian...wheelied on it
1990 Yamaha FZR...friend totaled it
1997 Honda Shadow...wife stole it
1998 Yamaha YZF...noob tree'd it
2002 Honda 954RR...just sold it
2005 RC51...finally found it

...if I stop runnin' the evil little clowns will get me!
Lifetime Premium
Join Date: Sep 2011
Location: ATL
Posts: 2,305
Mentioned: 9 Post(s)
Quoted: 120 Post(s)
mmmmm it looks pretty good!!!!
---
2003 SP2: Everything I could find.
1991 Honda HawkGT
2008 XR650L
Dec. 2011&2013, Sep. 2015, May 2019 BOTM
Senior Member
Join Date: Aug 2010
Location: Northern CA
Posts: 8,653
Mentioned: 15 Post(s)
Quoted: 317 Post(s)
Nice write-up. Your bike looks killer, nice work!
Think you'll feel a difference next time you go to a track?
---
John, 2000 RC51 #000100


Lifetime Premium
Join Date: Jan 2012
Location: Korinthos, Greece
Posts: 3,239
Mentioned: 15 Post(s)
Quoted: 77 Post(s)
That's one sexy looking RC right there.....very nice job!
---
My Öhlins Project:
https://www.rc51forums.com/forums/showthread.php?t=6033
Quote:
Congratulation to MakisRC51 for winning the 2014 Bike Of The Year Contest!
Lifetime Premium
Join Date: Oct 2009
Location: Deutschland/Colorado Springs
Posts: 3,169
Mentioned: 4 Post(s)
Quoted: 37 Post(s)
Great looking bike and nice mods as well. I had a full titanium GPR system on my R6 that i got on sale for 300. It looked, sounded, and performed great. The tuner was extremely impressed with the numbers it put up when he did the tuning.
---
2001 Honda RC51 SP1
1996 Honda CBR 900RR
2003 Aprilia RSV Mille R
1999 Aprilia RS50
2012 Triumph Daytona 675R (Sold)
2010 BMW S1000RR (Sold)
2005 Yamaha R6 (Sold)
Lifetime Premium
Join Date: Jan 2013
Location: Huntington Beach, CA
Posts: 108
Mentioned: 0 Post(s)
Quoted: 2 Post(s)
Lifetime Premium
Join Date: Dec 2013
Location: Overland Park, Ks
Posts: 272
Mentioned: 1 Post(s)
Quoted: 10 Post(s)
Digging the wheels a lot! I just put on a set of Piegas as well.