Senior Member
Join Date: Jul 2011
Location: Phoenix
Posts: 154
Mentioned: 0 Post(s)
Quoted: 0 Post(s)
New Member August 2011
---
Greetings RC51 enthusiasts (Honda's last Twin sport bike??) !
Purchased a 2004 NH special with 8K on the clock. Corbin seat, PCIII, Sato Low Mounts, clear windshield new Mich pilots and crappy undertail set up LOL. Just got the bike emissions tested yesterday and put plates on it today. Its HOT as HELL here in Phoenix right now so I am great test bed for batteries and thermal body punishment. I have been riding off and on now for many years so I am experienced rider. I thought my FZR600 that I have been riding for the last 10 years needed a bit more zoot and my nice Shadow never gets used except to maintain it. Actually I rode a RC for the first time several months ago and as soon as I got off I sold my Honda Shadow and went on a quest to find a decent SP2. Its been so far the best bike I have ever ridden on the street. I love the V twin sound feel and presence that I just dont get on an I4.
Anyway I looked on a Craigslist using a global search and found roughly 12-15 SP2. Some were a joke (crap, painted freeken green, basket cases) . I then realized I wanted the Nicky Hayden Addition 2004 which narrowed my search down and what was out there. Was just about to get serious on one 1800 miles away and deal with that when on that day I checked Craigs list one more time and ended up finding one just a few blocks from my house with exactly all the options I was looking for including the original clear windshield. Took my about 15 minutes to make an offer and close the deal. Rode it home with a huge grin on my face (you know what I mean).
Posted some questions and would like your inputs on Engine and General Discussion Board.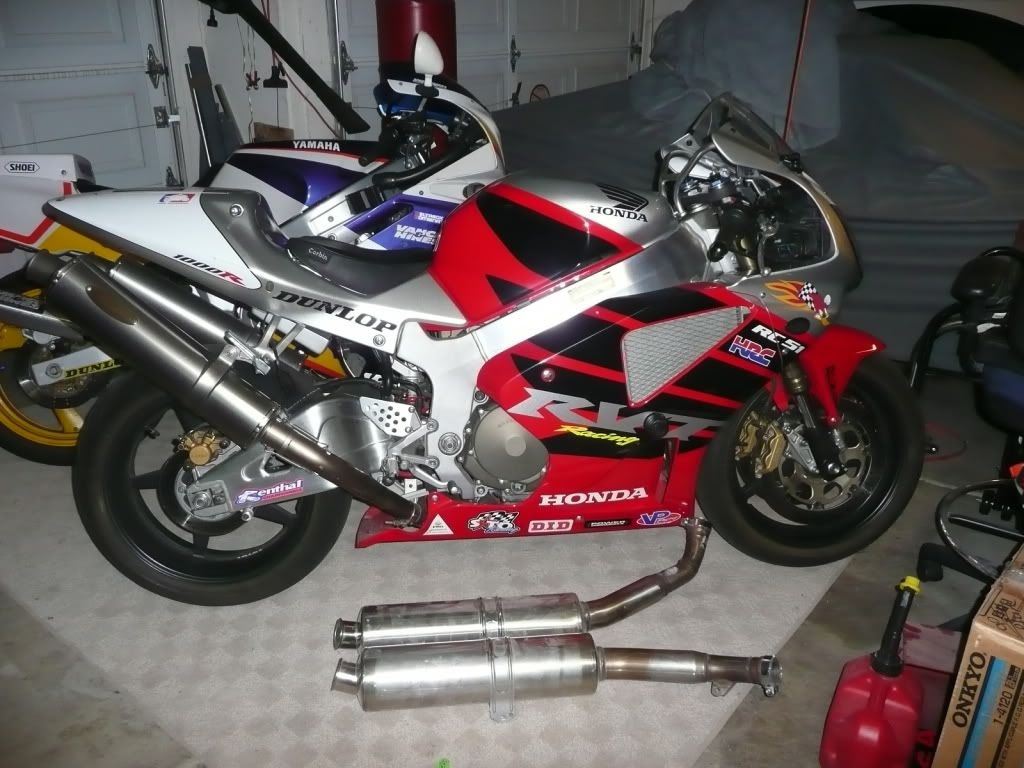 Moderator
Join Date: Oct 2008
Location: Sarasota, FL
Posts: 6,470
Mentioned: 24 Post(s)
Quoted: 89 Post(s)
Welcome aboard and nice find!
Lifetime Premium
Join Date: Apr 2009
Location: Kansas
Posts: 566
Mentioned: 0 Post(s)
Quoted: 11 Post(s)
Welcome aboard and enjoy the ride she is one of a kind
---
2004 RC51 with multipul mods
1985 VF1000R SOLD 😭
Lifetime Premium
Join Date: Aug 2009
Location: Dayton, VA
Posts: 365
Mentioned: 0 Post(s)
Quoted: 0 Post(s)
ummmmmmmmmm sexy, welcome!

James
---
2003 Honda RC51 - 46K+
----------------------------------
PCIIIr, SATO low mount C/F, hotbodies undertail, SATO F/S, CRG shorty BRK & CLTCH levers, Magical Racing C/F speedo cover and rear hugger, HRC clutch & F Brake sock covers, Galfer SS lines all around, pair valve mod
Senior Member
Join Date: Apr 2011
Location: Las Vegas, NV
Posts: 138
Mentioned: 0 Post(s)
Quoted: 0 Post(s)
Welcome and what a sexy bike you have. I myself am looking for a NH sp2 I have a sp1 and I am very happy with it. Just want the sp2 NH and life would be even more grand anyways nice find
she is a hot looking bike enjoy
Lifetime Premium
Join Date: Dec 2010
Location: Island Lake Alberta Canada
Posts: 1,904
Mentioned: 11 Post(s)
Quoted: 56 Post(s)
Well here's an official welcome to you buddy. Make sure all them stickers are well stuck, don't need any extra wind resistance LOL
---
Duct tape can't fix stupid...but it sure helps muffle the sound
'03 SP2, '09 GL1800
RC51 Forums Moderator
Welcome! Nice RC! Keep them stickies down.
---