Lifetime Premium
Join Date: Dec 2011
Location: Hopkins, MN
Posts: 296
Mentioned: 0 Post(s)
Quoted: 5 Post(s)
Coming here...
---
Well some of you will know me from Speedzilla, but the Classifieds have kinda died over there so I am switching over to here as well.
I am currently in Camp Buehring Kuwait on my second deployment. Should be home in mid may
I have a 2000 RC51 and this is RC number 2 for me and will probably be around for quite a while. I have 40k on it and it doubles as a Tourer and Twisty road carver. and is soon to become a Track day play toy as well.
I bought this one shortly after my first deployment to Irag back in 2010. i think I had been home a week... Then last summer while on a trip I hit a guardrail and bent a fork and scratched up the plastics. and Wrecked my Sato Banzai's(yea I was crying). I walked away with a small patch of road rash and a messed up upper back(found that out after a couple of weeks when my arm went numb).
Well I'm a firm believer in Messages from god and that wreck told me I should get divorced. so I split from my wife of 6 years(I was miserable because of other crap she pulled but I'm not airing it all out here) and started to rebuild it. While rebuilding it I took the time to upgrade some stuff that I had wanted. So a set of 2005 forks and a fresh rebuild and reshim was done on them before they went on. I bought a Carbon Front fender off speedzilla to replace my broken stock one. Zipped tied some of the cracks in my body work and put it back together. rebuild cost me right at 1800 and I sold off my Banzais to get my rear sets and went to a Jardine 2-1(it was cheap). Bought a PC3r to replace my dieing PC2 and bolted her back together and took her to get dyno tuned. Then rocked for the rest of the year.
Over winter I took my front fairings off and painted them Rattle can black to cover up the scratches. it wasn't perfect but i wasn't going for that I just wanted a little cleaner looking till I decided what I wante dto do for paint. well I'm still trying to figure that part out and I think it is going all black when I get home. Maybe Gray or white number plates on the tail and on the front fairing. but that is yet to be determined.
Well i rode it all of summer 2011 right up until the day I deployed. now it is in storgae and I have bought her some new parts. I scored a SP2 Header and just picked up a minty set of Carbon Sato Lows
yea I'm stoked about them. I just bought a dent free tank that will be getting painted along with my body work to a nice high gloss black. to be put back on when I get home. Then I will be painting my race body work some random colors so it stands out on the track. I am planning on running my Satos on the street and my 2-1 on the track. mainly because I don't want my Satos to get wrecked if I low side on the track.
Well enough chat, time for pics.
First pic I ever took of it.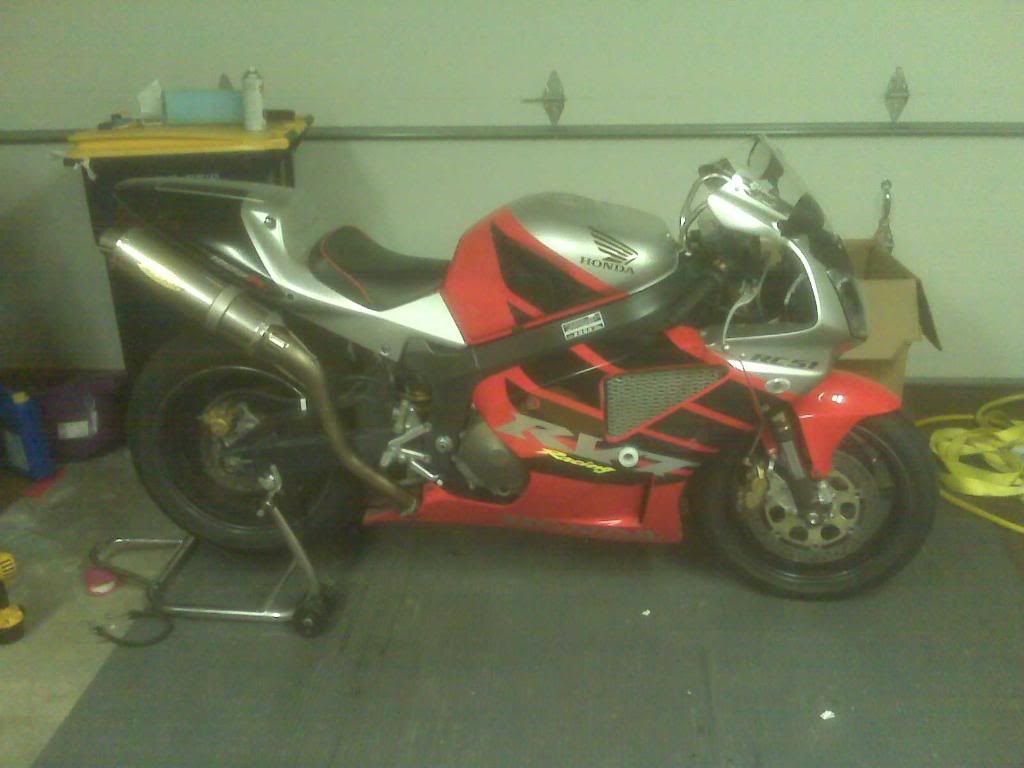 Pic in front of My 96 Ram.
A nice side shot in front of my old townhouse.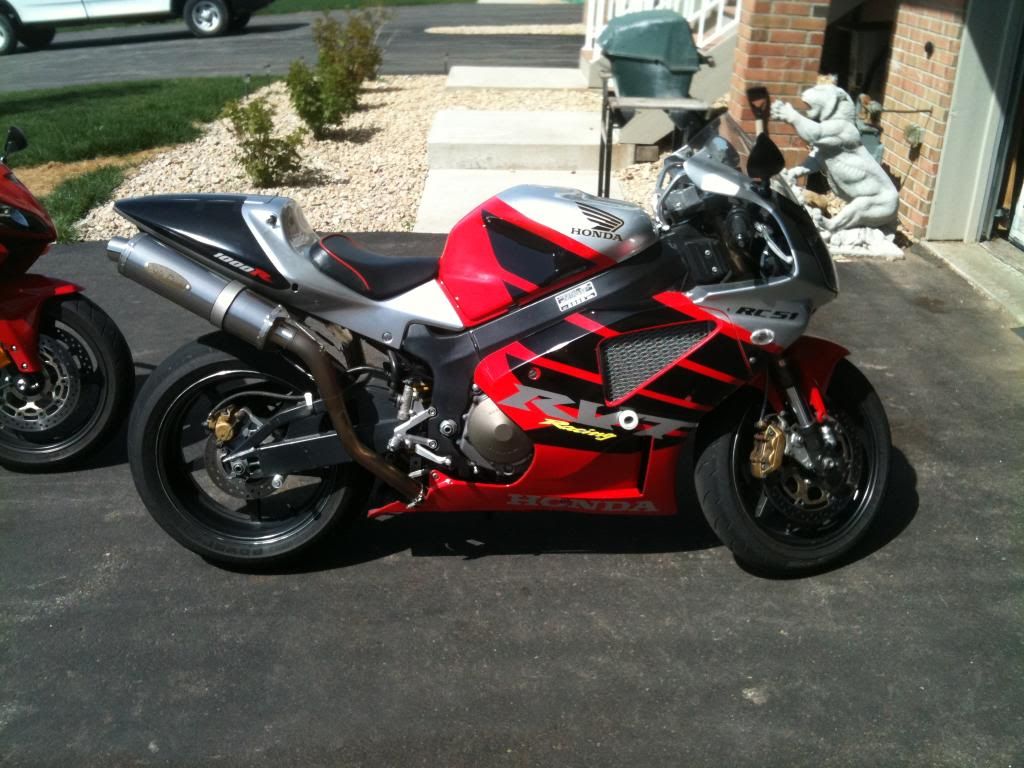 MNSBR Kick off Ride 2010
Lifetime Premium
Join Date: Dec 2011
Location: Hopkins, MN
Posts: 296
Mentioned: 0 Post(s)
Quoted: 5 Post(s)
Pics of Damage after the Guardrail. (was worse than it looks.)
Side pic after forks installed while I was putting it back together.

Side pic before paint.

Pic with my new Tech G rearsets and paint. ANd the front of my little Bro's Cherokee that is on 36's with 4 inchs of lift. (33's in this pic.)
and in Tour Mode. with my truck and at one of the fuel stops along my trip From Oklahoma to Minnesota for my Military weekend
---
Last edited by TLRSKUNK; 12-25-2011 at

07:15 AM

.
Lifetime Premium
Join Date: Dec 2011
Location: Hopkins, MN
Posts: 296
Mentioned: 0 Post(s)
Quoted: 5 Post(s)
And a pic of my 4runner that is SAS on 35's I bought a set of 1 tons for it and it will be getting put on 38-42's when I get home from this. The back cargo area is also getting chopped off in favor of a small tube bed.
That is one of my other major hobbies.
Moderator
Join Date: Oct 2008
Location: Sarasota, FL
Posts: 6,473
Mentioned: 24 Post(s)
Quoted: 89 Post(s)
A belated welcome to the group!!

I've seen your photos over on speedzilla.
Hope the shoulder had mended well.
Lifetime Premium
Join Date: Dec 2011
Location: Hopkins, MN
Posts: 296
Mentioned: 0 Post(s)
Quoted: 5 Post(s)
Yea Shoulder is good. Upper back is still sore sometimes but it is tolerable. Working out over here seems to help as long as I don't over stress it.
Senior Member
Join Date: Aug 2010
Location: Northern CA
Posts: 8,653
Mentioned: 15 Post(s)
Quoted: 317 Post(s)
Take your time with that shoulder. My son has a permently damaged rotator cuff from trying to get back on it to soon. Sounds like you listen to your body, good deal. Did that happen last summer with the gaurdrail?
---
John, 2000 RC51 #000100


Lifetime Premium
Join Date: Dec 2011
Location: Hopkins, MN
Posts: 296
Mentioned: 0 Post(s)
Quoted: 5 Post(s)
yea I did it when I low slid into the guard rail. it's good now. I work it slowly. and I am riding a lot more cautiously than I did before. Hence why i am going to start track days so I can rebuild my confidence.
Senior Member
Join Date: Aug 2009
Posts: 473
Mentioned: 2 Post(s)
Quoted: 15 Post(s)
not a bad site here... lots of rc newbs but good bunch. how do you like the tech g rearsets?
Lifetime Premium
Join Date: Dec 2011
Location: Hopkins, MN
Posts: 296
Mentioned: 0 Post(s)
Quoted: 5 Post(s)
I actually like them quite a bit. They are damn near Identical to the SATO rear sets except the gold is a brighter color.
I sat on an 05 with Sato's in the same position as mine and they feel exactly the same. don't seem to flex anymore than the Satos when bouncing on them. I haven't laid it down with them set so Crash ability is still yet to be determined.
Senior Member
Join Date: Aug 2009
Posts: 473
Mentioned: 2 Post(s)
Quoted: 15 Post(s)