Junior Member
Join Date: Sep 2011
Posts: 26
Mentioned: 0 Post(s)
Quoted: 0 Post(s)
HOW-TO: Shindengen MOSFET regulator/rectifier
---
I have seen many people retrofitting more modern MOSFET regulators to motorcycles that normally utilize SCR type regulators (namely our beloved RC51). I noticed that the SH689BA (also a Shindengen part) in my RC51 gets very hot during operation. So much so I can't even touch it. I think Honda chose a poor place to mount the rectifier as the air in the tail is essentially still and this makes it difficult for the heat sink on the regulator to do its job. This being said I will not be changing the location of the regulator in this how-to. In addition, I noticed the charging voltage on my RC-51 would swing wildly, either too low or too high so I decided to upgrade. After the upgrade the charging voltages were much more stable and in the correct range (should be around 13.5V at idle and not exceed 15V at 4000 RPM's).
A few facts:
Regulator/rectifiers take 3 phase AC power from the stator and rectify it into DC power.

The regulator portion is a feedback loop that monitors the output voltage of the regulator and diverts excess power to ground. This type of regulator is called a shunt type. Nearly every motorcycle reg/rec is shunt type. The power is shunted to ground by switching a set of transistors on and off (these are our MOSFETs or SCRs).

This is why you should never jump start your bike off of a ::running:: car because if the charging voltage of the car exceeds the charging voltage of the regulator it will try to shunt off the excess power from the car charging system and burn the switching transistors up. Though it should be noted jump starting a bike off of a ::non-running:: car is fine.

The other type of regulator is called "open" or "serial" type which only switch the transistors on when power is needed. Initially this seems like a better design, however when you actually look at power dissipation in transistors shunt type regulators may actually be better depending on application. This is most likely why shunt type regulators are most widely used in motorcycles.
What is this mod?
This mod will replace the factory SCR type regulator rectifier with a smaller more powerful MOSFET unit that operates cooler and produces more consistent charging voltages. The regulator I have chosen is the Shindengen FH012AA which is a popular upgrade for other motorcycles. According to Shindengen, this regulator is good for 30A of power in an enclosed space (in the tail of the bike). From Shindengen:
What to get for this mod:
Shindengen FH012AA regulator rectifier with connectors (kit). I purchased a kit from this seller on ebay ( http://myworld.ebay.com/jasonmotoelectrix/ ) This regulator is available from many vendors just make sure you get the connectors.
a piece of aluminum to make a bracket (get creative)
heat shrink
soldering iron and solder
crimp tool or plyers and a steady hand
beer
typical tools
Let's get going!
This is what my regulator kit looks like. Brand new FH012AA and the connectors:
Take the tail off of your RC51 and remove the regulator rectifier.
Cut the connectors off of your old rectifier. We will be making an adapter harness. This is so that if you ever want to return your bike back to stock, you can. I left about an inch of wire on the rectifier. I don't ever plan on using it again so you could cut them off right at the rectifier if you want.
Start by making the adapter harness that comes from the stator (the three yellow wires). These wires are for the 3 phase AC power from the stator going into the regulator/rectifier. The stator side adapter harness is going to looks like this:

Make sure you slide the environmental seals on the wires, then strip a little bit of insulation off of each wire. Don't forget the seals because once you crimp the contacts you can't put the seals on (not that they are really necessary since the unit is in the tail).
Now use a pair of needle nose pliers and/or a crimp tool to neatly crimp the connector contacts onto the wires (the spade terminal things that came with your regulator kit). Do this carefully, the kit comes with ONE extra contact so you only get one do-over. You can choose to also solder the wires to the contacts AFTER they have been crimped if you like. I felt that my crimps were more than adequate to hold the wires in place. After the contacts are crimped snap them into the proper location in the gray connector. If you look at the connector you can figure out which way the contacts are inserted. Then slide the environmental seals into the connector carefully using a screw driver. Here is the finished adapter harness:
Continued...
---
Last edited by TheGrabulator; 03-11-2012 at

04:19 PM

.
Junior Member
Join Date: Sep 2011
Posts: 26
Mentioned: 0 Post(s)
Quoted: 0 Post(s)
Using the same process, make the DC power adapter harness. The FH012AA only has two output pins on the DC power side, one for positive and one for negative. The kit I bought came with these already marked with a red and green sticker. You will notice the center pin in the black connector is missing. This pin is not used, which is why you have one extra contract in your kit. In the diagram below I have tried to clarify this with pin descriptions.
Since the factory RC-51 regulator has two wires for positive and two wires for ground we are going to have to splice them together when crimping down the contacts. You will also notice there is a smaller black wire going into the factory reg/rec. This wire is a switched 12V sense used by the factory regulator to adjust output voltage. The FH012AA regulator does this internally so this wire can simply be capped and left unconnected. The DC adapter harness is going to looks like this:
Install the yellow environmental seal into the middle unused pin. Twist both green, and both red/white wires together and install the environmental seals. Leave the black wire unconnected as shown below:
At this time I re-installed the flexible clear plastic boot that came with the factory regulator over the beige connector. I also slid a piece of heat shrink over the wires that will be used to secure the disconnected black wire.
Crimp the contacts as in the first harness. This time I chose to solder the contacts to the wires AFTER crimping. The after part is crucial. I have seen people solder wires together and then crimp the wires. This is a big no no as the solder eventually gets "crushed" in the crimp and then you have a poor connection which arcs and sparks and catches on fire and makes for a pretty bad day. I chose to solder these contacts because we are putting two wires in a contact really meant for one wire. This is fine as long as we make sure it is connected properly. This is why we solder just to make sure the wires are making an excellent connection and wont come out of the crimp.
So now install the contacts into the black FH012AA connector. Make sure to observe polarity! If you accidentally installed the contacts incorrectly, it's easy enough to take the contacts back out. There is a small clip you can see looking into the connector. Push this down with a small flat head and remove the contact. Next, Slide the environmental seals into the connector and secure the black wire with the heat shrink. I didn't take any pictures of my finished harness (sorry!) however you can see it in the last picture with the regulator installed in my bike.
Hokay so.... you need a bracket to mount your new regulator. Now is the time to get creative. This is how I did it: I had a thin sheet of aluminum laying around that I used to make a bracket out of. You can usually get pieces of aluminum like this anywhere. Home depot, metal fabricators might even give you a piece of scrap for free that will work great. I had a piece thin enough I could cut it with tin snips. This seems too thin, however once bolted to the bike, it is extremely structurally sound. I put some bends in the bracket so the regulator was slightly offset from the sub frame. This makes bolting everything up much easier because you can get to the nuts. Here is the bracket:
I had to dig through a stock pile of fasteners I have to bolt everything up. If you don't have a stock pile; Ace Hardware is a good source, Home Depot, many places will have the 4 bolts and 2 nuts you need. Here is the bracket installed: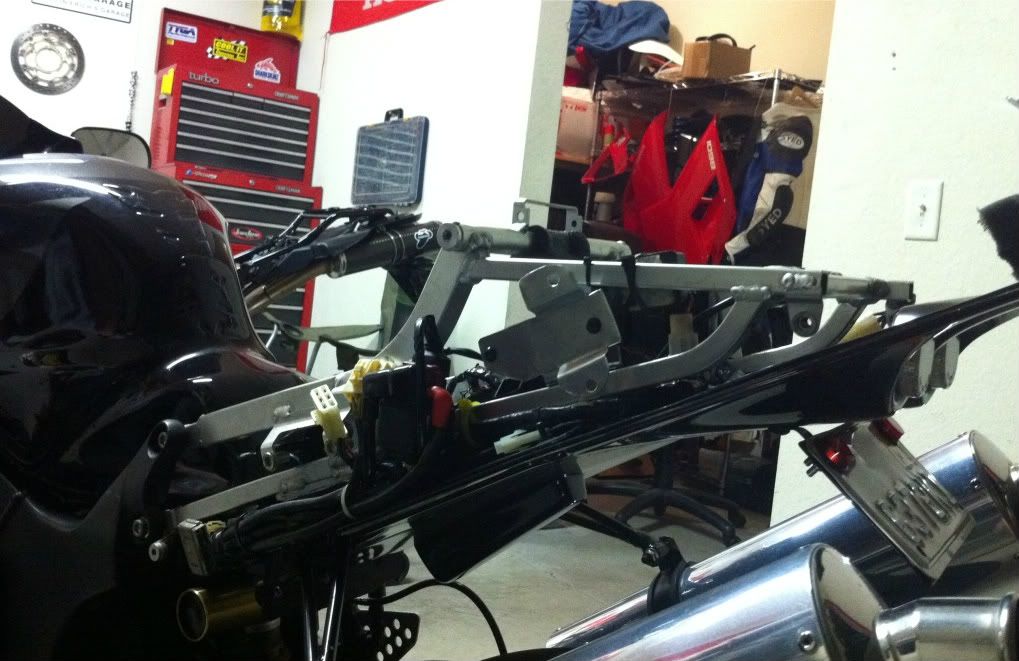 All that's left now is to bolt everything up and connect the harnesses:
Enjoy your new charging system!
Banned
Join Date: Dec 2011
Posts: 3,636
Mentioned: 0 Post(s)
Quoted: 0 Post(s)
Good post...nice easy diagrams and great simple explanations for the layman.

I've wired up many reg/recs as a tech back in the day. But this site and Speedzilla have given me so much info about my RC that they are both absolute gold mines of knowledge.

Thanks




Senior Member
Join Date: Jun 2011
Location: Northern Ohio
Posts: 215
Mentioned: 0 Post(s)
Quoted: 0 Post(s)
Great post, who wants to loose their charging system out on the road! Well worth doing upgrade!!
Senior Member
Join Date: Sep 2011
Location: HOCKEYTOWN ® MI
Posts: 1,291
Mentioned: 2 Post(s)
Quoted: 47 Post(s)
This is a really good write-up, nicely done TheGrabulator...
---
'06 Black/Metallic Gray RC51
-Competition Werkes FE w/
Clear Alternatives IT
'02 Silver/Black CBR 954RR
'11 Graphite Black CBR 1000RR (sold '15)
'08 Pearl Orange CBR 600RR (sold '11)
Lifetime Premium
Join Date: Sep 2010
Location: Newport NC
Posts: 2,697
Mentioned: 5 Post(s)
Quoted: 80 Post(s)
Great write up!

Thanks for posting, now I want to do this too.
Member
Join Date: Jul 2011
Location: Courtenay, B.C.
Posts: 58
Mentioned: 0 Post(s)
Quoted: 0 Post(s)
HMMMMMMMMMMMMMMM wiring harness is apart right now......................
---
'01 RC51 w/ Chinese plastics, PC2, Flapper Mod, PAIR delete, Yosh highmount, -1/+3 Gearing, Hot Bodies Undertail, Proton Fronts, Zero Gravity DB, Speedo Healer and HyperPro Damper.
Super Moderator
Join Date: Dec 2009
Location: Central California
Posts: 1,237
Mentioned: 3 Post(s)
Quoted: 18 Post(s)
Nice job! Moved to "How-To"......
Senior Member
Join Date: Sep 2008
Location: SoCal
Posts: 153
Mentioned: 0 Post(s)
Quoted: 0 Post(s)
What was the cost? How much smaller is it? Lighter?
Lifetime Premium
Join Date: Jan 2012
Location: Korinthos, Greece
Posts: 3,239
Mentioned: 15 Post(s)
Quoted: 77 Post(s)
Quote:
The regulator I have chosen is the Shindengen FH012AA which is a popular upgrade for other motorcycles. According to Shindengen, this regulator is good for 30A of power in an enclosed space (in the tail of the bike).
Excellent work done there
I have a question though based on my experiments on previous bikes.
If you install an SCR reg/rect from a V-twin like RC51, on a I4 like CBR1000RR it
just does not work
properly. Same thing happens the other way.
I use these two Honda models as an example. Never actually tried it on
these
two bikes to swap their reg/rectifiers. I saw it happen on other models that probably are not sold in the US and that's why I mention the above two for my example.
Could you please elaborate on that? Why does that happens?
I mean both bikes have a 3 phase AC stator. Only difference between them is their engine arrangement.
---
My Öhlins Project:
https://www.rc51forums.com/forums/showthread.php?t=6033
Quote:
Congratulation to MakisRC51 for winning the 2014 Bike Of The Year Contest!