01 Creeping forward with clutch in and not shifting back to neutral...
---
I have an 01 I bought this winter that I just took out of the garage for the first time. Starts right up was going to do an oil change noticed a few funny things

First previously known was a small oil leak from the shifter after searching the forum looked like I could just replace the seal and be done with it.

Second with the clutch in the bike was starting to creep forward slightly. I if I rev'd it slightly it would start to pull forward and actually start riding.

Third I noticed after I took it around the block that I could not get the bike back into neutral it was hard to shift and even pulling the shifter up with my hand would just pass by neutral until I turned the bike off.

Thoughts? Are all these related? Was this all caused by some previous a-hole stunting? Can I fix this relatively cheaply or am I going to have to buy a new clutch and refurbish the trans gears?

My first track day weekend of the year is Saturday and Sunday do I sell the track days?
Senior Member
Join Date: Sep 2015
Location: Edmonton, AB
Posts: 1,533
Mentioned: 7 Post(s)
Quoted: 323 Post(s)
you need to bleed the clutch. it's not totally disengaging.


no it's not from stunting... lol
Senior Member
Join Date: Feb 2013
Location: Greenwich London
Posts: 718
Mentioned: 4 Post(s)
Quoted: 82 Post(s)
clutch slave needs looking at, likely cause of all your problems
Awesome good to know the kid put a 200 rear on the back that's basically square that was my biggest worry. The person who had it before him did all the right stuff to this bike and really took care of it and it's my 3rd I never had any issues with the clutch or gears shifting I got scared.

Thanks guys!!!
Senior Member
Join Date: Aug 2010
Location: Northern CA
Posts: 8,653
Mentioned: 15 Post(s)
Quoted: 317 Post(s)
Change and bleed the clutch fluid, if problem persists, likely that you need new seals in the clutch slave, master, or both.
About the shifter seal, I don't think any disassembly is needed other than removing the shifter from the shaft. Don't quote me, but I think that's the case.
I run a 200/55 too, I doubt that caused any problems for the bike.
If the bike was used for stunting, then it would probably have some radical sprocket out back. OEM is a 40 tooth. What does your's have?
You may want to pick up a fuel pressure regulator too. If the bike's been stored for a while, the diaphragm deteriorates and starts to leak once she's been running for a bit again, making your bike run fat.
Good luck, hope you getter fixed before the weekend!
EDIT: you may want to change the engine oil to a good quality synthetic if you haven't already. Old oil can cause problems too.
---
John, 2000 RC51 #000100


---
Last edited by jondog9; 04-18-2016 at

11:49 AM

.
I think the oil is a problem too that'll get changed tonight.
Welp bled the clutch feels smoother now but it's still creeping forward. Hopefully get some time to change the oil tomorrow...
Changed the oil and everything worked great! Went to the track for a weekend Saturday ran great and today 3rd run slipped out of gear and I had to pull off track. Would get to like 7k and pop out I'll post the video.
Get back to the paddock and up running on a stand shifted to first holding the clutch in and rear tire is spinning and it's making a clanking sound from the clutch side. Guessing I need s clutch hopefully nothing else!
When I did the first oil change it was the consistency of water which I thought was weird also kinda weird color wise...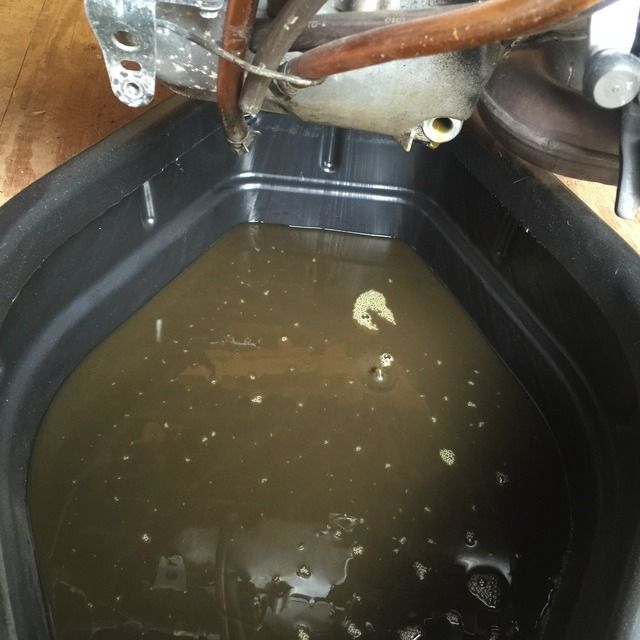 What do you guys think this is?
OK this should work...
Front straight there is a *click* and as it gets too 104 & 110 it starts slipping. I noticed something weird went to the right of the straight like an idiot...
After turn 4 it starts slipping
Then out of on the back straight out of the bowl area it just destroys itself and I have to pull over.
https://youtu.be/otE7jYGizaQ
Senior Member
Join Date: Sep 2011
Location: HOCKEYTOWN ® MI
Posts: 1,291
Mentioned: 2 Post(s)
Quoted: 47 Post(s)
Do you know what kind of oil was in it before (from the previous owner) and what did you change it with (not just brand, but the weight) btw ?
---
'06 Black/Metallic Gray RC51
-Competition Werkes FE w/
Clear Alternatives IT
'02 Silver/Black CBR 954RR
'11 Graphite Black CBR 1000RR (sold '15)
'08 Pearl Orange CBR 600RR (sold '11)