View Poll Results

: October 2013 Bike Of The Month

BlazinSaddles
1
4.35%
The Stig
14
60.87%
CapeCodderRC
1
4.35%
RC-DEVIL
5
21.74%
Luckyadam12
2
8.70%
Voters: 23. You may not vote on this poll
Moderator
Join Date: Oct 2008
Location: Sarasota, FL
Posts: 6,468
Mentioned: 24 Post(s)
Quoted: 89 Post(s)
October 2013 Bike Of The Year Poll
---
Thanks to all for their entries for the October 2013 Bike Of The Month (BOTM) contest!!
No further entries are allowed at this time.
For those who missed the entry period, please try again next month.
Now it's time to vote which bike should receive BOTM for October 2013.
The following entries are:
BlazinSaddles
The Stig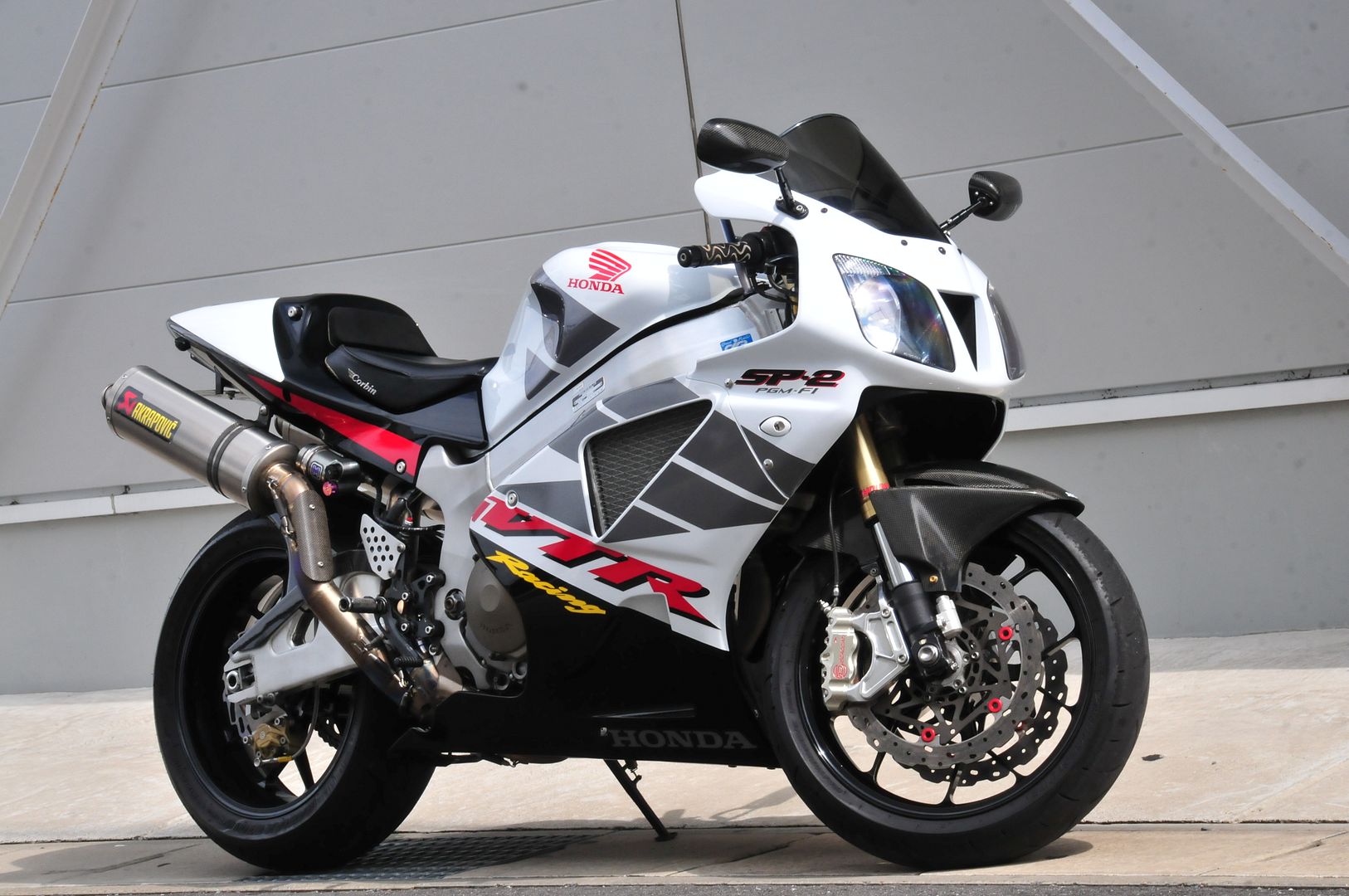 CapeCodderRC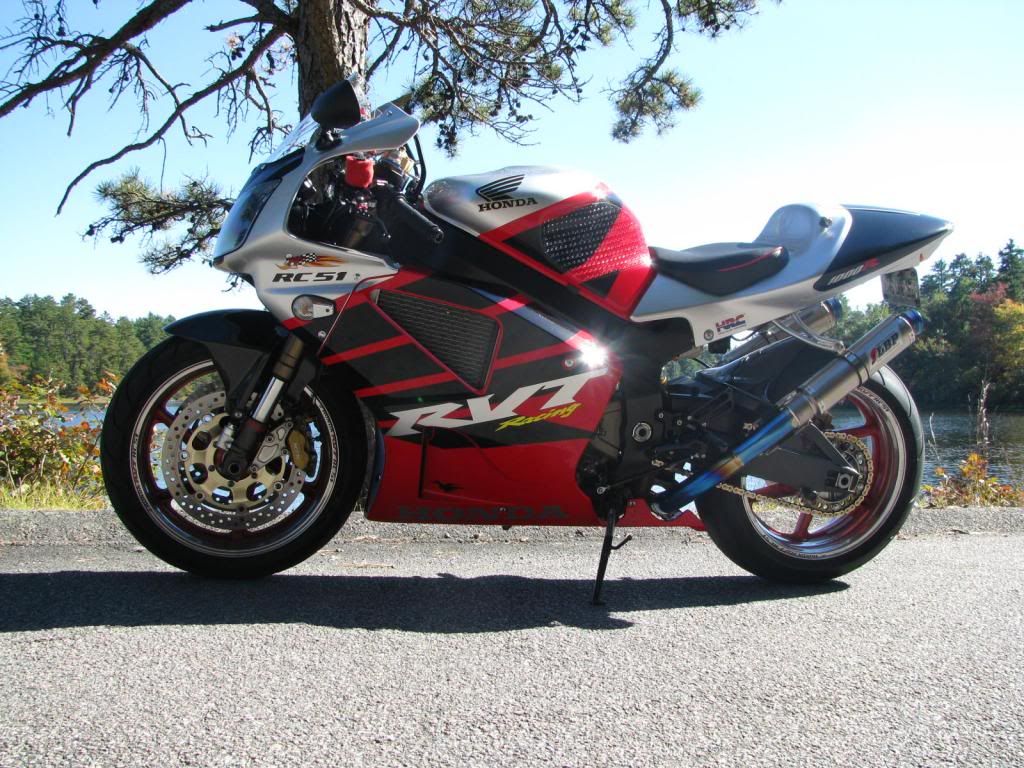 RC-DEVIL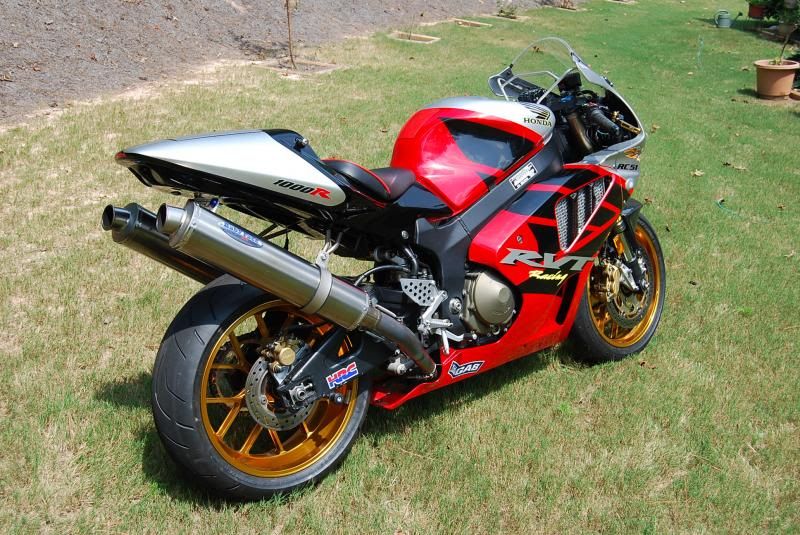 Luckyadam12
Senior Member
Join Date: Jul 2013
Location: Springfield, MO
Posts: 897
Mentioned: 0 Post(s)
Quoted: 0 Post(s)
---
2003 Rc51
Carbon Sato Banzais
Kyle racing clip-ons

2009 Ninja 250r (Wife's)
Yosh slip on
Roaring toyz lowering kit
Fender eliminator

1967 Mustang
289 ci C4 Auto
Tri-Y headers
Lifetime Premium
Join Date: Oct 2009
Location: Victoria B.C Canada
Posts: 4,560
Mentioned: 13 Post(s)
Quoted: 162 Post(s)
All nice bikes !
Luckyadam12, those oval Sato's you bought will be awesome on your bike, few more mods to go before you catch my vote... Looking good though bro. I Like the headlights.
C.Codder, Not a big fan of the rims... sorry bro... Love the ladybirds and the rest of your setup, nice machine. The rims keep my vote from you though !
RC-devil, I am a huge fan of gold... but those rims carry a more bronze color ? or perhaps it is the lighting ?
Love the Babyface setup.... sick... and un-obtanium man... you should keep them and never sell em.
Blazinsaddles has a wicked exhaust... I love that setup. I will be using the black/silver Erion Racing paint scheme on my bike when it is all done.
Stig...
I know what you got in that beautiful machine for parts and time, plus if I had the choice of any of these bikes - Yours would be the one. That Akra setup alone is just sick not to mention the rest of the bling she carry's. Awesome build, and you were one of the people that inspired me to create my own unique SP1.
Gorgeous example of a Euro spec SP2 my brother. Keeps getting better as time goes on ! will it ever end for us ? LOL
You got my vote.
---
-2001 Honda RC51 sp1 " Slightly Modified "
-2001 Honda 929RR Erion Edition
DuckHunterComposites
Senior Member
Join Date: Apr 2013
Location: FL
Posts: 2,457
Mentioned: 11 Post(s)
Quoted: 99 Post(s)
I couldn't enter mine again.
The pain of losing is too great.
---
Last edited by extrapolator; 10-07-2013 at

11:18 PM

.
Senior Member
Join Date: Aug 2013
Location: Davis, CA
Posts: 106
Mentioned: 0 Post(s)
Quoted: 0 Post(s)
My vote went to the Stig, a very very hard call between the Stig and RC Devil, Im a sucker for aftermarket rims
Senior Member
Join Date: Aug 2010
Location: Northern CA
Posts: 8,653
Mentioned: 15 Post(s)
Quoted: 317 Post(s)
Stig's bike gets my vote this month. That bike is done up very nicely!
How about those BabyFace cannisters too.
---
John, 2000 RC51 #000100


Lifetime Premium
Join Date: Mar 2011
Location: Seattle, WA
Posts: 1,580
Mentioned: 4 Post(s)
Quoted: 44 Post(s)
Wow! Nice bikes!
---
Riding is what keeps you on your toes...
~BOTM - April 2016, May 2015, September 2014~
Lifetime Premium
Join Date: Sep 2011
Location: ATL
Posts: 2,303
Mentioned: 9 Post(s)
Quoted: 120 Post(s)
thanks for the kind comments gents!, i love those Babyface lows but i have got some Sato carbon Banzai mounts too, that ill be changing out. im a sucker for high mounts
. but who knows. maybe ill take off the "Baby-Lows" clean em and hide them away. JUST so i can stumble out to the garage and stare at em
Hi my name is Shaan and im a trick-bits-hoarder. admitting it is the 1st step to recovery.
thanks for your consideration guys
Lifetime Premium
Join Date: Jan 2013
Location: New England
Posts: 488
Mentioned: 0 Post(s)
Quoted: 0 Post(s)
Stig has my vote. 1, it's my favorite RC scheme. 2, the mods are spectacular. Nice work!
---
|--Honda Racing----| | | '|";,__.
|_..._...__________| |_|_|.....,]
"(@)'(@)""""*|(@)(@)*****(@)
Banned
Join Date: Dec 2011
Posts: 3,636
Mentioned: 0 Post(s)
Quoted: 0 Post(s)
As I'm a sucker for the Euro paint schemes my good friend the Stig got my vote...not to take anything away from all these fine entrants.
I say everyone's a winner!!!
I would've entered mine but alas it doesn't deserve to be in company of such fine machinery...