View Poll Results

: May 2014 Bike Of The Month Poll

rancksta
3
10.71%
Jake
3
10.71%
gibbonater
2
7.14%
Hanberg
20
71.43%
Voters: 28. You may not vote on this poll
Moderator
Join Date: Oct 2008
Location: Sarasota, FL
Posts: 6,467
Mentioned: 24 Post(s)
Quoted: 89 Post(s)
May 2014 Bike Of The Month Poll
---
Thanks to all for their entries for the May 20414 Bike Of The Month (BOTM) contest!!
No further entries are allowed at this time.
For those who missed the entry period, please try again next month.
Now it's time to vote which bike should receive BOTM for May 2014.
The following entries are:
rancksta
Jake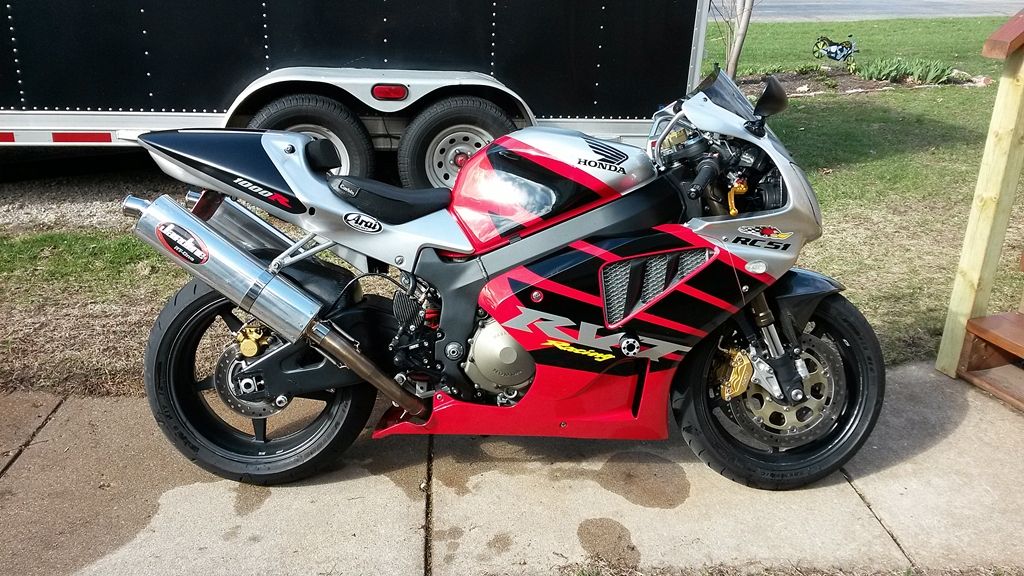 gibbonater
Hanberg
---
Last edited by SubSailor; 05-07-2014 at

11:15 PM

.
Senior Member
Join Date: Aug 2010
Location: Northern CA
Posts: 8,653
Mentioned: 15 Post(s)
Quoted: 317 Post(s)
Holy shyt, this is going to be tough this month. What a beautiful line up at the starting grid!!!
Looks like Jake has jumped out into the lead going into turn one, as we start the fight for the top podium!
---
John, 2000 RC51 #000100


Lifetime Premium
Join Date: Mar 2011
Location: Seattle, WA
Posts: 1,580
Mentioned: 4 Post(s)
Quoted: 44 Post(s)
Wow, tough this month!!!
---
Riding is what keeps you on your toes...
~BOTM - April 2016, May 2015, September 2014~
Senior Member
Join Date: Jan 2014
Location: Dallas, Tx
Posts: 469
Mentioned: 0 Post(s)
Quoted: 14 Post(s)
sick bikes gents, have to give it up to hanberg this month though
Lifetime Premium
Join Date: Oct 2009
Location: Victoria B.C Canada
Posts: 4,560
Mentioned: 13 Post(s)
Quoted: 162 Post(s)
My vote is for Hanberg, Looking good man - Loving the HRC replica... I have one in my sights for my little project.
Looking good to the rest of the contenders
Good luck to you all.
---
-2001 Honda RC51 sp1 " Slightly Modified "
-2001 Honda 929RR Erion Edition
DuckHunterComposites
Senior Member
Join Date: May 2012
Location: Western Wa.
Posts: 413
Mentioned: 7 Post(s)
Quoted: 0 Post(s)
I love a repsol replica as much as the next guy, but DAMN!!! Hanberg's bike is...
B E A UTIFUL
---
2006 #215 PC3USB
soft rev, flapper, 15/41
"Just tell them you bought it to impress women and have no fucking clue what it is or what you are doing."
b.miller123
If at first you don't succeed, continue upgrading parts. Great looking bikes gents!
Lifetime Premium
Join Date: May 2011
Location: Chiba, Japan
Posts: 4,617
Mentioned: 27 Post(s)
Quoted: 159 Post(s)
Beautiful choices! Hanberg's bike does it for me this month though - well done.
Luckyadam12 - I was half expecting to see your bike entered too!
BTW - Hanberg, shouldn't that front brake hose go on the other side of the fork? At speed you might find it chafs & marks the fork leg otherwise. Just saying in the hope you catch it in time.
---
Euro RC51 SP2: HRC WSB Ti Hi-Level, T1 Airbox & Snorkel, PCIII, Dymag CA5 Carbon Wheels, Ti64 Spindles (F, R & Swing Arm), Mori Link, Maxton GP7 Shock & Ohlins 832 Forks, Brembo GP Calipers & SBK narrow track (F), Braketech Disc (R), Brembo billet Underslung x 2 Brembo RCS, Tyga Triple, 7075 Stem, Probolt Titanium all over, Babyface rearsets, MR Complete Carbon Lineup, Custom Undertail & CBR 1000 LED, Watsen LED Indicators, Harris Brace, Giles clip-ons, Corbin seat, etc. 2013 BOTY.
---
Last edited by The Stig; 05-07-2014 at

09:53 PM

.
Senior Member
Join Date: Jul 2013
Location: Springfield, MO
Posts: 897
Mentioned: 0 Post(s)
Quoted: 0 Post(s)
Holy hanberg batman! That's a killer bike! Put me down for one vote for the berg!
Sent from
Motorcycle.com Free App
---
2003 Rc51
Carbon Sato Banzais
Kyle racing clip-ons

2009 Ninja 250r (Wife's)
Yosh slip on
Roaring toyz lowering kit
Fender eliminator

1967 Mustang
289 ci C4 Auto
Tri-Y headers
Lifetime Premium
Join Date: Sep 2010
Location: Indy
Posts: 8,335
Mentioned: 17 Post(s)
Quoted: 226 Post(s)
That lovely all winning red bike just works.....I wonder if Makis would trade me set ups?
---
The very first schoolbook that was written had God all over it. --Dave Mustaine