View Poll Results

: 2014 Bike Of The Year Poll - Group 1

bkparts
7
31.82%
MakisRC51
9
40.91%
CapeCodderRC
2
9.09%
Hanberg
0
0%
James_03_rc
0
0%
8igstu
3
13.64%
Bterrell
0
0%
Luckyadam12
1
4.55%
Voters: 22. You may not vote on this poll
Moderator
Join Date: Oct 2008
Location: Sarasota, FL
Posts: 6,467
Mentioned: 24 Post(s)
Quoted: 89 Post(s)
2014 Bike Of The Year Poll - Group 1
---
Now comes the time to choose which bike will be the 2014 Bike Of The Year.
The current 2014 Bike Of The Month winners are:
(Note: there were no entries for February)
bkparts
Hello. I'm Vietnamese. I live in Ho Chi Minh city. And this is my RC51 SP2 2006.
There are only 3 RC on street in Vietnam. 2 of SP2 and 1 of SP1.
MakisRC51
CapeCodderRC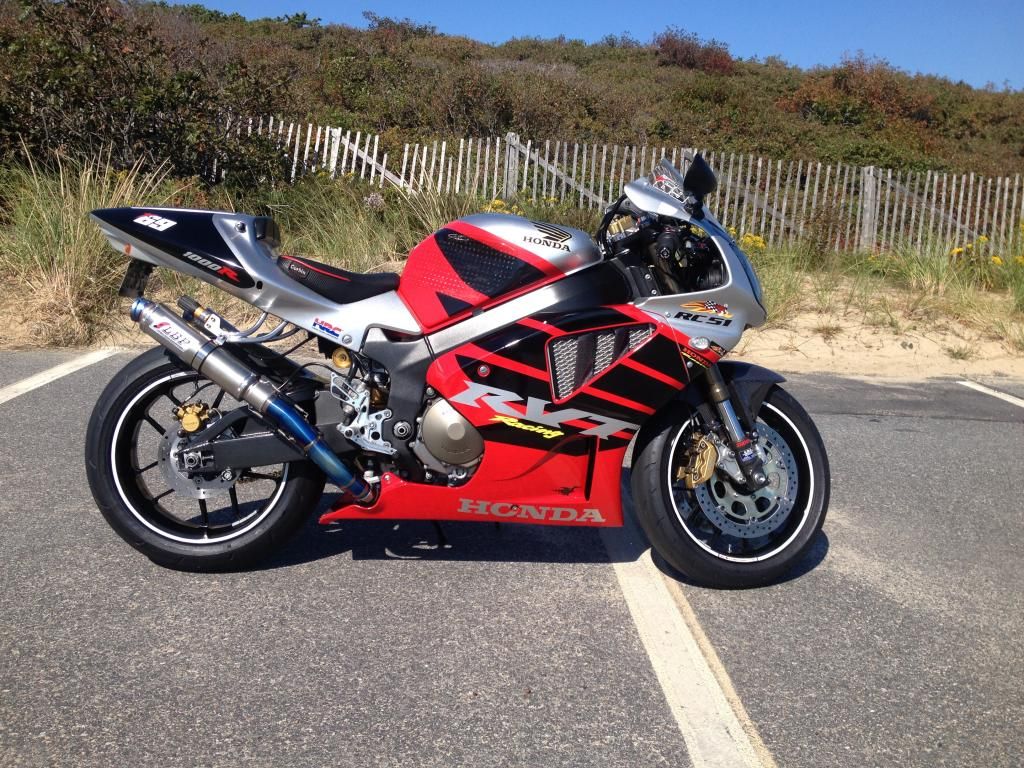 Hanberg
My mods:
Ladybird HRC exhaust
PC3 USB
T1 CF airbox and intake
Brembo RCS19 brake master
Brembo RCS16 clutch master
TSR 38mm clutch slave
Brembo Panigale rear caliper, underhung
PVM wheels
Braking rotors
DID520 with Renthal sprockets
SP2 swingarm
Renthal clip-ons with Renthal grips
CBR954RR top clamp
Steel braided lines
James_03_rc
2003 with 24,xxx miles
Custom paint
Magical Racing mirrors
Sato Banzai, refurbished by DHC*
DHC red Kevlar/carbon snorkel *
Cycle Cat rear sets*
HRC rear brake reservoir
PCV* with custom map
Galfer wave front brake rotors*
520 chain with 15/41 sprockets *
Speedo Healer*
Hot Bodies under tail* with custom taillights
Custom Euro front turn signals
Spiegler lines front and rear*
Motivation frame sliders*
Apex Adjustable Clip Ons*
1/6th throttle tube*
Duel SPAL fan mod
Engine Ice*
Red Kevlar/carbon rad fins (gills)
Harris hugger*
Custom under tail tray with relocated electronics
Shorai Battery relocated to under the oil filter
Soft rev mod
Manual fan switch mod
Scorpio i900 RFID alarm*
CBR600 coil mod
* indicates purchased from a member or site sponsor
8igstu
Bterrell
Luckyadam12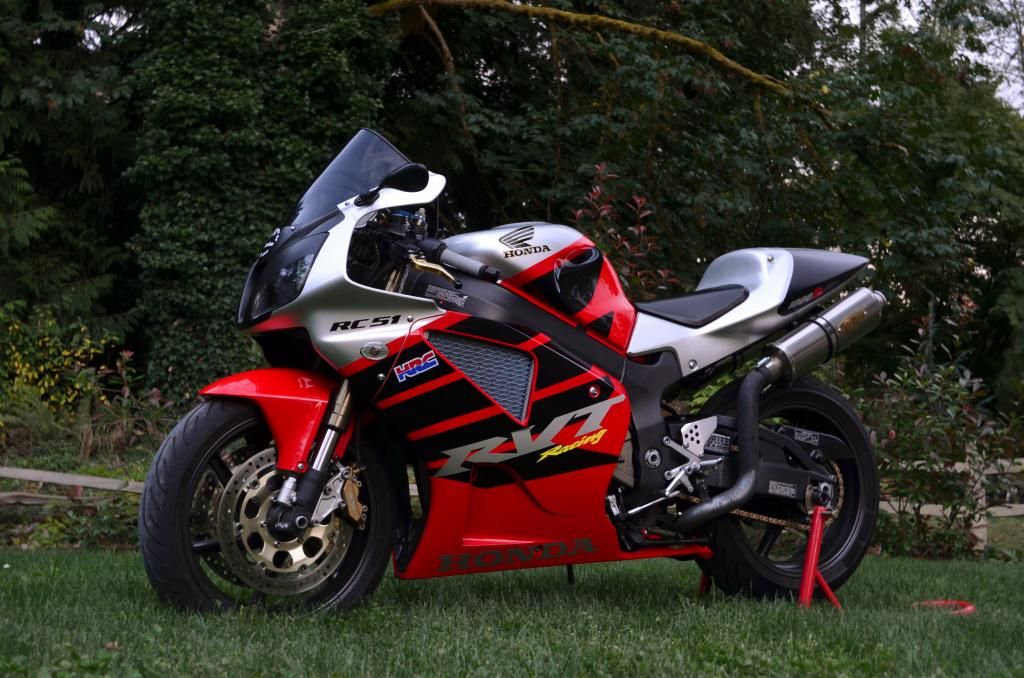 ---
Last edited by SubSailor; 12-21-2014 at

06:08 PM

.
Senior Member
Join Date: Apr 2013
Location: FL
Posts: 2,457
Mentioned: 11 Post(s)
Quoted: 99 Post(s)
Holy crap ... I can't decide.
Senior Member
Join Date: Aug 2010
Location: Northern CA
Posts: 8,653
Mentioned: 15 Post(s)
Quoted: 317 Post(s)
Ahhh, the cream of the crop!

Pornilicious
---
John, 2000 RC51 #000100


Well my plan was to vote for myself. But with this lineup it just didnt happen :-)
My mods:
Ladybird HRC exhaust
PC3 USB
T1 CF airbox and intake
Brembo RCS19 brake master
Brembo RCS16 clutch master
TSR 38mm clutch slave
Brembo Panigale rear caliper, underhung
PVM wheels
Braking rotors
DID520 with Renthal sprockets
SP2 swingarm
Renthal clip-ons with Renthal grips
CBR954RR top clamp
Steel braided lines

Off the top of my head, 28kg gone
Lifetime Premium
Join Date: Oct 2009
Location: Victoria B.C Canada
Posts: 4,560
Mentioned: 13 Post(s)
Quoted: 162 Post(s)
Good luck to everyone - Makis my vote went your way. Cheers !
---
-2001 Honda RC51 sp1 " Slightly Modified "
-2001 Honda 929RR Erion Edition
DuckHunterComposites
Lifetime Premium
Join Date: Jan 2012
Location: Korinthos, Greece
Posts: 3,239
Mentioned: 15 Post(s)
Quoted: 77 Post(s)
No matter who wins, we all are winners in this forum....have fun everyone and thanks for the confidence to those who share ma dream
Matt, if I don't win this year, I will definitely win next year by a split of a snorkel
---
My Íhlins Project:
https://www.rc51forums.com/forums/showthread.php?t=6033
Quote:
Congratulation to MakisRC51 for winning the 2014 Bike Of The Year Contest!
Lifetime Premium
Join Date: Mar 2011
Location: Seattle, WA
Posts: 1,580
Mentioned: 4 Post(s)
Quoted: 44 Post(s)
Good grief!!!
Such beautifully modified machines!!!
If I get a vote I'd be blown away.
@bkparts, those farings look incredible
@MakisRC51, We have spoke a few times, and I know the detail you have put into that.
@CapeCodderRC, those blue pipes
and the fins I think look amazing
@Hanberg, that exhaust is the pentical of exhaust choices!
@James, we too have spoken on occasion and you know I love that bike
@8igstu, that picture sir, is with well more than 1,000 words!
@Bterrell. Love the bike, the red on the wheels looks kick ass in my opinion, and in envious of those mids!
My vote will take a few days!!!
---
Riding is what keeps you on your toes...
~BOTM - April 2016, May 2015, September 2014~
Lifetime Premium
Join Date: Sep 2010
Location: Indy
Posts: 8,335
Mentioned: 17 Post(s)
Quoted: 226 Post(s)
This poll sucks......how to decide.
Unbelievable machines, Gents!
---
The very first schoolbook that was written had God all over it. --Dave Mustaine
Lifetime Premium
Join Date: May 2011
Location: Chiba, Japan
Posts: 4,617
Mentioned: 27 Post(s)
Quoted: 159 Post(s)
Hard choice, but my vote goes to Makis on this occasion. I know he's sacrificed much to get it to this stage. A lot of commitment & attention to the finest details in this machine.
---
Euro RC51 SP2: HRC WSB Ti Hi-Level, T1 Airbox & Snorkel, PCIII, Dymag CA5 Carbon Wheels, Ti64 Spindles (F, R & Swing Arm), Mori Link, Maxton GP7 Shock & Ohlins 832 Forks, Brembo GP Calipers & SBK narrow track (F), Braketech Disc (R), Brembo billet Underslung x 2 Brembo RCS, Tyga Triple, 7075 Stem, Probolt Titanium all over, Babyface rearsets, MR Complete Carbon Lineup, Custom Undertail & CBR 1000 LED, Watsen LED Indicators, Harris Brace, Giles clip-ons, Corbin seat, etc. 2013 BOTY.