View Poll Results

: 2011 Bike Of The Year Finals

twoeleven
12
42.86%
b.miller123
16
57.14%
Voters: 28. You may not vote on this poll
Moderator
Join Date: Oct 2008
Location: Sarasota, FL
Posts: 6,468
Mentioned: 24 Post(s)
Quoted: 89 Post(s)
2011 Bike Of The Year Finals Poll
---
Alright, it's down to the final two entrants.
This will decide who will be the 2011 Bike Of The Year winner.
The finalists are:
twoeleven
b.miller123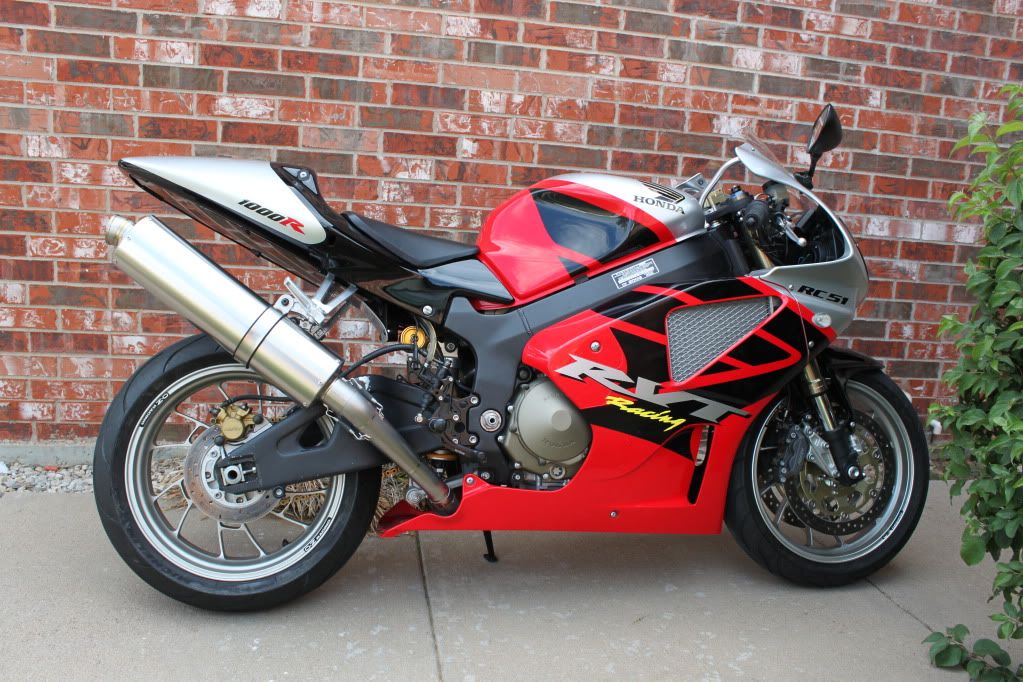 Senior Member
Join Date: May 2009
Location: Rhode Island
Posts: 428
Mentioned: 1 Post(s)
Quoted: 0 Post(s)
---
This is gonna be a tough one, both bikes look amazing.....
---
"...Loctite -- or kiss your nuts goodbye..."
---
Last edited by rvtjonny; 12-21-2011 at

01:31 PM

. Reason: can't decide?
Lifetime Premium
Join Date: Dec 2010
Location: Island Lake Alberta Canada
Posts: 1,904
Mentioned: 11 Post(s)
Quoted: 56 Post(s)
Glad it's not up to me to pick just one!
---
Duct tape can't fix stupid...but it sure helps muffle the sound
'03 SP2, '09 GL1800
Member
Join Date: Aug 2010
Location: Virginia Beach, VA
Posts: 40
Mentioned: 0 Post(s)
Quoted: 0 Post(s)
Mick's RC51..
---
I'm a sucker for the aluminum look.
Senior Member
Join Date: May 2011
Location: Indianapolis, Indiana via the UK
Posts: 609
Mentioned: 0 Post(s)
Quoted: 6 Post(s)
It's a tough one. But I'm not a fan of the fancy front brake rotors. That was my determining factor. I'd kill to have either one in my stable though.
---
2000 RC51 SP1
2007 Yamaha YZ450f
2002 Yamaha YZ125 (sold)
2007 Triumph Speed Triple (sold)
2004 Triumph Speed Triple (sold)
2001 Suzuki GSX-R 1000 (sold)
1996 Honda RVF NC35 (sold)
1983 Kawasaki KX60 (wrecked)
1982 BSA Scrambler (wrecked)
Lifetime Premium
Join Date: Apr 2009
Location: Kansas
Posts: 566
Mentioned: 0 Post(s)
Quoted: 11 Post(s)
It's gona be close LOL ........ I would take both for my garage
---
2004 RC51 with multipul mods
1985 VF1000R SOLD 😭
Moderator
Join Date: Oct 2008
Location: Sarasota, FL
Posts: 6,468
Mentioned: 24 Post(s)
Quoted: 89 Post(s)
Unfortunately, there was not too much turn out in votes for both semi-finals.
Out of 3483 members, semi-finals 1 was decided by 10 votes, and semi-finals 2 was decided by 12.
And potentially, the same members may have voted in both polls.
I sort of expected more.
i really like twoeleven the stock wheels do it for me as how clean the rest of the bike is ,,,
---
Penske triple adjustable shock Moriwaki linkage
forks , valves , springs ,top-out mod
Moriwaki rearsets
Carbon Airbox heatshielding custom K&N panel filter
Power Commander USB
Galfer superbike full foating rotors - SS braided lines
Brembo 19 RCS Adjustable Ratio Radial Brake Master Cylinder
DID 520 gold chain
CRG folding clutch lever
Relocated battery Shortened wiring harness
Flapper PAIR EVAP removed
Soft Rev limiter removed
15/41 gears 520
Vortex clip-ons
Lifetime Premium
Join Date: Dec 2011
Location: Hopkins, MN
Posts: 296
Mentioned: 0 Post(s)
Quoted: 5 Post(s)
Bmiller hands down. he has more in his exhaust than two eleven does in his exhaust and front brake rotors together. Plus those wheels are hardly ever on an RC(his is the first time I have ever seen it)

Two eleven's bike is clean but having such a clean bike then putting Hindle Exhaust on it just turns me off.
The Hindles fell off just as soon as I was able to find an absolutely pristine set of Sato Titanium Lows...
I wasn't asked for an update on the bike so I am not sure how the rules go, but she's all tight and right now!
Merry Christmas, and I am honored to even have my bike considered!!!
Thanks,
211.