View Poll Results

: June 2015 Bike Of The Month Poll

lhvRC
5
33.33%
Jake
10
66.67%
Voters: 15. You may not vote on this poll
Moderator
Join Date: Oct 2008
Location: Sarasota, FL
Posts: 6,468
Mentioned: 24 Post(s)
Quoted: 89 Post(s)
June 2015 Bike Of The Month Poll
---
No further entries are allowed at this time.
For those who missed the entry period, please try again next month.
Now it's time to vote which bike should receive BOTM for June 2015.
The following entries are:
lhvRC
-zero gravity tinted windshield
-vortex mirror blockers
-Driven D-3 grips (which are the best grips i have ever had)
-Supersprox 520 Lifetime Drive Kit which are gold (it looks great on the bike)
-Hot bodies undertail kit professionally wired
-PowerCommander also in the tail section
-Titanium Yamamoto/Ladybird Exhaust (welds are beautiful)
-steal braided brake lines
-SAMCO radiator hose kit
-Flush turn signals.
-Ladybird Cans(Ti Ends) and Titanium Yamamoto mids
Jake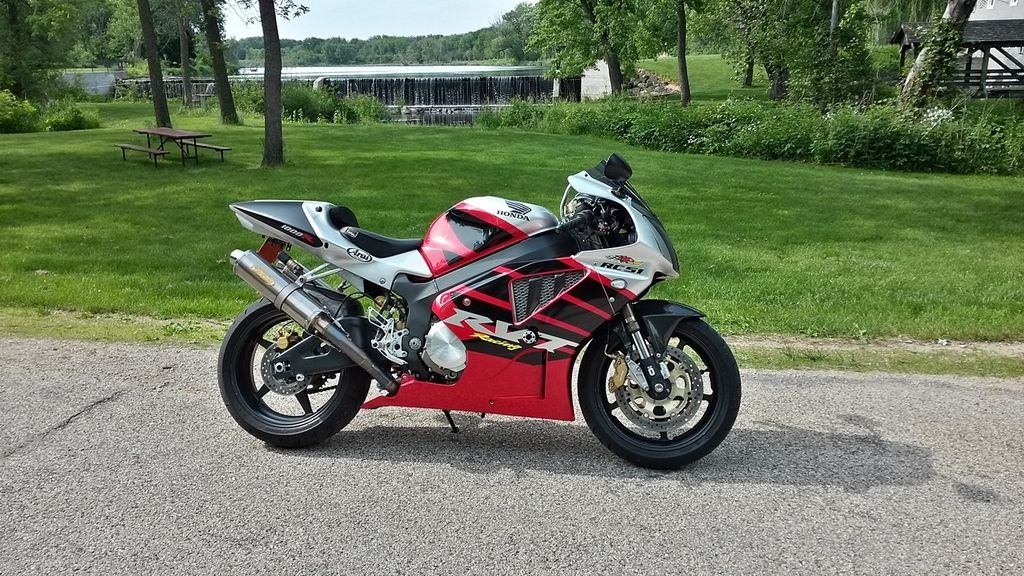 Mods are:
DHC Twill Weave Open Airbox Kit
DHC Carbon Fiber Snorkel
CRG Clutch and Brake Levers
Galfer Front and Rear Brake lines
Galfer Clutch Line
Fiberglass Radiator Air Scoops
Spal Pusher Fans
Carbon Fiber Radiator Fins
Proton Flushmount Turn Signals
Aftermarket Undertail
Carbon Fiber Front Fender
Zero Gravity Double Bubble Windscreen
Corbin Seat
Ohlins H0204 Rear Shock
Sato Rearsets
Lockhart-Phillips Frame Sliders
Sato Titanium Low Mount Slip-ons
Carbon Fiber Rear Tire Hugger
Power Commander III Usb w/ Custom Map
Shorai Lithium Battery
Healtech Speedohealer
520 Chain Conversion with 16/43 gearing
600RR Spark Plug Coil Mod
Scotts Steering Damper
Soft-Rev Mod
Flapper Valve Mod
Pair Valve Mod
"Huskey Racing Components" Clutch Cover
20mm Ohlins Valving Fork Upgrade via Dan Kyle Racing
---
Last edited by SubSailor; 06-15-2015 at

04:34 PM

.
Senior Member
Join Date: Oct 2013
Location: Wisconsin
Posts: 606
Mentioned: 7 Post(s)
Quoted: 35 Post(s)
Nice looking RC lhvRC. Good luck to you!
---
2014 December BOTM Winner
2015 June BOTM Winner
Still debating on whether to use my power of invisibility for good or evil
Senior Member
Join Date: Mar 2011
Location: Centervalley, PA
Posts: 165
Mentioned: 0 Post(s)
Quoted: 5 Post(s)
You as well! Didn't catch the memo to send a mods list haha. Good luck to you as well man, RC that wins is a win win in my book no matter who's it is.
Sent from
Motorcycle.com Free App
Moderator
Join Date: Oct 2008
Location: Sarasota, FL
Posts: 6,468
Mentioned: 24 Post(s)
Quoted: 89 Post(s)
Congratulations to Jake for winning the June 2015 Bike Of The Month contest!
Lifetime Premium
Join Date: Jan 2012
Location: Korinthos, Greece
Posts: 3,239
Mentioned: 15 Post(s)
Quoted: 77 Post(s)
Congrats Jake!
---
My Íhlins Project:
https://www.rc51forums.com/forums/showthread.php?t=6033
Quote:
Congratulation to MakisRC51 for winning the 2014 Bike Of The Year Contest!
Senior Member
Join Date: Oct 2013
Location: Wisconsin
Posts: 606
Mentioned: 7 Post(s)
Quoted: 35 Post(s)
Thanks Sub and Makis! Again, beautiful bike IhvRC; love your exhaust!
---
2014 December BOTM Winner
2015 June BOTM Winner
Still debating on whether to use my power of invisibility for good or evil
Senior Member
Join Date: Mar 2011
Location: Centervalley, PA
Posts: 165
Mentioned: 0 Post(s)
Quoted: 5 Post(s)