View Poll Results

: 2016 Bike Of The Year Finals

Wibbly
19
52.78%
CapeCodderRC
17
47.22%
Voters: 36. You may not vote on this poll
Moderator
Join Date: Oct 2008
Location: Sarasota, FL
Posts: 6,467
Mentioned: 24 Post(s)
Quoted: 89 Post(s)
2016 Bike Of The Year Finals
---
Now is the time to decide which of the two finalists is the 2016 Bike Of The Year:
Wibbly
CapeCodderRC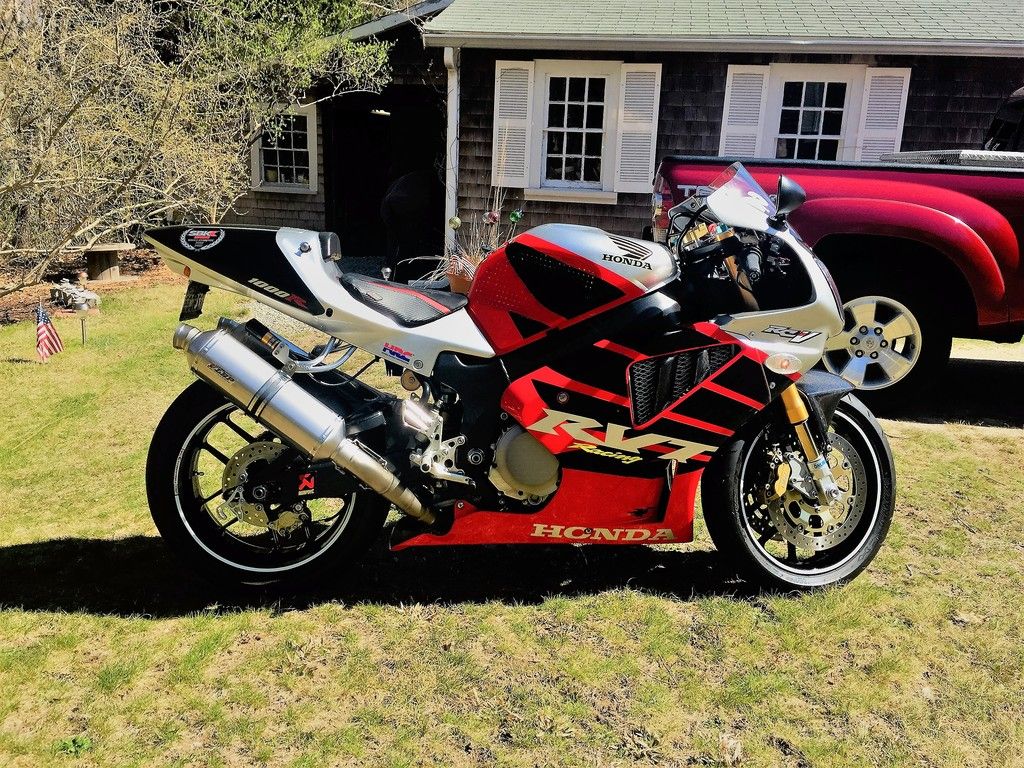 Senior Member
Join Date: Sep 2015
Location: Edmonton, AB
Posts: 1,521
Mentioned: 7 Post(s)
Quoted: 323 Post(s)
just wanna say thanks for the votes. nice to know that people like my bike as much as i do
Lifetime Premium
Join Date: Oct 2012
Location: Fort Wayne, Indiana
Posts: 921
Mentioned: 24 Post(s)
Quoted: 157 Post(s)
This was a really tough choice.....
---
2000 RC51 - stock owned since new 5/2000
2006 RC51 - 2nd owner purchased 4/2015 with 1400 miles
1996 CBR900RR - mild resto/mod - done spring 2012
1990 Honda VFR - original stock owned since 1991
1975 Kawasaki S3 - restored in 2004-5 (sold 10-17)
2003 Kawasaki ZX7R - bought 10/2018
2007 Honda Interceptor 25th Anniversary purchased 7/2014
1972 Honda Mini Trail - 1st restoration in 1992, and 2016 restored to like new condition. (sold 2/18)
Senior Member
Join Date: Apr 2013
Location: FL
Posts: 2,457
Mentioned: 11 Post(s)
Quoted: 99 Post(s)
Close race! Can't go wrong with either ...
Lifetime Premium
Join Date: May 2011
Location: Chiba, Japan
Posts: 4,617
Mentioned: 27 Post(s)
Quoted: 159 Post(s)
I like both, but Cape Codder's is my choice and it's now neck & neck. Best of luck!
---
Euro RC51 SP2: HRC WSB Ti Hi-Level, T1 Airbox & Snorkel, PCIII, Dymag CA5 Carbon Wheels, Ti64 Spindles (F, R & Swing Arm), Mori Link, Maxton GP7 Shock & Ohlins 832 Forks, Brembo GP Calipers & SBK narrow track (F), Braketech Disc (R), Brembo billet Underslung x 2 Brembo RCS, Tyga Triple, 7075 Stem, Probolt Titanium all over, Babyface rearsets, MR Complete Carbon Lineup, Custom Undertail & CBR 1000 LED, Watsen LED Indicators, Harris Brace, Giles clip-ons, Corbin seat, etc. 2013 BOTY.
Member
Join Date: Mar 2012
Posts: 47
Mentioned: 0 Post(s)
Quoted: 3 Post(s)
My vote to Wibbly
---
Once bitten... TT bug forever.
Junior Member
Join Date: Jan 2017
Posts: 1
Mentioned: 0 Post(s)
Quoted: 0 Post(s)
Tough choice, Wibbly by a nose for the phat Ti high mounts and the well stickered up beer fridge...


Sent from my iPhone using Tapatalk
Senior Member
Join Date: Nov 2016
Posts: 172
Mentioned: 2 Post(s)
Quoted: 55 Post(s)
Cape Codder for me
I really don't like carbon wheels (just my choice)
Lifetime Premium
Join Date: Oct 2015
Posts: 397
Mentioned: 6 Post(s)
Quoted: 64 Post(s)
Wibbly - you still have my favorite looking RC. I'm digging how you did this one up.
---
2004 BMW R1150SR Project Touring Bike (in-work)
2005 Honda RC-51 SP-2 - future track tool
2014 Ducati HyperProject (Hyperstrada)
Senior Member
Join Date: Aug 2010
Location: Northern CA
Posts: 8,653
Mentioned: 15 Post(s)
Quoted: 317 Post(s)
Old school graphics, traditional low mount exhaust, (and those sweet sato brackets), is about the only preference I can find to vote for. Otherwise, both of these bikes are probably among the finest street RC51's in the world. You just cant build one of our coveted bikes any better than these two gentlemen have. Honda should be proud that there's still a spattering of loyalists with prime examples of the RC51.
Good luck Codder, it's a close one!
Cheers to both Codder and Wibbly!
---
John, 2000 RC51 #000100