View Poll Results

: October 2018 Bike Of The Month Poll Redux

Motleyfan
7
41.18%
smokingjoe
4
23.53%
Dutchy
6
35.29%
Voters: 17. You may not vote on this poll
Moderator
Join Date: Oct 2008
Location: Sarasota, FL
Posts: 6,473
Mentioned: 24 Post(s)
Quoted: 89 Post(s)
October 2018 Bike Of The Month Poll Redux
---
Alright, a second try at the October 2018 Poll.
Thanks to all for their entries for the October 2018 Bike Of The Month (BOTM) contest!! No further entries are allowed at this time.
For those who missed the entry period, please try again next month.
Now it's time to vote which bike should receive BOTM for October 2018.
The following entries are:
Motleyfan
Ladybird HRC replica exhaust
Style and Performance radial fork bottoms.
Ohlins rear shock
Daughtery Motorsports reworked front fork internals with gold titanium nitrided fork tubes (Ohlins decals on front forks )
Full Brembo front and rear brakes and RCS19 master cylinder on front
Brembo front rotors, Braketech rear rotor
Larry Doe underslung rear brake bracket
Brembo RCS16 clutch master cylinder
CBR600 stick coil mod with Mark Eggbear plug and play harenesses
Sato rearsets and swingarm spools
Moriwaki radiator fins
Spiegler custom brake lines
Simon's HRC replica hinged clip-on mounts
Gilles shift shaft support
Lightech brake guard
Rizoma front and rear turn signals
Superlite 520 sprockets
EK3D black and gold 520 Chain
Wibbly rear turnsignal/license plate bracket
Wibbly fan overide switch
Scotts steering dampner
Carrozeria wine red annodized wheels
Dale James Racetorx chain adjusters and titanium front axle bolt and rear axle nut
Mag Knight magnetic tank bra
DHC rear hugger modified for HRC exhaust
DHC HRC replica heel guards
Sargeant seat
PCV dyno tuned by Schnitz Racing
Various other front and rear titanium fasteners
4538 miles on the clock
smokingjoe
Dutchy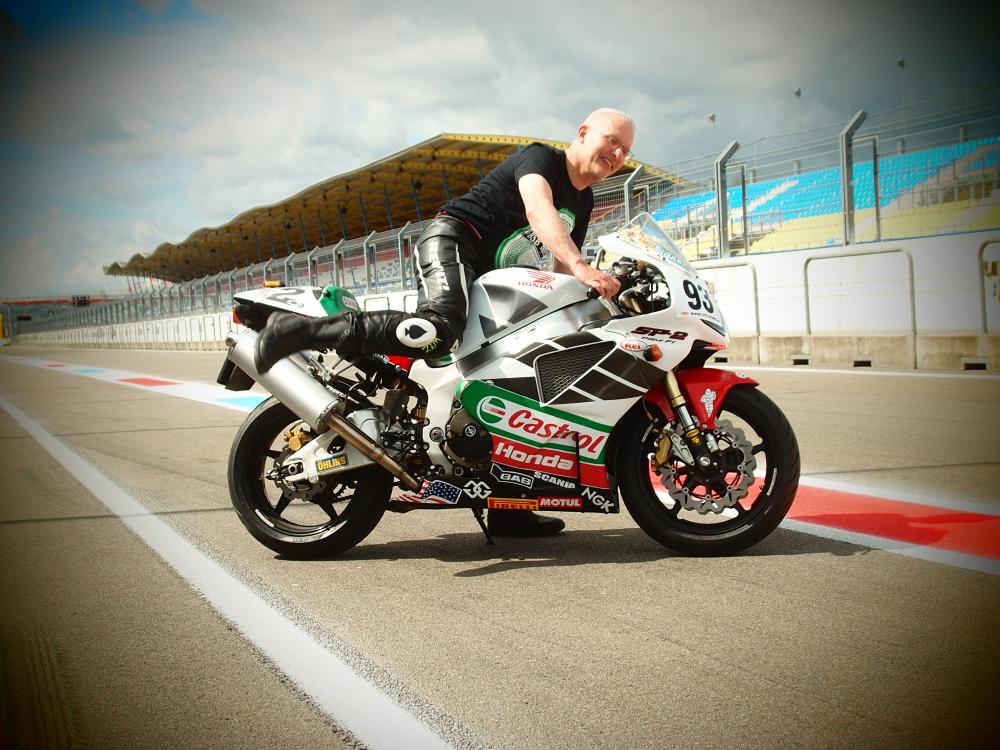 - Chinese bodywork
- Chinese double bubble
- Italian sticker set
- Rattlecan green tail
- Galespeed clutch master
- Racetorx chain adjustors and clutch cover
- Ohlins rear shock
- K-rech front suspension innards
- Cauliflower rotors
- S/S hydraulic lines
- Speedbleeders
- Little bell to scare road ghosts
- SDC voltmeter
- K&N airfilters
- Gilles Tooling rearsets and Ti rear axle nut
- Smattering of Ti nuts
- Factory Pro shift star
- MOTUL 5100
- Speedohealer
- Auxillary fuse box
- Hugger
- BOS exhausts
- RAMmount
- Oxford heated grips
- Mirror blank-off plates
- Lengthened side stand
- Angled air valves
- last but not least, one silly rider
Moderator
Join Date: Oct 2008
Location: Sarasota, FL
Posts: 6,473
Mentioned: 24 Post(s)
Quoted: 89 Post(s)
Can we see all three photos this time?
Junior Member
Join Date: Nov 2017
Location: Buffalo, NY
Posts: 29
Mentioned: 0 Post(s)
Quoted: 6 Post(s)
I can see all three this time.

.
---
1993 CBR900RR
2001 RC51
1989 KX250
2009 KX250F
Senior Member
Join Date: Sep 2011
Location: HOCKEYTOWN ® MI
Posts: 1,291
Mentioned: 2 Post(s)
Quoted: 47 Post(s)
Yes, all 3 are showing up now.
---
'06 Black/Metallic Gray RC51
-Competition Werkes FE w/
Clear Alternatives IT
'02 Silver/Black CBR 954RR
'11 Graphite Black CBR 1000RR (sold '15)
'08 Pearl Orange CBR 600RR (sold '11)
Senior Member
Join Date: Aug 2010
Location: Northern CA
Posts: 8,653
Mentioned: 15 Post(s)
Quoted: 317 Post(s)
Smokingjoes FTW!
I know it's stiff competition, but I love the NH and the original red/silver bikes. They are the best!!!
---
John, 2000 RC51 #000100


Senior Member
Join Date: Dec 2016
Location: The Netherlands
Posts: 506
Mentioned: 2 Post(s)
Quoted: 80 Post(s)
Did the original NH come with 2Brothers as standard?
---
Last edited by Dutchy; 10-23-2018 at

02:11 PM

.
Senior Member
Join Date: May 2018
Posts: 125
Mentioned: 2 Post(s)
Quoted: 28 Post(s)
Quote:
Did the original NH come with 2Brothers as standard?
No , same pipes as the rest , silver frame , white number plate backgrounds , sponsor decals AND Woody Woodpecker , which I don't see above. Honda was running Jardines , hence the Jardine stickers. Mine new had the decals in a plastic bag , Woody came on the bike , about where his front turn signal is.
---
Last edited by Red Flash; 10-23-2018 at

05:49 PM

.
Lifetime Premium
Join Date: Oct 2015
Location: Tennessee
Posts: 380
Mentioned: 2 Post(s)
Quoted: 63 Post(s)
Yes sir I can see all 3 photos now.. a redux really wasn't necessary Subsailor but thanks for your ongoing efforts

& thanks for the kind words Jondog9. . I had already conceded the victory to Motley.. he obviously took his trailer queen to the mall for some professional glamour shots! There's no way we average Joes can compete with that lol

As for modifications on my 04 Hayden well there's two brothers slip ons, 15/43 sprockets, a silver undertail, that's it...original owner removed the woodpeckers from the sides, I have a couple sets to put back on it but I've left them off for now. .generally a basic stock package. . now my 06 on the other hand that mod list is lengthy
Senior Member
Join Date: Sep 2015
Location: Edmonton, AB
Posts: 1,548
Mentioned: 7 Post(s)
Quoted: 326 Post(s)
i know motley had that bike at deal's gap this year for pig fest, so i don't think it's really a trailer queen.

he IS super anal about his bikes though, that'd be why it's so damn shiny.
Lifetime Premium
Join Date: Oct 2015
Location: Tennessee
Posts: 380
Mentioned: 2 Post(s)
Quoted: 63 Post(s)
I'll go out on limb & guess that Nick was seen trailering his bike to & from said event was he not? I rest my case..

& 4500 miles on 13 year old bike? come on man ... besides I was just throwing shade on him for having her hair & make up done for a professional photographer while a lot of us just use a cheap cell phone camera & didn't even bathe that day!

Dutchmans sp2 in her chinesium track outfit looking fabulous too btw