It's that time of year to decide who will win the 2011 Bike Of The Year.
From the list of prior months winners we decide the two semi-finalists.
Note: Semi-final polling will close in 7 days.
Here's semi-final list number 1:
CBR400RR
CBR400RR's bike mods are:
2004 Honda RC51 Nicky Hayden Edition
Brakes
Galfer super bike front lines, Galfer rear brake line, HRC race pads, Brake Tech full floating iron race rotors, Revolution full floating rear rotor, Brembo 19x16 billet radial brake master cylinder with shorty lever, Brembo race brake fluid, SMS under hung rear brake kit with Brembo billet caliper.
Suspension
Ohlins 3 way adjustable racing rear shock & Kyle rear shock linkage, Bridgestone BT003 Pros, BST carbon fiber wheels, Scott's steering damper,
Ohlins RT forks, Custom billet aluminum adjustable kickstand.
Engine
Soft rev mod, Ceramic headers, Yuasa YTZ7s battery,
Moriwaki carbon fiber radiator vents, Carbon fiber radiator ducts,
2007 CBR coil kit, Factory Pro shift kit, Samco race hose kit
Hyper plates aluminum clutch plates, carbon fiber air box
Yoyodyne ball bearing slipper clutch, carbon fiber ram air intake
PCIII USB with Kyle map & Accelerator pump mod
SATO Ti low mounts with Banzai carbon fiber mufflers
Derestricted, pair mod, flapper mod, Redline water wetter,
DID ERV3 520 Gold chain, Stealth 41 rear & AFAM 15 front, Valter Moto aluminum oil cap, Circuit 1 billet slipper clutch cover.
Cosmetics
Carbon front fender
G-Craft mini reservoir
Cut down sub frame & re-wired tail section
SATO TI exhaust hangers, Eyebrow blinker mod
HID 6000K headlights, Flush mount screw kit
Carbon fender hugger, Carbon tank guard, Dark smoked wind screen, Nicky mod, CRG hindsight mirror, carbon chin fairing
Hot bodies under tail with custom LED taillights, Watsen LED flush mount signals, HRC reservoir covers, TWM carbon fiber keyless gas cap, bar sliders, frame sliders, swingarm sliders, HRC Superbike replica fiberglass tail, custom seat. Light Tech aluminum axel and swing arm nuts.
Controls
SATO gold rear sets with GP shift kit, Brembo 16x18 Billet radial clutch master cylinder with shorty lever, Brembo 19x18 Billet radial master cylinder with shorty lever, HRC 1/6th throttle kit, Japanese light switch conversion and Safety wired bike.
ErikTheRed
Here are some of the mods on my RC51:
Custom paint, Black w/Pearl White
Flapper Valve mod,
Full Akrapovic Titanium/Carbon exhaust
PCIII USB
520 Conversion, -1 +1
Zero Gravity Double Bubble
Sato Racing rear sets w/GP shift
Sato Racing Titanium exhaust hangers
Kyle Racing rebuilt front fork
Kyle Racing Clip Ons
Kyle Racing rear shock linkage
Stainless braided lines (all)
CRG Shorty Levers
LED undertail
Frame and swing arm sliders and more...
MysteryMan
twoeleven

Year: 2004
Model: SP2
Eng size: 1000cc
Pipes: Hindle CF
Seat: Stock
Wheels: Stock
Accessories: Elka racing shock, Toby damper, Galfer discs/lines/pads, Puig screen, CRG levers
And the story: "Mick's Bike" - Mick Jones taught me everything I know about maintaining motorcycles, but only a small fraction of what he knew. I met Mick in 2001 because he was a neighbor who had a garage full of motorcycles, and so did I, and our friendship began. In 2004 he bought this bike and asked if I had ever ridden a V-twin. I hadn't, so he tossed me the keys and said, "Have fun!". I did, so much so that when I finally returned to his house, I knew that I would buy one for myself one day. I did in 2005, and for a while we enjoyed riding our two RC's together, the '04 and the '05. Then Mick was diagnosed with Cancer...He endured Chemo, and ultimately a bone marrow transplant that proved hugely debilitating. He didn't ride his RC much after that, saving his strength to putt around on less powerful machines, but he still enjoyed working on the RC, making small mods as the years passed, riding it very infrequently. In 2007 I sold my '05, but I never stopped thinking about it and the times we had. Early in February of this year Mick lost his fight, and I lost a friend. As his family was trying to find homes for all of his tools, bikes, and parts, they told me the proceeds would go to help out his two young nephews go to college one day, so I made an offer on the RC, but only if nobody else in the family wanted it. They said it was mine, the money goes to a good cause and today I have it all cleaned up and it rides like a dream. Every time I see it I am reminded of the times we had and what a great person Mick Jones was...Master mechanic, enthusiast, suspension engineer, performance tuner, and a true friend to many.
In memory of Michael "Mick" Jones, your RC is now with me. Ride in Peace, Brother, and thank you for your friendship.
Griff
rjc

I am 27 and I live in Brooklyn but I keep the bike with my father upstate in Cortlandt Manor, NY. He has been riding and working on bikes for a long time. He has a great collection of vintage bikes that he purchases and restores. We started riding together when I was a kid.
This is the first bike of my own and I love it. I got it in January and since then my father and I have been working on it and waiting for the weather to improve so that we can ride.
It is an '06 with a little more than 500 miles.
We've got a Jardine 2 into 1 header with a great Black Dragon can. The bike has a Power Commander, 15T countershaft sprocket and 41T rear sprocket with Speedohealer, Hotbodies Undertail with carbon fiber hugger and new 2CT Pilot Power tires.
Thanks,
Ryan
erbgottie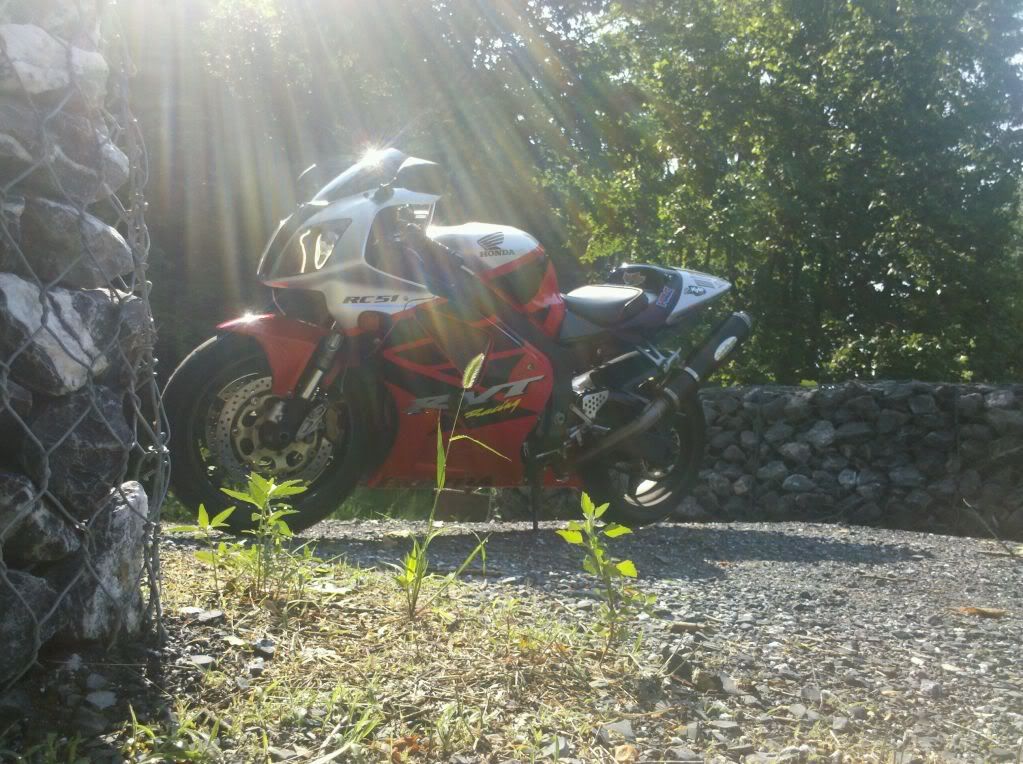 2003 RC51 with 36,021 miles
PCIIIr, SATO low mount Carbon Fiber Exhaust, Hotbodies Undertail w/ Integrated Turn Signals, SATO Frame Sliders, Black CRG shorty Brake & Clutch levers, Magical Racing Carbon Fiber Speedo Cover, Magical Racing Rear Hugger, HRC Clutch & Front Brake Master Cylinder Sock Covers, Galfer SS Lines All Around.