Thanks to all for their entries for the April 2011 Bike Of The Month (BOTM) contest!!
No further entries are allowed.
For those who missed the entry period, please try again next month.
Now it's time to vote which bike should receive BOTM for April 2011.
The following entries are:
twoeleven

Year: 2004
Model: SP2
Eng size: 1000cc
Pipes: Hindle CF
Seat: Stock
Wheels: Stock
Accessories: Elka racing shock, Toby damper, Galfer discs/lines/pads, Puig screen, CRG levers
And the story: "Mick's Bike" - Mick Jones taught me everything I know about maintaining motorcycles, but only a small fraction of what he knew. I met Mick in 2001 because he was a neighbor who had a garage full of motorcycles, and so did I, and our friendship began. In 2004 he bought this bike and asked if I had ever ridden a V-twin. I hadn't, so he tossed me the keys and said, "Have fun!". I did, so much so that when I finally returned to his house, I knew that I would buy one for myself one day. I did in 2005, and for a while we enjoyed riding our two RC's together, the '04 and the '05. Then Mick was diagnosed with Cancer...He endured Chemo, and ultimately a bone marrow transplant that proved hugely debilitating. He didn't ride his RC much after that, saving his strength to putt around on less powerful machines, but he still enjoyed working on the RC, making small mods as the years passed, riding it very infrequently. In 2007 I sold my '05, but I never stopped thinking about it and the times we had. Early in February of this year Mick lost his fight, and I lost a friend. As his family was trying to find homes for all of his tools, bikes, and parts, they told me the proceeds would go to help out his two young nephews go to college one day, so I made an offer on the RC, but only if nobody else in the family wanted it. They said it was mine, the money goes to a good cause and today I have it all cleaned up and it rides like a dream. Every time I see it I am reminded of the times we had and what a great person Mick Jones was...Master mechanic, enthusiast, suspension engineer, performance tuner, and a true friend to many.
In memory of Michael "Mick" Jones, your RC is now with me. Ride in Peace, Brother, and thank you for your friendship.
Griff
raleighp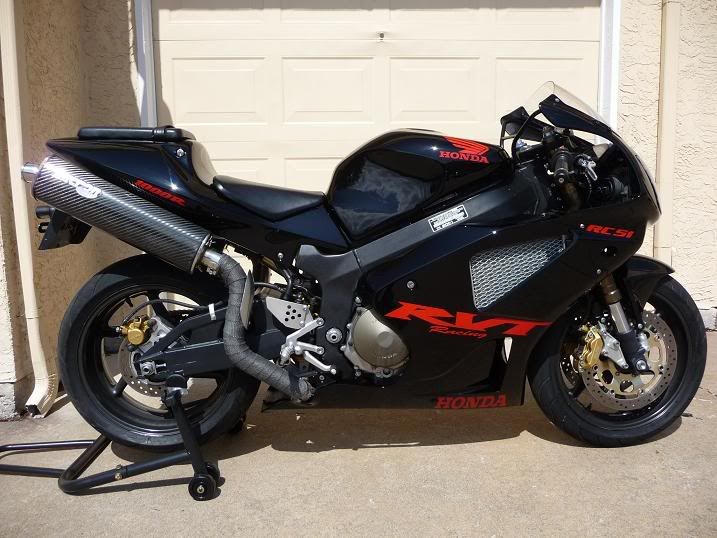 McWag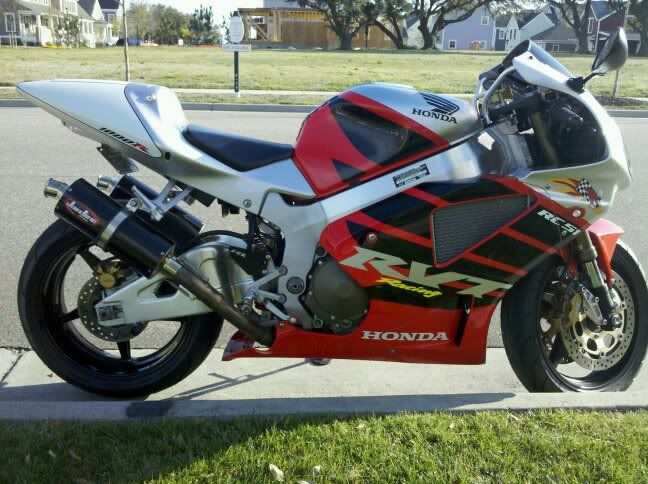 04 RC51 Nicky Hayden
-Custom undertail
-Flush mount turn signals
-shorty Jardine exhaust
-Titax levers
-Scotts steering dampner
-Pair and flapper mods
-Puig windscreen
Not as trick as a lot of yours but it's my girl. Tons more I want to do, but moneys tight.
firstcherokeekid

Phily1

hondaman417

2005 RC51 motor. Yamaha Raptor chassis. custom machined billet low profile oil pan. K&N clamp on airfilters off a VW Bug, D&D silencers, custom made swingarm extended 8 inches. honda 400EX rear shock, Arctic Cat F7 front shocks. Avenger +2 a arms. Used mainly for competitive hillclimb racing and occassionaly drag racing
Idrivetoys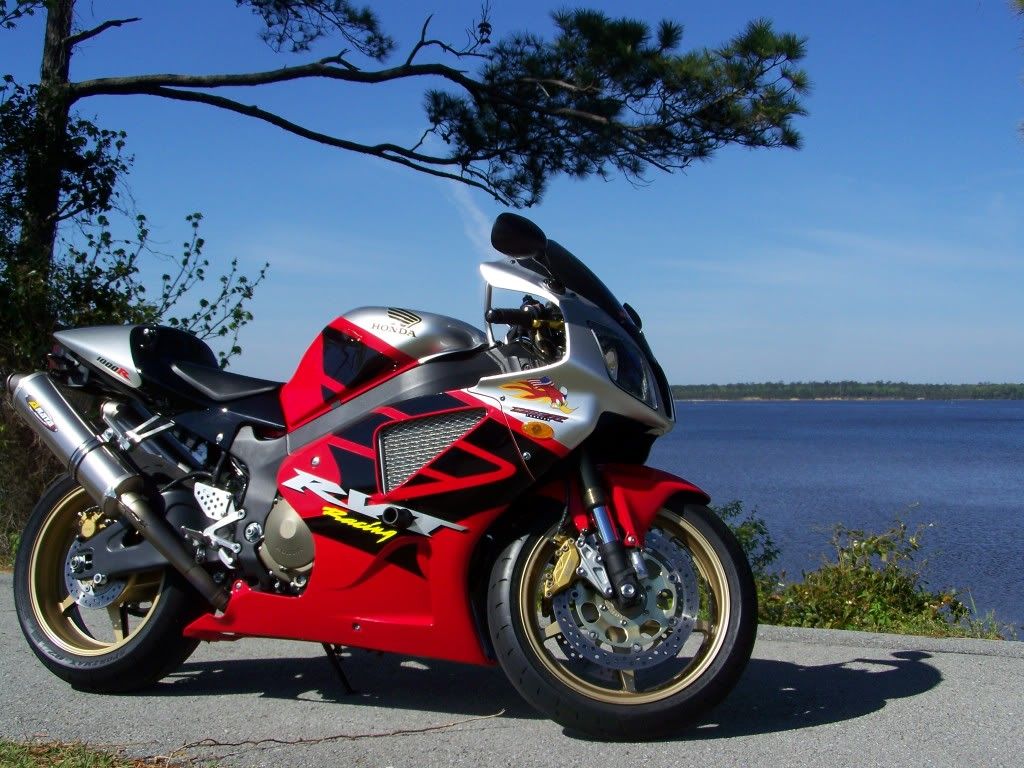 2003 RC51-
Smoked Screen-
Frame Sliders-
PCIII-
Arata slip ons-
6k HIDs-
PAIR mod-
Flapper mod-
Speedo Healer-
Stock wheels painted GOLD
Shorty levers GOLD