Anyone who wants to read a productive thread, move on, this one is just me being ridiculously happy that Bella, my RC, is back on the road.
After a year of sitting in pieces, Bella lives again!! Took her out for a test run today, everything feels tip-top, and it's me rather than she who has to get used to the speed again. Holy freaking balls it's good to ride my RC again
:grin2:
I put up a post a while back about whether I should pull the stickers off. While crashing and rebuilding was NOT what I had in mind as a reason to remove stickers, I like the results. She ain't a purist's RC anymore, but hell with it, she's MY RC and I think she's effing sexy this way :grin2: Only the tail piece wasn't repainted, i may have it painted over the winter just for fun, but I may also leave it as-is as a reminder of what happens when I get myself in over my head.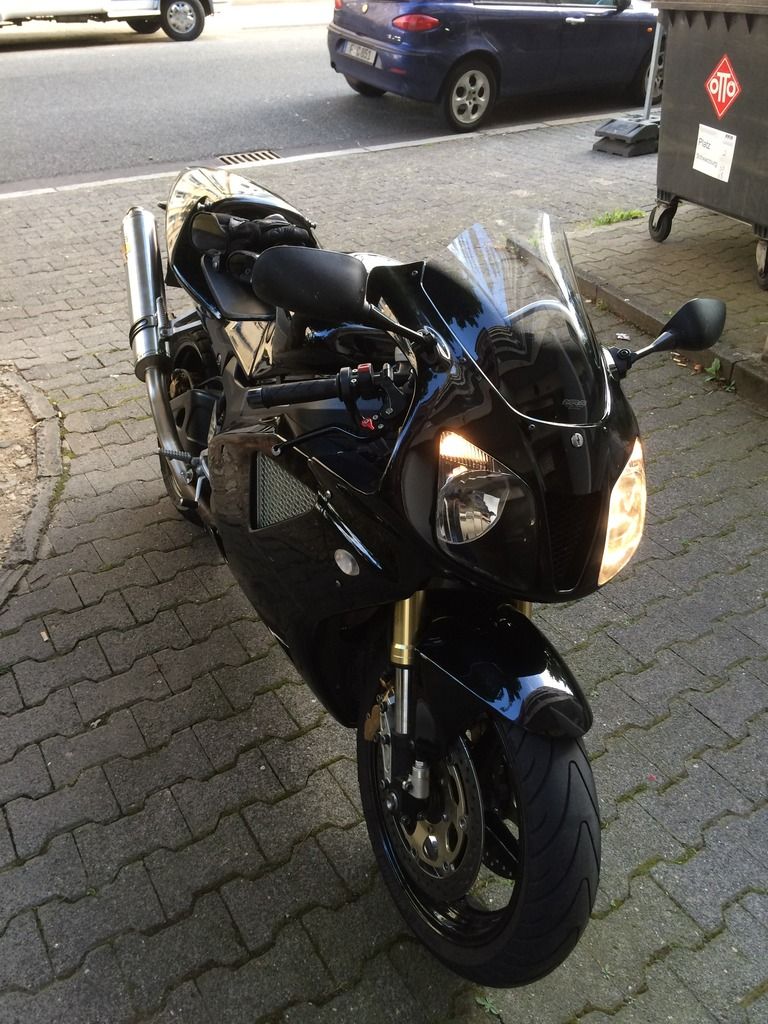 The Leo Vince exhaust is also new-used for me, she had the Honda exhaust on before. These pipes are nothing short of symphonic even with the dB killers installed, it takes everything I have to not be a stoplight douchebag who sits and blips the throttle just to hear it. Man, what a beautiful tone!! The first time I started her, I couldn't resist running her with the dB killers removed, and to quote my own quote, HOE-LEE-SHEE-YIT, was it LOUD. Here in Germany there are very strict rules about noise disturbances, especially on sundays, and of course there I am revving an RC51 with an open Leo Vince kit on a Sunday afternoon, I'm pretty sure half the neighborhood called the police, but I had her stowed away before too long. Hehe...good times
I ordered a set of Proton front blinkers from the states, too, all the "approved" blinkers here look like a six-year-old designed them. Really nice parts, easy to install and they actually fit. Nice work, High Tech Speed!
The final tally of repairs made after she went sideways end-over-end (and I practiced some asphalt gymnastics) at Hockenheimring last year:
Bent stuff:
front wheel
both forks
right clip-on
subframe
right and left rearsets
fist-sized dent in the left side of the fuel tank
both Honda exhaust pipes
Broken stuff:
front cowl
windscreen
right foot peg (broke off the rearset)
right fairing
cracks in the tail fairing
I am STILL waiting on the original fuel tank because of a horribly-run business, I finally got her back together when I found a fuel tank on ebay locally a couple months ago. At least I'll have a spare tank now. Everything else was together back in the spring, but without fuel, a motorcycle don't go very far.
Anyway, that's all for now, I'm just happy as all hell that Bella is on the road again, I absolutely cannot wait to get in a few riding days this year before the season ends. Shiny side up, everyone