Discussion Starter
•
#1
•
I purchased these wheels in late April and fitted them with Q3s and they don't fit . I purchased them from a distributer over @ Zilla . The original spacer that came with the wheel initially was too big , so they sent me a second one . Here are the spacers / really no different in height , throats are the same , just a different thickness on the brake side . The spacer needs to be 3mm smaller ;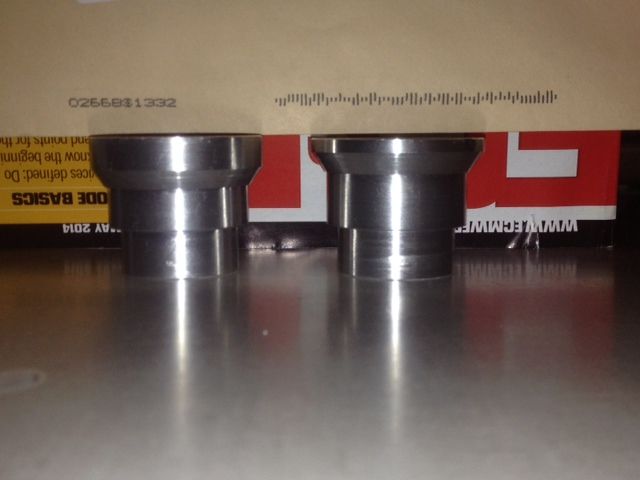 Here' the response I get today ,
Quote:
Originally Posted by AKDMA
"We think customers bike(Swing-arm)getting narrower than original.
(Like this old bike with same OEM wheel---very much possible become narrow)
Any way he already got right parts--we recommend to make little open by jack.
If he don't want it, That case to make shorter chain side spacer (Not brake side)"
What do you think of that?
( make the spacer on the chain side smaller so the chain won't run true )
I think that statement is a ****in joke right ?
I don't know what this is supposed to be , but if your telling me to spread open my swing arm with a jack , there's no ****in way I am doing that . After getting this PM , I went out to my shop and grabbed the 2 spacers . They are both about the same size , the 2nd one sent to me is around a 1/16" of an inch in difference as you can see . the throat that fits in the race is the same depth . The collar seems to be the only difference . I am going to take the original to a machine shop and have it milled to fit . That guy is a tool . I am not going to have anything good to say about this company . I purchase V-Tracks that are advertised as 12 spoke and I get 12 for the front and 10 for the rear . I have only dealt with the rear I haven't even tried to fit the front yet. Here it is mid July , I purchased these @ the end of April SO BEWARE guys if you are purchasing these for a RC51 !
The spacers have been too wide and they ( rear anyway ) won't fit and this is the final response I get today ;