Sato Exhaust repacking
This is a how to for Sato exhausts but could be applied to other makes. But baffles in other manufacturers exhausts could be spot welded in place e.g Blue Flame twin port so take care
Tools needed:
1) Drill / metal drill bits
2) Rivet gun
3) New stainless rivets
4) Exhaust packing material (i used Acousta-Fil PTX Exhaust silencer packing, 1 metre length by 50 cm per exhaust
5) Gloves as it's not the nicest stuff to use
6) Fishing line
1) I only drilled the rivets out on the exit side of the exhaust as there was nothing wrong with the outer sleeving so it didn't need repairing or replacing, it is a struggle to get the end cap, baffle and packing apart from the exhaust sleeving as they are a very good fit but it will come eventually.
This is the left one coming apart
2) Slide off the old packing material from the baffle carefully as its not nice stuff to breath in or handle. (If it is the left one it will still be tightly fitted depending on when it was last done, mine was from new and around 10,000 miles old but the right as you can see nearly fell apart
The left one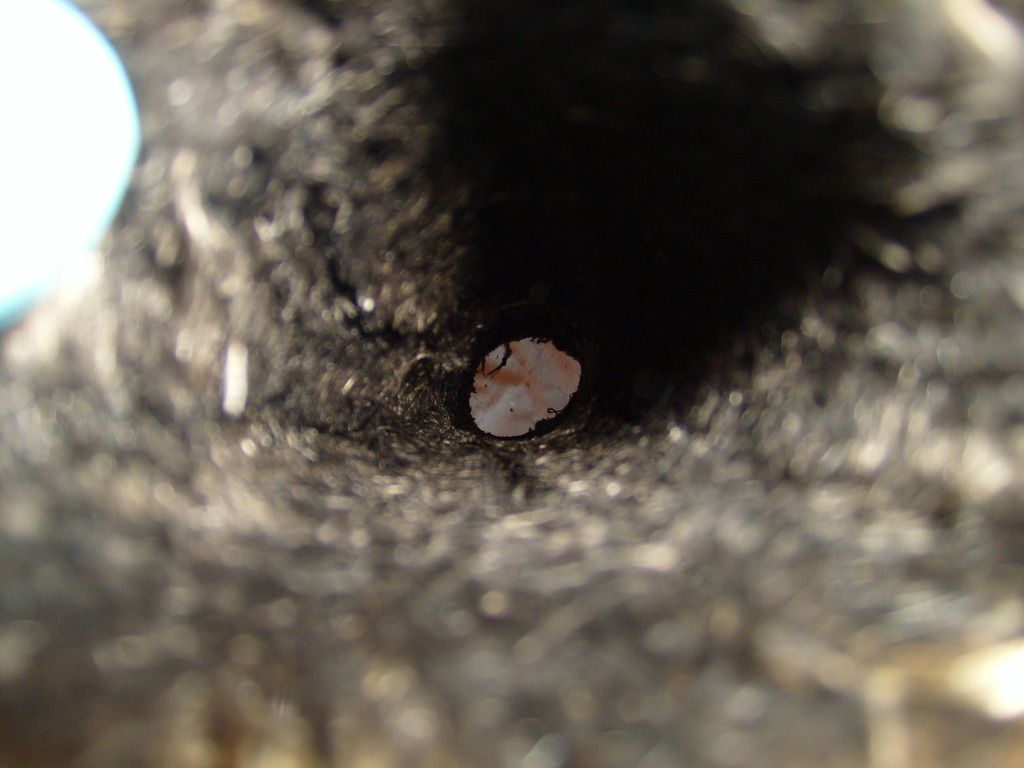 Not much packing left on the right one as you can see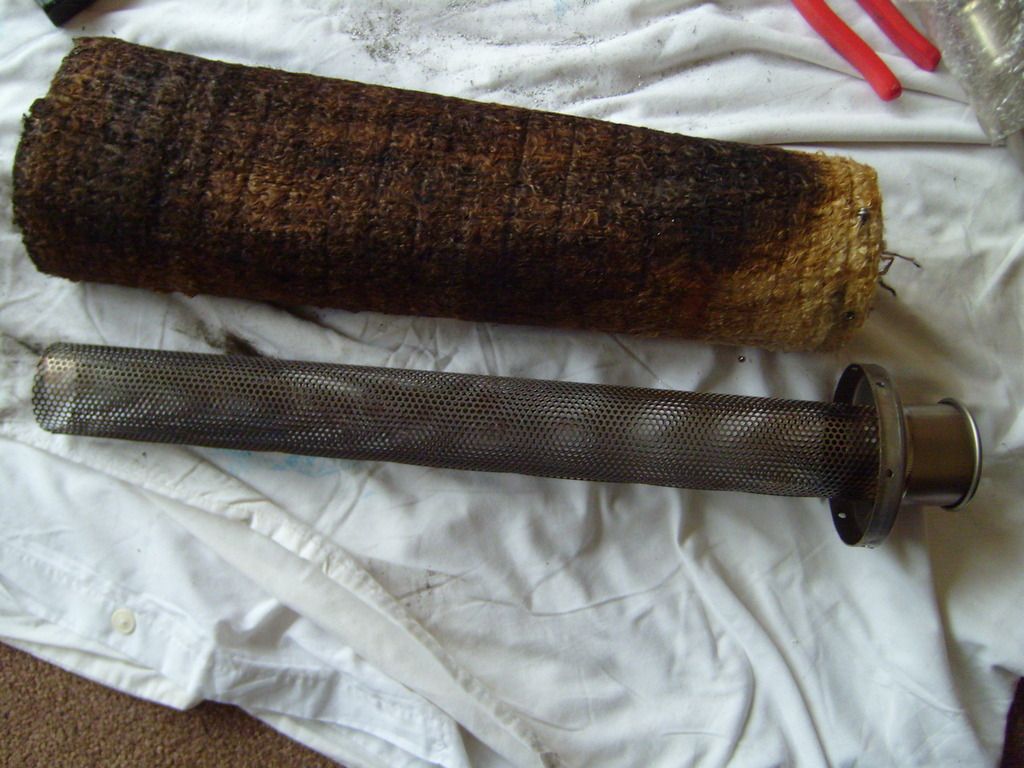 3) Wrap the new packing material around the baffle (taking note of how the baffle sits outside of the internal piece of the end cap. You will know what i mean when you see it.) Don't wrap the material too tight and tie it down with the fishing line which is just to keep it in place
It should look like this
4) Push the whole thing back together in the outer sleeving (this is where the fishing line comes in handy.)
Before trying to force the end cap back home fully just use your fingers in the opposite end of the exhaust and manoeuvre the baffle into place over the entry side of the end cap, this is where taking note in step 3 comes in (highlighted in red.)
5) When its all back together put the Sato emblem band in place using a rivet to hold it there then use the rivet gun and rivet everything back up, take care not to damage the exhaust whilst using the rivet gun as when the mandrel breaks off you are squeezing the rivet gun quite hard and you can have a tendency to jump/fall and damage the outer sleeving so i recommend covering the sleeving with a towel or similar item.
6) This is how the end result should look
Now refit them both to the bike after a good clean and not have to worry about having to repack them for another few thousand miles :grin2: