Thanks to all for their entries for the June 2012 Bike Of The Month (BOTM) contest!!
For those who missed the entry period, please try again next month.
Now it's time to vote which bike should receive BOTM for June 2012.
The following entries are:
HRC 51
This is my 05 mdl that i bought new in 06.
Following mods are:
PC 3
Moriwaki rearsets
Tail tidy
Flush mounts front
Carbon front fender
Sargent seat.
Pazzo shortys
Custom mid pipes and cans.
Approx 20k on the clock
Cheers Adam.
Perth Western Australia.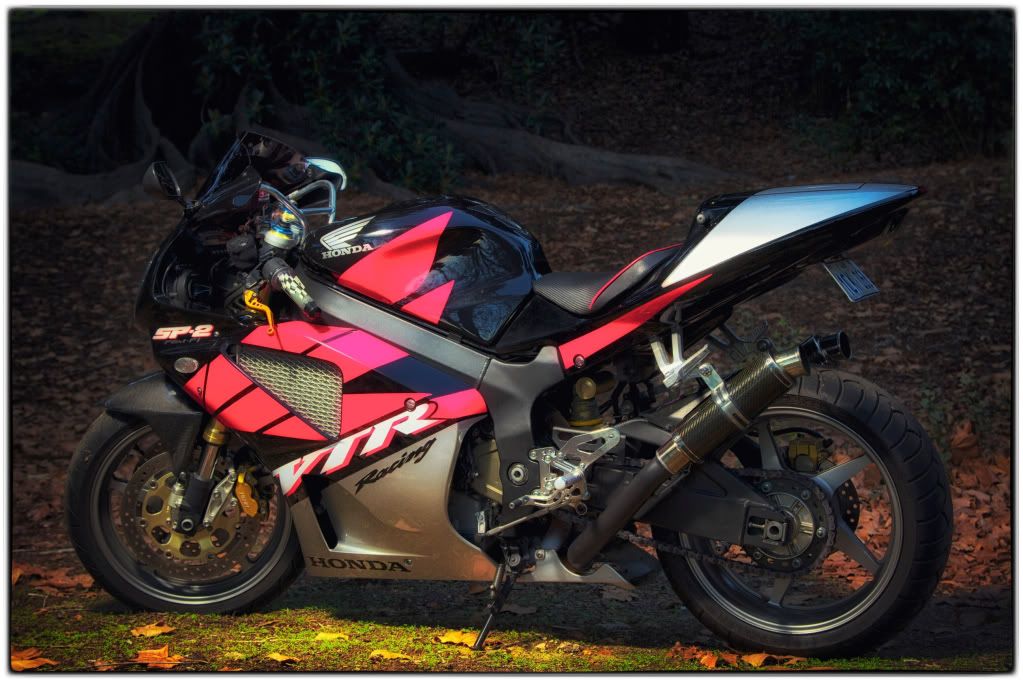 rvtjonny
06 Honda RVT1000R* 228
Mods:
OZ Spidernet Forged Aluminum Wheels, Full Akrapovic Titanium/Carbon Exhaust, Power Commander3 USB, TPO Spark Plug Wires, SCOTTS Stabilizer,Billet Adjustable Kickstand, Scott's- HP Rear Caliper Bracket, Brembo 32mm Rear Caliper, Ohlins- Shock HO204, RC51Parts- Shock Link, Brembo Radial Calipers, Brembo Caliper Adapter Brackets, Galfer Clutch/Brake Lines, Galfer Rear Wave Rotor, Renthal Sprockets 16/42, DID- ERV3 520 Gold Chain, SpeedoHealer v4.0, Gilles Rearsets, Gilles Chain Adjusters, Pazzo PreLoad Adjusters, Titanium Axle Nut, Proton Flushmounts, CRG Short Levers, Zero Gravity smoked screen, Woodcraft Swingarm Sliders, Kyle Flapper Cover, Pyramid Bump, Corbin Seat, Eyebrow Blinkers 5K HID's, Scorpio SR-i900, Pro Grip- 717 GP Duo Density Grips, 3M Scotchgard Protection Film.
Carbon Fiber- Tank Cover, Front/ Rear Fenders, Front Chain Guard, Radiator Vents, Dash Cover.
ac427cpe
MIG exhaust, Power Commander3, Ohlins stabilizer, stainless brake lines (I realized I hadn't put the rear on yet when I took the pictures), frame and swingarm sliders, undertail, custom paint.
jondog9
2000 w/16,000 miles when purchaced. Currently 25,420 mi.
DID-520 & 15/42 AFAM chain/sprocket set, DubbleBubble, Harris Rearsets, Piug Hugger, Black Dragon, Ceramic mid-pipes, SP2 x-pipe on header, Harris Exh. hangers, Scotts Damper, PCIIIr, Speedohealer, Kyle Billet Cover/flapper mod, Pazzo's, Protons, HotBodies, Galfer Discs & Pads & SS Lines, HRC resevior socks, Sargent Seat, Barnett Kevlar clutch.
YtseJam
2005 with 11K, Power Commander, GPR Stabilizer, High Mount Arrow Exhaust, Frame Sliders, HID's, Zero Gravity Screen, Keyless Fuel Cap, Mototek Undertail, CRG Levers, Flush Mount Signals, StompGrip Traction Pad, 520 Chain Conversion, HRC Socks.