Thanks to all for their entries for the June 2013 Bike Of The Month (BOTM) contest!!
No further entries are allowed at this time.
For those who missed the entry period, please try again next month.
Now it's time to vote which bike should receive BOTM for June 2013.
The following entries are:
CapeCodderRC
cbrbear
JB's_SP3
Here's my Euro spec '03. It was the development bike for the TYGA SP parts and I developed the Thermae front mounts on it also. It looks stock but actually it's pretty trick, the mods include:
Ohlins R&T forks with super bike valving
Ohlins shock w' Kyle link,
Harris mount w' Ohlins steering damper,
Marchesini forged Magnesium wheels,
Brembo radial brake & clutch m/c's
S/S lines,
'07 CBR front rotors,
SMS rear brake hanger,
Galfer wave rotor,
Tyga rear sets w' HRC rear brake reservoir,
Tyga top triple clamp,
Tyga c/f fender,
Tyga c/f hugger,
Dassault undertail,
T1 c/f snorkel,
T1 c/f air box,
HRC 1/6 throttle,
JD Hord built motor - Falicon crank, Wiseco pistons, Hord ported heads, Moriwaki Stage I cams,
RC51 Parts lightened flywheel,
Durbahn light weight clutch,
Akrapovic full system,
Sato Ti hangers,
Speedcell lightweight battery,
Thermae custom front-mount radiators with SPAL fans.
Kyle clip-ons,
Guru Lou clutch cover,
PCIII
There's probably more lol.
Cheers,
Jimmy
IM28702
2001, 17,000 miles, Jardine slip-ons, PCIIIR, soft rev, Dan Kyle link, Dan Kyle clip-ons, Dan Kyle spring adjusters, -1/+2 gears with 520 conversion, Tech Spec grip pads, gold wheels, tinted screen, shorty levers, hotbodies undertail, blinkers, steel brake lines, performance brake pads, Michelin Power Cup tires (Dunlop D211 GP-A in the pic), and a loose nut at the controls...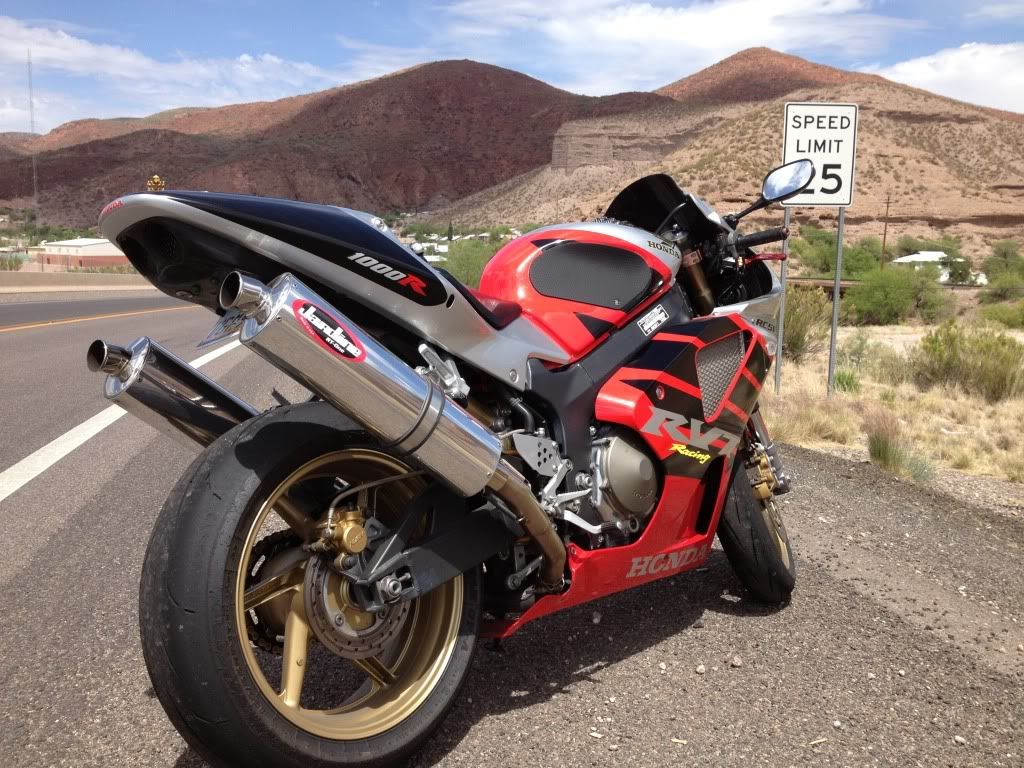 gts455
-Moriwaki Stage 1 Cams
-Moriwaki Airbox
-Turnone Snorkel
-Ladybird Full HRC Replica Exhaust
-HRC Complete Racer Throttle Bodies
-HRC Velocity Stacks
-HRC Complete Racer ECU
-HRC Tuner Box
-HRC Replica Mike Furick Front Mount Radiator
-Moriwaki Thermo Bypass Valve
-HRC Complete Racer Wire Harness complete with all sensors/CDI/coils etc.
-HRC Complete Racer Analogue Tachometer, Water Temp gauge, Neutral light
-HRC Replica oil mist catch tank
-Modified Stator cover with catch tank valve
-HRC overflow bottle
-Samco Hoses
-Scotts coil stick conversion
SUSPENSION/FRAME
-Ohlins H204 Shock
-Ohlins 20mm fork Conversion kit
-DK link
-SP2 Swingarm
-Tyga Top Triple
-SP2 Subframe
-Matris Steering damper
WHEELS/BRAKES/CONTROLS
-Marchesini 5 Spoke Wheels
-TSR rearsets
-TSR 38mm Slave Cylinder
-Brembo RCS Front Brake Master cylinder
-Brembo RCS Clutch Master cylinder
-Brembo Reservoirs with scott mount kit
-Galfer Brake lines
-Galfer clutch line
-Galfer rear wave rotor
-Sensei clip ons
-Thorsten ISR hidden rear brake system
-Renthal grips
-HRC 1/6 turn thottle
-Scotts Brembo reservoir mount kit
-Old style brembo rotors
-CL59 Pads
-15T 42T Sprockets
-DID 520 ZVMX3 chain
Cosmetic/Body
-HRC Endurance fairing
-SP1 Euro anniversary edition rear cowl
-Tyga rear hugger
-Tyga front fender
-Hotbodies undertail
-Nicky Hayden tank
-HRC tank protector
-HRC quick release tank pin
-HRc quick release seat pins
-Pro Bolt Engine Case Aluminum Bolts
-HRC Mirror block offs
-HRC Fuel cap
-HRC battery relocation box
mr305
'02 RC51
Owned since new and has the following mods:
Dynojet Power Commander PCIIIUSB Mapped for Lady Bird Exhaust
Soft Rev Limiter Mod
PAIR Valve and Plumbing Removed With Block-Offs Installed
Flapper Valve Hardware and Plumbing Removed
Frame Modified for GP Shift with Stock Linkage
Safety Wired Oil Filler, Drain and Filter
Lady Bird Parts HRC Replica Full Titanium Exhaust System
Scotts Steering Damper
Motofizz Thermo Clock
Turn One C/F Intake Snorkle and 20 Liter Airbox
Custom made K&N Air Cleaner Element for Turn One Airbox
Turn One Fiberglass Radiator Ducts
Spal 5.2 in. 320 CFM Pusher Radiator Fans
Samco Silicone Rubber Radiator Hoses
Speedohealer Speedometer Calibrator
Electrical Accessory Plug in Tail Section
Battery Tender SAE Connector
Plug for Tourmaster Electric Gloves
RAM GPS Mount
GPS Power Cable
C/F Textured Seat Cover with Gel Insert
Quick Release Seat Mounting Pins
Galfer Superbike Braided Front BrakeLlines
Goodridge Rear Brake Line
White Powder Coated OEM Wheels with Tapeworks Rimstripes
Bestem Color Matched Fiberglass Undertail with Integrated LED Turn Signals
Electronic Flasher Unit
Custom Quick Disconnect License Plate Bracket
Color Matched Low Profile Front Turn Signals
Arashi Color Anodized Adjustable Folding Front Brake Lever with Remote Adjuster
Arashi Color Anodized Adjustable Folding Clutch Lever
OEM Brake and Clutch Levers
D-Ring Fairing Fasteners
Chin Pad on Tank and Butt Pad on Tail Section
Zero Gravity Smoked Wind Screen
OEM wind screen
Color Matched Fiberglass Hugger/Chain Guard
Lockhart Frame Sliders
Lockhart Swing Arm Spools
Lockhart Toe Protector on Swing Arm
Perforated Color Matched Headlight Covers (Track Day Legal)
Renntec Luggage Rack
Scotchgard Film on Tank Rear and Sides
James_03_rc