stu_sp1's SP1.5
I'm about to start on some upgrades on my SP1, so thought it was time I started a thread and posted some pics, as I enjoy looking at other projects as I'm sure many other do too
Bit of background on my SP1-
I came into ownership just over 2 years ago, on approx 15k miles.
It was fairly stock, with the addition of the following:
- Harris carbon hugger
- Harris front mudguard
- Fabri dark tint screen
- Braided brake hoses
- HRC rear master cylinder reservoir
- HRC quick action throttle
- Renthal grips
- Renthal sprockets / DID gold chain
- PC111r
- BMC air filters (although I have yet to have the tank off to check)
- Cut down rear mudguard / tail tidy and smaller indicators, or turn signals as I think you guys know them as
.
It had some pretty exotic parts at some point, which the seller removed / sold on before I came along...Including carbon Harris high pipes, Endurance tank, Ohlins front / rear, PVM / AP racing brakes, OZ racing wheels, Brembo master cylinders, etc, etc, etc.
This is her then:
Since I bought her - Charlotte according to the previous owner...I've added:
- Akrapovic carbon / titanium pipes
- ASV levers
- Showa swingarm decals
- Blue aluminium sprocket nuts
- Harris polished rear sets
- Clear Fabri double bubble screen with Joey Dunlop decals
- Stainless tail section countersunk bolts / ally washers
- Custom mock suede seat cover
This is how she looked this autumn: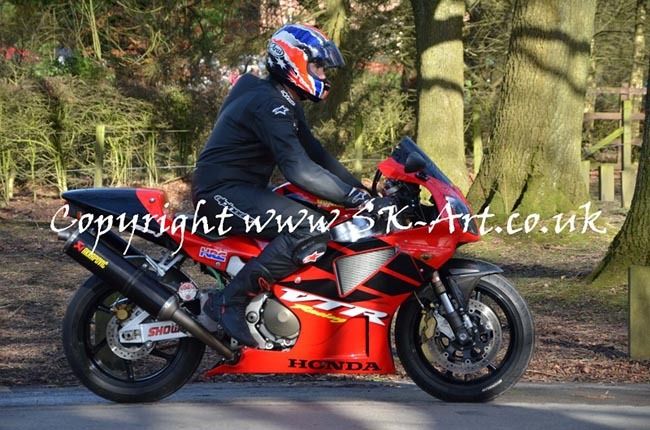 It's now off the road for winter and have been buying some parts
and have some plans including:
- SP2 swingarm conversion inc brand new pivot hardware
- Rear shock spacer (until I can afford an Ohlins!)
- HRC replica lifters
- Titanium chain adjuster bolts
- 15T front sprocket (if one not already there!)
- Anodised red endurance style axle nut locating cups
- SP2 wheels, which need straightening / refurbing (purchased tonight - impulse ebay purchase on night shift!)
- probably add a rear Galfer disc and titanium disc bolts on the newly refurbed rims and fork pinch bolts too
I'll also be checking the valve clearances / filter clean, change brake fluid and get the fairings off for a deep clean ready for spring
Joining this forum looks like it's going to be expensive!
It's already inspired me to buy the HRC lifters and will be after one of the DHC rear under trays when they come available.
I also have some custom Sato style titanium exhaust hangers in the pipeline and am going to get the Akrapovics cut down a bit as they are really long for some reason
SP2 fairing stay is also on the to do list when I find one for a good price (lost out on a Harris one already - it was actually for a fireblade so didn't fit!).
More pics to follow when I get chance to get them off my home pc!