Discussion Starter
·
#1
·
All,
Looking for some feedback. I have always drooled over the Sato rearsets. I was about to pull the trigger but I also really like the TSRs that Simon is selling.
I like how clean and OEM looking the TSRs are. They can be run with standard or GP shift pattern without additional cost. I have had great experiences with Simon as well.
The Satos are, well Satos, and I really like the idea of bearings in the pedals. The Satos are cheaper (gasp) and I've bought quite a few things from KyleRacing and really like supporting Mike over there.
I'm genuinely torn as I can make arguments for both and I would be happy with either. What would you choose and why? Thanks.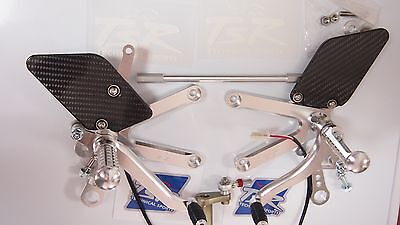 Cnc machined from A2017 aluminium and clear anodized. I have managed to have gotten these wonderful rearsets reissued from TSR (last made in 2004). Heel guards are autoclaved pre preg carbon fibre (alone must be worth quite a bit to produce!).